The senior members of Carroll High School's National Honor Society chapter will have a chance this spring to make up for their lack of an in-person induction.
Their welcome into the nationwide organization, which emphasizes students' scholarship, leadership, service and character, was one of the first school events canceled last spring when schools closed because of the coronavirus pandemic.
The new NHS members, mostly juniors at the time of being accepted into the organization, eventually had a virtual induction ceremony, but it wasn't the same.
Now, the 30 Carroll seniors in NHS are planning their own celebration to mark their time in the organization and to close out their four years at Carroll High School.
Leading up the event planning are the chapter's four officers: Gabe Pettitt, president; Emma Nelson, vice president; Hannah Bush, secretary; and Jaxson Kuhlmann, public relations.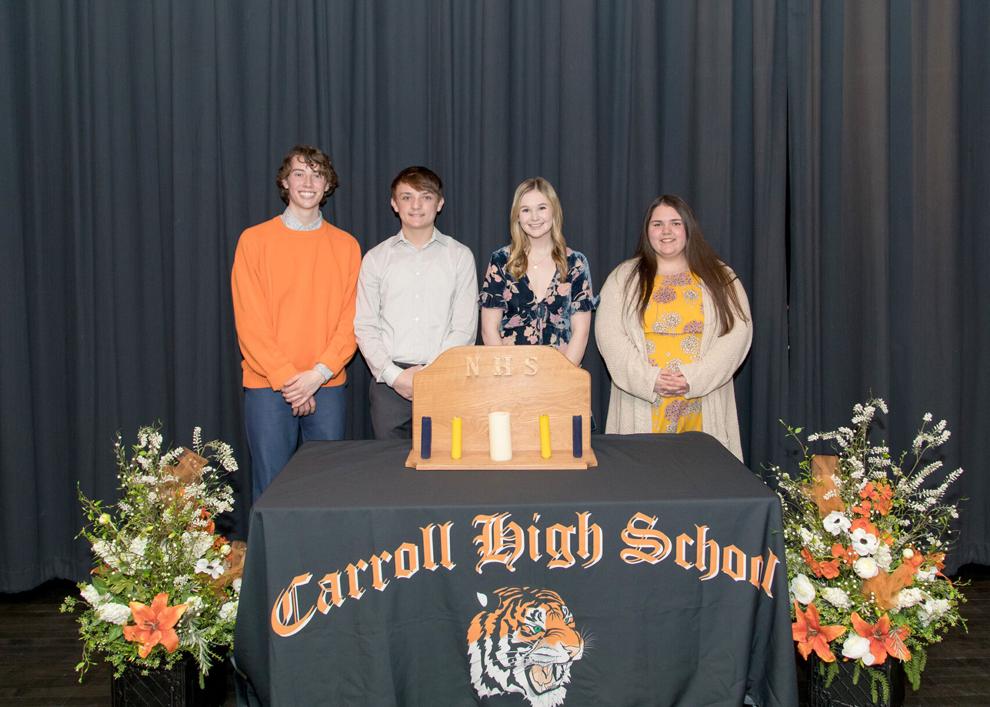 "We were bummed we didn't get to do something (in person for the induction), so we came up with the idea of a senior ceremony," Kuhlmann said. "We wanted to have something to honor this achievement."
Kuhlmann, 18, plans to attend the University of Iowa in the fall to study premed with a focus in biology. He's interested in anesthesiology.
Students become eligible to apply to National Honor Society halfway through their junior year of high school if their grade-point average is 3.5 or higher. Occasionally, students apply as seniors instead if their GPA has increased by that time. The application process is a lengthy one that involves the review of an executive committee, said Becky Boes, Carroll High's NHS adviser.
Carroll High held this year's induction this month; the organization's newest members are Alyssa Brant, Gracie Brincks, Brielle Hinners, Haley Hoffman, Hannah Jorgensen, Heather Kennebeck, Kate Kersey, Jayden Kirsch, Caden Kock, Elijah Lee, Dani Loneman, Chloe Ludwig, Cole Madden, William Meiners, Bret Muhlbauer, Andrew Munson, Mary Perkins, Grace Pettitt, Saige Quandt, Everett Sampson, Samantha Tidgren, McKenna Vincent, Sara Vonnahme, Mercedes Warnke and Erin Winker.
Meiners and Pettitt are seniors, and the rest of the students are juniors. Shannon Landauer, executive director of the Carroll Chamber of Commerce and Carroll Area Development Corporation, was the event's speaker.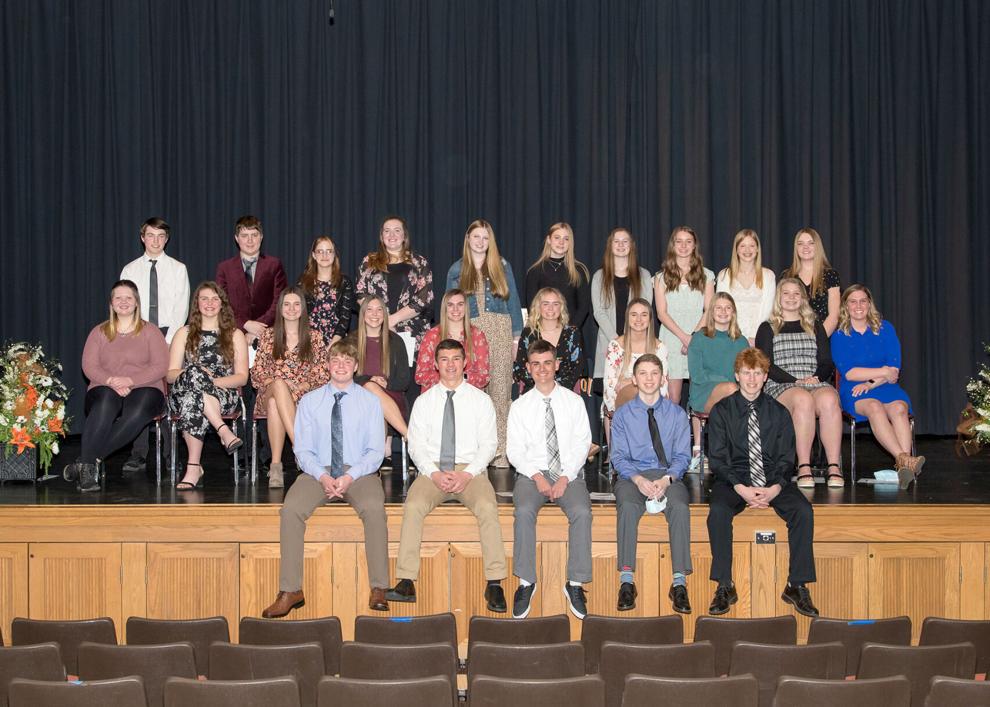 Active members are Isabella Armitage, Vanessa Breedlove, Katelyn Bretey, Ashley Brincks, Hannah Bush, Ella Collison, Chloe Gallegos, Gabriella Hammer, Payton Janning, Maurecia King, Jaxson Kuhlmann, Linda Laffoon, Kennedy Lein, Isaac Lo, Kristin Millermon, Emma Nelson, Erin Olberding, Gabriel Pettitt, Valerie Ramos, Claudia Schroeder, Slade Sibenaller, Gracie Simmons, Bailey St. Peter, Laura Sweeney, Trinity Tassell, Charles Teggatz, Emily Weber and Brianna Wuebker.
Carroll's NHS members also recently held their annual service day. Normally, that event is headed up by NHS members but includes hundreds of Carroll students completing service projects. Because of COVID-19 restrictions this year, only NHS members participated in the service day. They split into small groups to remain socially distanced and completed a variety of activities, including making bracelets with small notes attached for elementary guidance counselors to give to students on their birthdays or those having a tough day; creating anti-tobacco campaign materials for Carroll High; creating a video to be shown at the senior celebration; hosting a food drive; making and distributing thank-you gifts using donated items for nuns who volunteer at the hospital; cleaning up yards at Carroll High, Carroll Middle School and the city fields; and creating posters for, then completing, three outdoor parades at local nursing homes.
"We usually do a service day at CHS, and it's fun to go and hang out and do something good for the community with your friends," Kuhlmann said, noting that the students adapted as needed to a smaller service day with COVID-19 restrictions this year. "We took this and ran with it and had fun with it. We did mini things that would be fun to do but would benefit others. We made bracelets and picked up trash — picking up trash might not sound like a whole bunch of fun, but we had competitions and turned it into something fun."
Boes said she recently received feedback from students about what they'd taken away from the service day.
"Providing service opportunities or recognizing the service (NHS students) are doing in their lives is teaching them so many lessons about life and character and the human beings they want to be into their adult life," Boes said, "learning where to place their values and how much it impacts the careers they want to do and how much it matters for their self-fulfillment."
She added, "There's the immediate impact among the students and the people they're doing the service for, but there's also a deep and intrinsic value on how they want to be in their futures. It's a resounding effect; it's pretty powerful. They're a really giving group of kids who are working hard for other people."
The upcoming senior celebration will be held in the high school's media center on April 9. The keynote speaker will be Grant Meiners, who graduated from Carroll last year. The students will review the four pillars of National Honor Society and recite the NHS pledge, watch a video with memories of their time in high school, and recognize each senior one by one, focusing on the students' service, statements they provided and their future goals.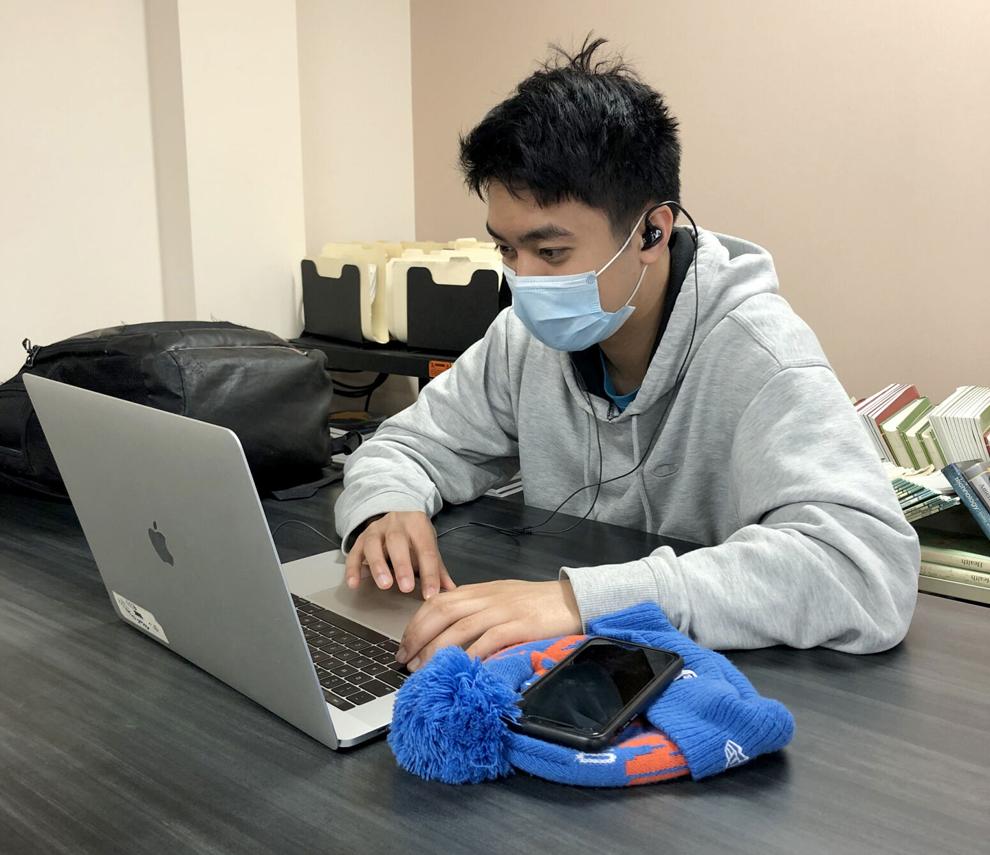 The video was created by senior and NHS member Isaac Lo, who also works with Tiger Vision.
"I'm really excited about the fact that the students were able to customize a celebration the way they wanted it to be," Boes said. "They had input at every turn, and they made it about them in the way they wanted it run. It's nice, as a reflection at the end of their senior year, to be able to bring them all together, to be in one place and celebrate all their victories and all their accomplishments at one time. That's why we're calling it a celebration, because that's really what we want it to be."