A Carroll police officer who was hired less than a year ago was forced to resign in March for alleged "inappropriate interactions with a minor" and with another person, according to Police Chief Brad Burke.
Walter Pacheco, 26, started with the Carroll department in August. He trained at the Iowa Law Enforcement Academy until December, after which he started 10 weeks of field training with a local officer.
It was his first job as a police officer.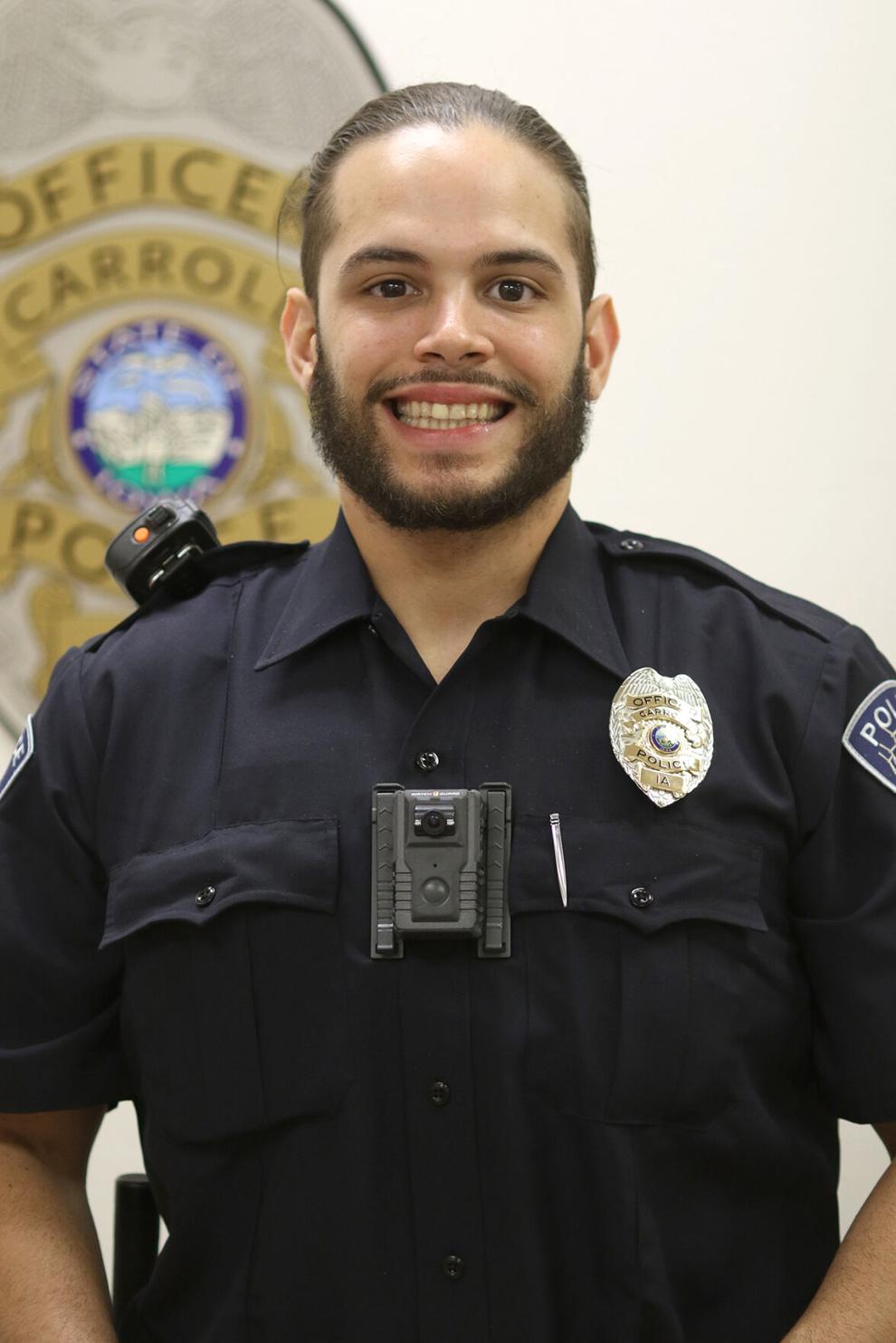 Pacheco is a native of Puerto Rico, where he earned a college degree in criminal justice. He specialized in forensic psychology and forensic field science, he told the Times Herald in an interview in August.
That educational background combined with his fluency in Spanish and non-white ethnicity made him an ideal candidate for the previously all-white department. Even before he went to the academy, Pacheco occasionally acted as a translator for his fellow officers in Carroll in their interactions with residents who didn't speak English, he said.
"Ultimately, he brings the diversity we didn't have in this department," Burke said in October.
But in late 2018, less than two years before Pacheco was hired in Carroll, his ex-girlfriend accused him of threatening to kill her and her daughter, according to documents associated with a temporary domestic abuse protective order the woman obtained against Pacheco.
Burke said he was unaware of the protective order until the Times Herald provided him with a transcript of a court hearing associated with the order, which was after Pacheco was hired.
Pacheco had told another Carroll officer during the hiring process about the protective order — which a judge decided not to extend because of a lack of evidence — but no one in the department sought the court hearing transcript or tried to contact the woman to get more information, Burke said.
The woman declined to talk to the Times Herald about the situation because she is afraid of Pacheco, she said.
After reviewing the transcript in October, Burke and City Manager Mike Pogge-Weaver questioned the woman's credibility based on the judge's ruling.
"I think he will be a good officer with the city of Carroll," Pogge-Weaver said at the time. "We think he brings a background that is really important."
Despite Pacheco's education and ability to speak Spanish and an overall shortage of police officer applicants, Pacheco applied for jobs at Iowa police departments for about three years before Carroll hired him, Pacheco told the Times Herald.
He was on patrol for about three months in town after his academy training before he was forced to resign on March 26.
In May, the city released a limited description of the reasons for his resignation to the Times Herald in response to an open records request.
Pacheco resigned for violating the department's requirement that its officers "conduct their private and professional lives in such a manner as to reflect credit on the department and city of Carroll."
More specifically: "Walter Pacheco may have had inappropriate interactions with a minor on February 23, 2021," Burke wrote. "Walter Pacheco may have had inappropriate interactions with an acquaintance of the minor on March 14, 2021."
City officials have declined to comment further on the situation.
A cellphone number for Pacheco was disconnected, and he was unable to be reached to comment for this article.
Pacheco — also known by the surname Pacheco Belen — moved to Iowa in 2017 after Hurricane Maria devastated Puerto Rico.
He was a competitive weight lifter who long had sought a career in law enforcement. His father was a state police officer in Puerto Rico for nearly four decades, and Pacheco said his goal was to be a federal agent.
"Me and my attitude will help people feel safe," Pacheco told the Times Herald shortly after he was hired in Carroll.
He had lived with his mother in the Des Moines metro area and had worked a security job as he applied to be a police officer.
In 2018, Pacheco began dating his hair stylist who had another boyfriend, according to his testimony at the protective order court hearing. Their relationship ended later that year in October, and in December he revealed the affair to the woman's other boyfriend, whom she was no longer dating.
Pacheco alleged the protective order the woman sought was in retaliation for him revealing the affair, but the woman said Pacheco had sent a message via the Snapchat messaging app that threatened her and her daughter on Dec. 23, 2018.
She did not retain a copy of that message as evidence for the court hearing. Pacheco claimed he did not use his cellphone the night of the alleged threat because he was watching a football game with friends at a bar.
"She's trying to scare me because I would never harm her or her daughter that's a minor," Pacheco said, according to the transcript. "I like kids a lot."
Pacheco speaks English fluently and hired an attorney to represent him in the court hearing. The woman does not speak English and did not have an attorney, so she questioned witnesses herself with the help of a translator.
"I don't know what to ask," she said in the hearing. "I'm nervous."
The woman accused Pacheco of having a short temper and "always trying to fight," but in the hearing she was unable to provide evidence of her accusations aside from a handful of witnesses who testified that she was scared of Pacheco.
Pacheco accused her of trying to derail his law enforcement career by seeking the protective no-contact order. Those who allege domestic abuse can apply for such an order, and a judge does a preliminary review to decide whether to issue one temporarily until a court hearing can be held to determine whether to continue it for a longer period of time, typically a year.
"The court has evaluated all of the evidence, including the credibility of the witnesses based on the court's firsthand observation of witnesses in this courtroom," the judge said at the conclusion of the January 2019 hearing. "Ultimately, the court finds that (the woman) has not met her burden of proof in this case."
It's unclear how the domestic abuse allegations might have affected Pacheco's ability to get jobs at other police departments. He started at the Carroll department about a year and eight months later.
The Times Herald learned of the allegations as it prepared an article about Pacheco's hiring and met twice with Burke and Pogge-Weaver to discuss the allegations. Burke and Pogge-Weaver inferred from the judge's words that the judge questioned the credibility of the witnesses. Burke decided to continue to employ Pacheco.
Burke said it had become increasingly difficult to find an ample number of qualified applicants for police job openings. He estimated that a dozen would apply — which is less than half what it was years ago. Only half of those would show for physical testing, two or three would be certified for hiring by a citizen-led panel, and Burke makes the final decision.
Still, Burke said the department had not lowered its standards for new hires.
"We don't want an officer who is a domestic abuser on the force," Burke said in October.
The Carroll department is down three officers right now, according to the city's website, including a sergeant and two patrol officers. That represents about one-fifth of the department's officer positions.
In April and May, the department sought applicants for an open officer job and offered a hiring bonus of up to $5,000.
The Carroll Police Department adopted a more-stringent hiring process after another of its officers, Jacob Smith, was forced to resign in 2017 for living with and having a sexual relationship with a high school senior who was not yet 18. The department began using lie-detector tests and interviews with a police psychologist to vet prospective officers.
Burke and other commanding officers had heard allegations about Smith's relationship with the girl but didn't conduct a formal investigation for months until the Times Herald began its own inquiry.
It's unclear how the department learned of Pacheco's alleged inappropriate contact with the minor and the minor's acquaintance. He was forced to resign less than two weeks after the contact with the acquaintance.