Tom Borchers was almost late to his own party.
The seventh-grade social studies teacher at Carroll Middle School helped students onto buses and then met with several about their classwork before joining an after-school staff meeting in the gym last Thursday — a gathering that turned out to be a special recognition of him.
Borchers was floored to learn that he was the latest recipient of Pella Corp.'s Staff Member of the Month award. Representatives from Pella select a staff member from Carroll or Kuemper each month, based on nominations, and award them with recognition during a staff meeting and $500 to use for school supplies of their choice. The initiative was started this school year as a way to recognize the work school staff members have been doing during the COVID-19 pandemic. Pella Plant Manager Dustin Katje and Human Resources Manager Jeff Heuton attend the meetings to present the award.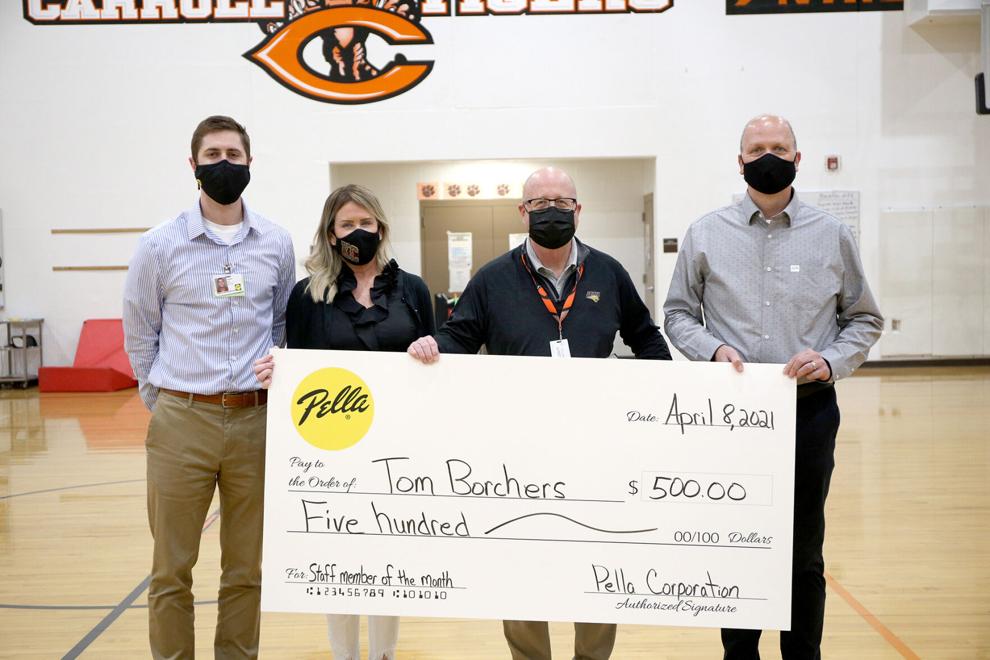 "There's really not much to say. I just enjoy this," Borchers said during the meeting recognizing him at Pella on Thursday. "I love it. The kids keep me young. I might yell a little bit, but, you know, I do it because I love it. And I just keep doing it. Some days are longer than others. We all know that. We're there for each other. We need each other throughout the year. Thank you."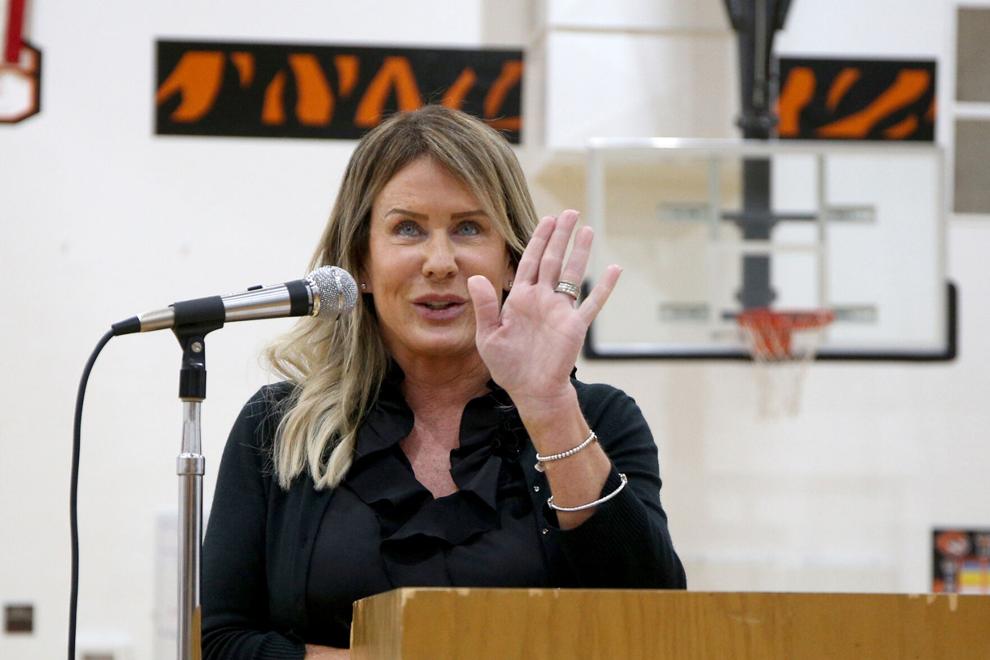 Fellow Carroll Middle School social studies teacher Amy Madsen nominated Borchers for the award. She noted Borchers' assistance with new processes when she first was hired; his work as a basketball and volleyball coach and his time on school-improvement committees, leadership teams and as a union representative; and the time he volunteered passing out meals to kids during the COVID-19-related school closures last spring.
"He's one of the kindest human beings I've ever had the pleasure of working with," Madsen said. "It is a privilege to work with someone so dedicated, kind, dependable, smart and loyal to the district and the kids that we serve."
Borchers is in his 15th year teaching at Carroll Community School District, having spent time prior to that teaching social studies at East Monona Community School District and working as a guidance counselor and elementary principal at the Charter Oak-Ute Community School District. His wife, Kelly Borchers, works as a gifted and talented teacher at Carroll Middle School. When Tom Borchers joined the district, he said he appreciated having the chance to return to the classroom and work more directly with students.
"I enjoy developing the relationships with the kids and the interaction with the students," Borchers said, joking, "It keeps you young when you're old. And middle school is different every day."
With a degree that touched on geography, government, economics, sociology, American history and world history, he appreciates the variety of middle-school social studies.
When schools closed for the year last March because of the COVID-19 pandemic, Borchers said teachers and students were "just muddling through" as best they could through unforeseen challenges. He appreciates that students and teachers were able to return to school in person this school year and commended the school board for mandating masks in schools last fall, which reduced the number of quarantines among students.
Borchers said that, particularly during the last year as teachers and students dealt with the pandemic, educators leaned on each other.
"The people we turn to is the people we work with," he said. "We lean on them, we talk to them if we're having a bad day. Everyone's helpful and supportive. We're all doing the same thing; everyone's working hard; everyone's doing what we can. You can go down the hall and sit down and talk to somebody for a few minutes, you feel better, and you go back and get at it again."
His coworkers say the same about him.
"Tom would shut his laptop and listen whenever a colleague needs to be heard or simply needs a shoulder to cry on," Madsen said.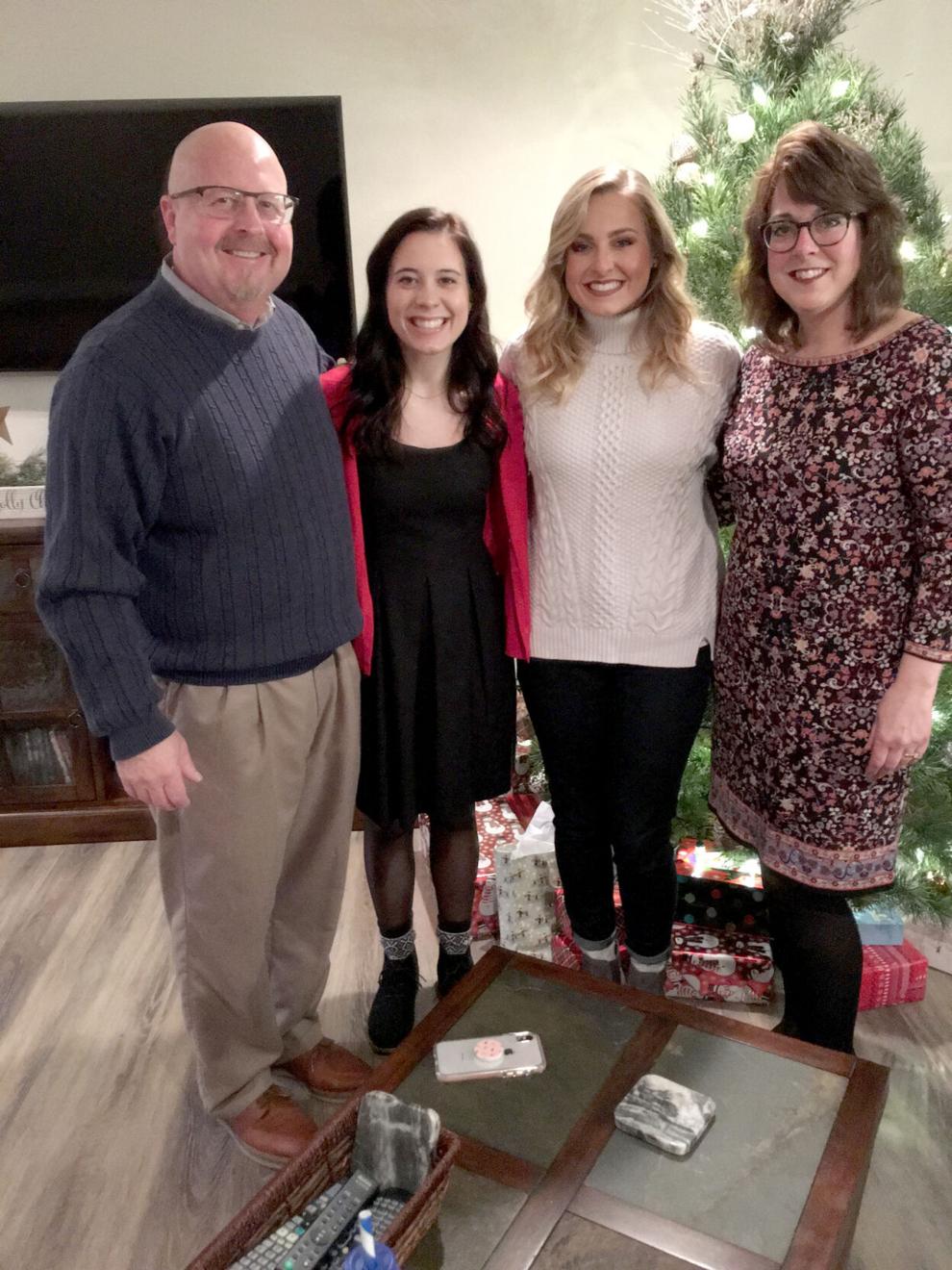 Tom and Kelly Borchers, who met in college working in food service at the University of Northern Iowa, have two children: Emma, a graduate student at Iowa State University studying community and regional planning who will work for the Iowa Department of Transportation after graduating in a month, and Elyse, who works as a middle-school social studies teacher at Bondurant-Farrar Community School District.
Borchers enjoys biking; his family travels to Des Moines and Decorah and other areas to check out their bike trails. He also regularly attends UNI football games.
Borchers said he's not yet sure how he'll use the prize money from the Pella award; he's considering a small library for his room or technology that students would be able to use and said he hopes he's able to earmark the funds for something that most students can use.
"Everyone I know that I work with and I know in the other buildings — everyone's just working so hard," he said. "There are so many teachers that deserve this."