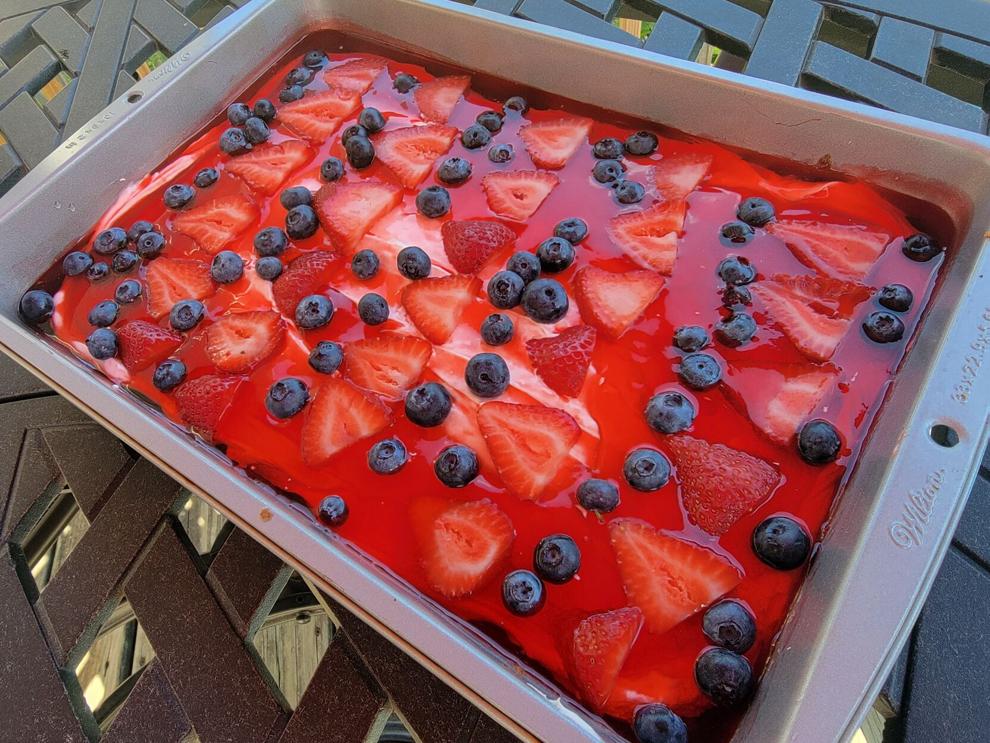 Celebrate America's 246th birthday with a delectable red, white and blue dessert bursting with strawberries and blueberries.
Red, White and Blue Cheesecake Dessert
Tart and creamy cheesecake atop a sweet and salty crust, topped with summer's finest fruits is an excellent addition to Fourth of July festivities.
- 1 (6 oz) box strawberry gelatin
- 2 cups boiling water
- 1 (16 oz) container strawberries, sliced
- 1 cup fresh blueberries
Crust:
- 3 1/2 cups pretzels (measure before crushing)
- 1 stick butter, melted
- 1/4 cup sugar 
Filling:
- 1 (8 oz) pkg cream cheese, softened
- 3/4 cup sugar
- 1 (8 oz) container whipped topping
Add strawberry gelatin and boiling water to a bowl. Whisk for 2 minutes. Chill in refrigerator for 1 hour.
Preheat oven to 350 degrees. Add crushed pretzels and sugar to a bowl. Add melted butter. Stir. Press crust into bottom of 9x13-inch baking dish in an even layer. Bake for 10 minutes. Remove from oven and cool on counter.
Add softened cream cheese and sugar to a mixing bowl. Use an electric mixer to mix until smooth. Next add whipped topping and mix until blended. Spread cream cheese on top of crust. Then spoon gelatin onto cream cheese and spread with a rubber spatula. Arrange sliced strawberries and blueberries on top of gelatin. Refrigerate for at least 4 hours or overnigh
Note: Fresh raspberries could be used in place of strawberries.