Carroll County's annual Relay for Life manifested itself this year as a parade.
The adjusted format was in line with current public-health guidelines related to the new coronavirus but still allowed the longstanding fundraiser for the American Cancer Society to take place.
Relay For Life of Carroll County hosted a "Cruising For a Cure" parade Friday to raise money for the American Cancer Society and recognize the lives touched by cancer. The vehicle parade, which allowed for social distancing and included pre-prepared meals that were passed through windows, replaced the typical all-day Relay at Carroll Athletic Field.
"We were really just hoping for the best, and we are blown away," said Brigit Pick, one of the event co-chairs for Relay For Life of Carroll County.
The 2020 Relay For Life of Carroll County raised just over $40,000, said Kim Durst, ACS senior community development manager. That total includes general donations, free-will donations for the curbside meals and $5,328 from luminaria sales.
Durst said the pandemic has hit the Relay's mission hard, like other non-profit organizations. In 2019, Carroll County raised a net of just over $130,000.
Still, organizers said they are grateful for this year's participation.
"We think we had maybe 50 to 60 cars in the parade, and it was a ton of fun," Brigit Pick said. "It was so cool to see them all come into the parking lot — it was really neat."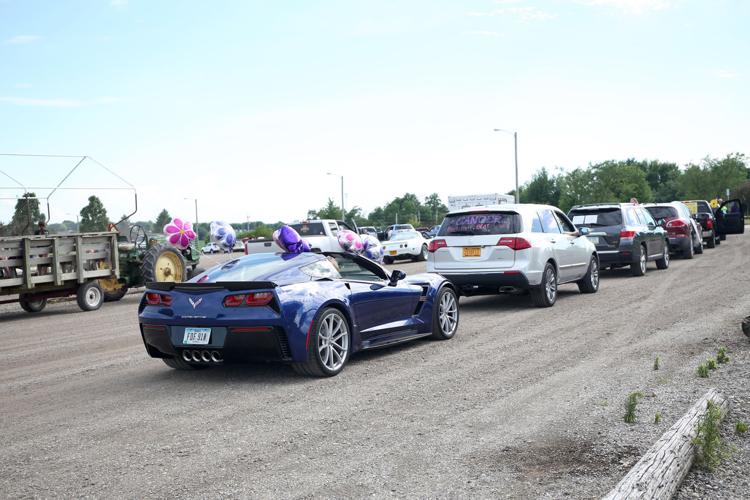 As a row of vehicles trekked from the parking lot of the Carroll Little League fields Friday afternoon, cancer survivors' vehicles went first.
"Then we brought everybody back through the (Southside) Park after the parade so that they could get their food," Brigit Pick said.
She was stationed at the park — along with the other co-chairs, Brad Pick and Drs. Carly and Shaun Quam — to organize the stations offering food and drinks.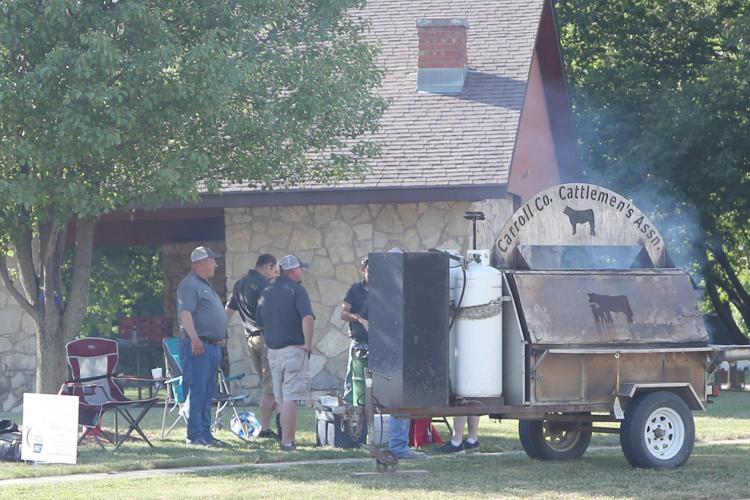 The curbside meals were prepared by Carroll County Cattlemen and were available for a free-will donation. Cancer survivors participating in the event ate for free. Those ordering meals had their choice between hamburgers and hotdogs, as well as chips, desert and drinks.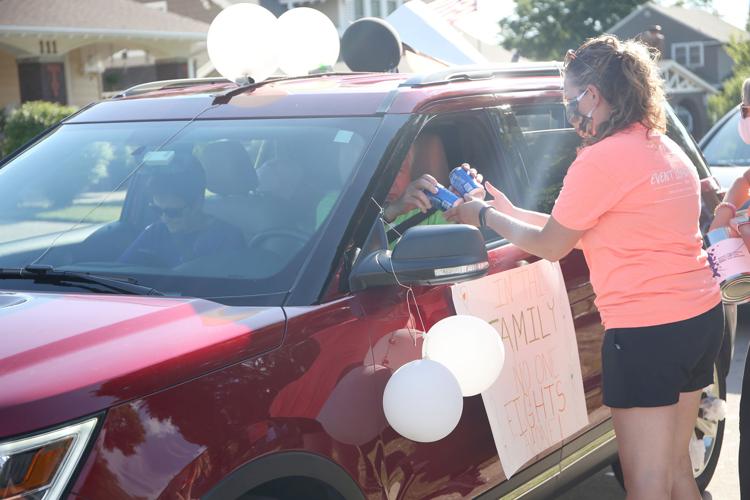 Also displayed at the park were luminaria — paper bags decorated with a message honoring someone with cancer and illuminated with a candle. Those participating in the Relay were able to purchase luminarias and decorate them to recognize loved ones who have cancer, have recovered from it or died from it.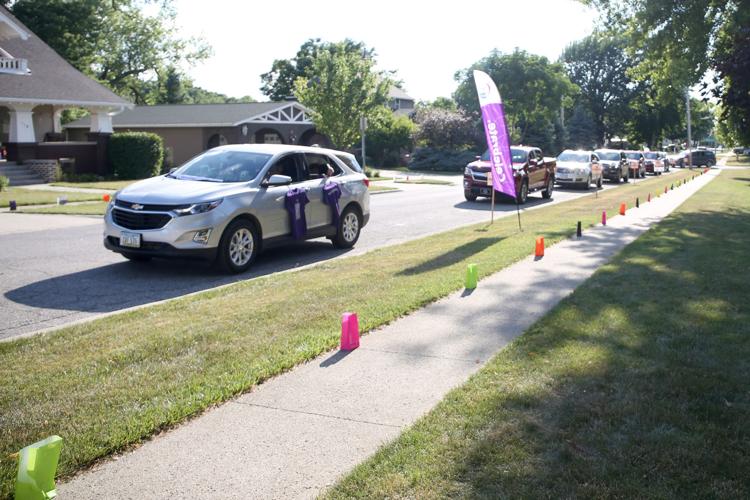 Being family practice physicians, Carly and Shaun Quam encounter cancer while working with their patients, so "it's near and dear to our heart," Carly Quam said.
"It was fun to meet and interact with some of the cancer survivors and seeing them pull up with a smile on their face and thanking us for putting on this parade," Shaun Quam said about the evening.
The money donated as part of the Relay will go to the American Cancer Society, contributing to research and helping pay for rides to chemotherapy and places to stay near hospitals and other types of support — services that Carroll-area residents with cancer can use, organizers said.
"There's all kinds of resources that anyone in the community can use through the American Cancer Society," Carly Quam said. "It also funds the research that goes on throughout the state of Iowa for cancer treatments."
Durst noted that some of the research funded by American Cancer Society dollars takes place at the University of Iowa.
She wanted to thank the businesses and individuals who, despite difficult financial times due to the coronavirus pandemic, were still willing to donate money and time to fight cancer.
With the altered format of the Relay For Life event, Brigit Pick said organizers weren't sure of the response the event would receive. She rode in the parade and said that along the route, there were people on the sides of the streets shouting "Good job" and "Thank you." It was exciting to hear, she said.
Donations for this year's Relay will be accepted through December 31, giving people the chance to contribute for about six more months. Visit www.relayforlife.org/carrollcountyia to donate.