For 2-year-old Hazel Beers, mail delivery at her family's Breda home is an fun time of day. But once a month, there's a special delivery that's opened an exciting new chapter in her life.
Hazel is an enthusiastic new reading fan with help of her uncle Chris and the Dolly Parton Foundation.
Every month, Hazel receives a free new book through Dolly Parton's Imagination Library program.
Hazel is one of millions of boys and girls — newborns through 4-year-olds —in several countries who receive age-appropriate books. Parton's Imagination Library operates in partnership with local sponsors, and the program recently became available to children in Carroll, Audubon, Greene and Guthrie counties.
The program's website says, "Since 1995, Dolly Parton's Imagination Library has been putting books into the hands and hearts of children across the world with collaboration from local affiliates.
"Each month children who enroll receive an age-appropriate book delivered to their home until their fifth birthday."
The website says that as of September 2022, Parton's childhood-literacy program had gifted more than 190 million books to children across the U.S., Canada, United Kingdom, and Republic of Ireland.
The website says, "These books are personalized with each child's name and mailed directly to their home to create a gifting experience that makes books exciting and encourages families to spend time enjoying books together."
Explaining why Parton — renowned singer, songwriter, actress, businesswoman and philanthropist — launched the Imagination Library, the website says, "Dolly Parton believes that if you can read, you can do anything, dream anything and be anything. Through her Imagination Library program, she want to ensure all children have books at home, regardless of the environment in which they live."
Locally, Our Community Health Foundation, managed by Guthrie County Health Services applied to Partnerships 4 Families for a grant to sponsor the program in Carroll, Audubon, Greene and Guthrie counties. Partnerships 4 Families provided $20,000, allocated to the counties by population.
Cindy Duhrkopf, Partnerships 4 Families area director, says Parton apparently started Imagination Library as a way to increase literacy availability in the east Tennessee region that's her home.
"It grew from there, and others wanted to join in," Duhrkopf says.
The program's website says, "Thanks to over 2,800 local affiliates around the world who are dedicated to inspiring a love of reading by gifting books to children, Dolly Parton's Imagination Library has reached an amazing milestone that, at one time, seemed like only a dream.
As of June 2022, there are over 2 million children enrolled in Dolly Parton's Imagination Library. That means the Imagination Library is now gifting over 2 million books to children around the world each and every month — that's one book every 1.4 seconds."
For her part, Duhrkopf says, "I've been in this position for over 20 years and been trying to figure out how we can get (the Imagination Library program) into our area. So it's been awhile, and I want to keep it going."
While the Partnerships 4 Families grant gets the program off the ground, Duhrkopf is now reaching out for contributions from community-service organizations, individuals, businesses and other sources to ensure its sustainability for years. Her goal is to raise $60,000 by this December in Carroll County.
"Partnerships 4 Families provided the seed money to get the program started, but we're asking communities to come along and continue the funding into the future," she says.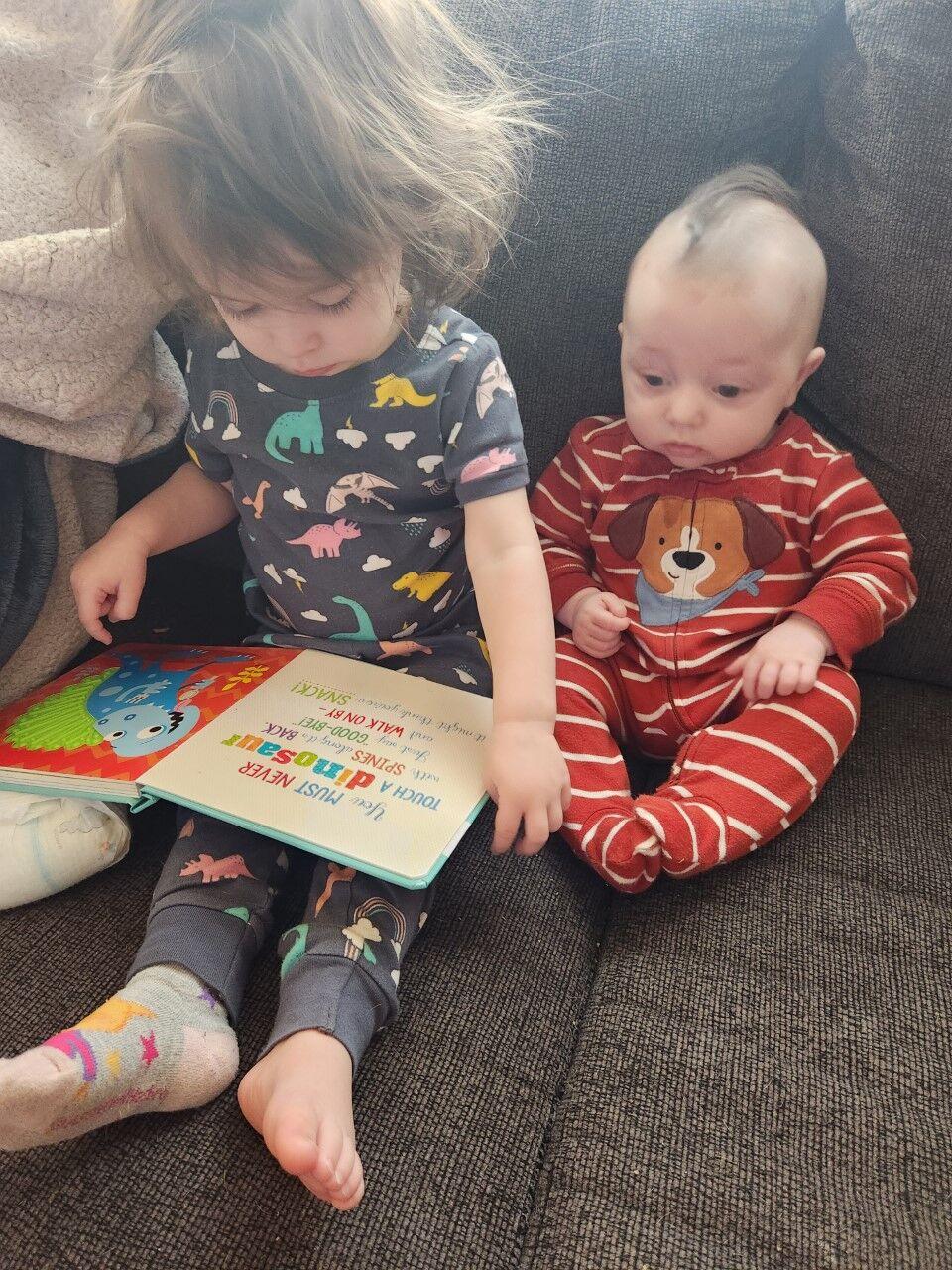 The Dolly Parton Foundation covers much of the cost, and the local affiliate's cost is $2.20 per book.
"You couldn't come close to purchasing a nice book for a child for that cost," Duhrkopf says.
Duhrkopf says contributions to inspire children to become lifelong readers are welcome. Donate online at ImaginationLibrary.com, or mail to Our Community Health Foundation, 2002 State St., Suite 1, Guthrie Center, IA 50115. Contributions may be specified for the participating county of your choice.
Sign-up in Carroll County for Imagination Library is already exceeding expectations.
As of Jan. 23, 234 children were enrolled in Carroll County and 507 across our four-county project. Duhrkopf says there are 1,255 newborns through 4-year-olds in Carroll County and sign-up is usually about 10% the first year.
"Historically, they say, 65 percent of the population will enroll in the program," she says. "Working toward that 65 percent will be a situation where we need about $21,000 a year. That's why we're trying to get where we know we have at least two years' funding set aside."
The Imagination Library is achieving its goal of inspiring a love of reading in the Beers family's home in Breda. Thanks to Imagination Library, Hazel, her dad Gage, mom Elizabeth and 3-month-old brother Henry have enjoyed a lot of quality reading time together.
And Hazel is building a nice collection of books.
She actually receives her books in a roundabout way, but one that keeps up a special, long-distance bond with her uncle Chris.
Christopher Whirrett, stepbrother of Hazel's dad, signed up for the Imagination Library from his home in Murfreesboro, Tennessee, a suburb of Nashville, because at the time the Beerses lived in Monmouth, Illinois, which did not have an Imagination Library affiliate. The Beerses moved to Breda — 785 miles from Murfreesboro — in July. Gage is assistant manager in the meat department at Fareway grocery store, a position he also held in Monmouth, and Elizabeth is a traveling registered nurse.
After uncle Chris receives a book from the Imagination Library he schedules a video chat with the Beerses so he can read the book to Hazel.
"(Hazel) loves it," mom, Elizabeth, says. "Reading a book with her uncle is one of her favorite things. He sends a text after he's received a book to schedule a night when everybody is available."
On book night, Elizabeth says, "We tell her we're going to read a book with uncle Chris, and she gets excited. And when he asks whether she's ready to read, she says, 'I'm ready.'"
After the video chats, Chris mails the books to Hazel.
Hazel loves to receive the mail and is especially excited when a book arrives, Elizabeth says.
The most recent book from the Imagination Library was "The Little Engine That Could," now in Hazel's collection along with "Look at the Animals," "Baby Farm Animals," "Baby Pumpkin" and more.
"We're learning how to take care of the books and put them up on the bookshelf in her bedroom," Elizabeth says. "That's where we put books away so we can keep them nice. And we have a stack of them right next to her bed that we read at bedtime."
So even after uncle Chris has read a book to Hazel, it's read many more times.
"Yes there's a constant rotation. We read books a lot," Elizabeth says.