DES MOINES: Three potential Republican presidential candidates collectively lambasted many Democrats' views on race relations and spotlighted state-level anti-abortion successes and other bedrock GOP positions in headlining one of the state's premier conservative gatherings Friday in Des Moines.
More than 1,200 people, including 200 pastors, attended the Family Leadership Summit at the Community Choice Credit Union Convention Center.
"Democrats have moved so fast to move their liberal agenda, sometimes I feel the left hand doesn't know what the far-left hand is doing," former Vice President Mike Pence said.
The event overall served as a one-two punch, and something of a conservative strategy preview of the next two elections cycles: hit Democrats on national issues, notably critical race theory on which speaker after speaker made rhetorical hay, while hailing the actions of conservative governors like Iowa's Kim Reynolds and South Dakota's Kristi Noem, who favored more openness during the COVID-19 pandemic than other governors and aggressively pushed their anti-abortion agendas in statehouses.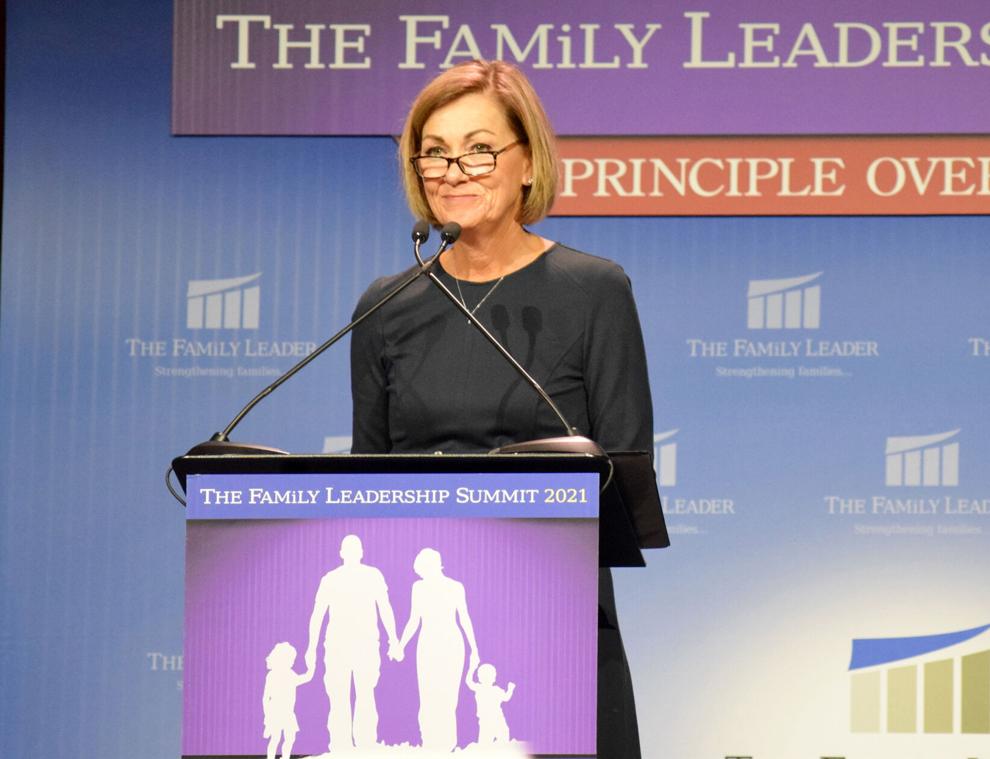 "She gave the church the keys to the state. Holy cow!" Greg Baker, vice president for church engagement with The Family Leader, said of Reynolds, who is expected to seek re-election in 2022.
Several conservative leaders, including Chuck Hurley, vice president of the Family Leader and one of its long-time lobbyists, say they view last session of the Iowa Legislature as best in history for their agenda.
"There hasn't been a more exciting time to fight in decades," Reynolds said of her anti-abortion position.
"We still have the winning agenda," Pence said.
For his part, Pence elicited some of the most sustained applause during the day-long summit with a rebuke of critical race theory — an approach to teaching and culture many see as balanced for pointing out historical and systemic racism, but others view as political correctness, a revisionist overreach aimed at making white students feel guilty.
"Under the Biden administration, patriotic education has been replaced by political indoctrination," Pence said.
He said "patriotic education" is essential to the survival of the nation.
"Instead of teaching all our children to be proud of their country, critical race theory teaches children as young as kindergarten to be ashamed of their skin color," Pence said. "Critical race theory is state-sanctioned racism, pure and simple, and it should be opposed by every American everyday."
Noem said South Dakota did one week of advertising in the wake of civil unrest in 2020 in Minneapolis to make the case South Dakota was a more hospitable place for police officers to serve. As a result, the state had inquiries from 900 police officers interested in moving there from 41 states, she said.
"I don't recognize the country I had the opportunity to grow up in. I just don't," Noem said. "When I grew up, people were proud to have a job. They weren't confused on the difference between boys and girls. We prayed in schools."
Noem said the United States does not suffer from systemic racism.
"We do not have hatred and racism in our DNA," she said.
Former U.S. Secretary of State Mike Pompeo said the Family Leader is wise to stress family and church solutions over government involvement in Americans' lives.
"As we stare at the problem sets that we all are aware of today, we see in our homes, on television, that the breakdown of the American family is at the core of most it," Pompeo said. "It's why the left attacks it. It's why the left wants to undermine the family unit upon which this nation was built."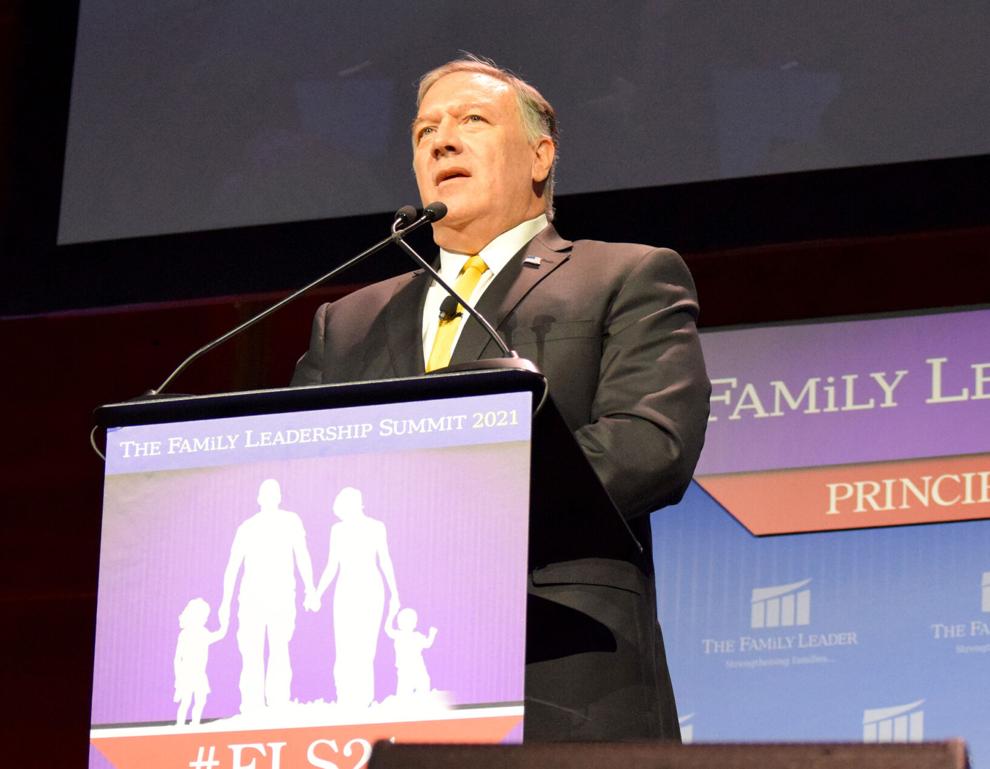 Pompeo, a Republican who served in the Trump administration, urged conservatives to remember the former president's anti-abortion advocacy in policy and court appointments.
"We were in fact the most pro-life administration in the history of the United States of America," Pompeo said.
Tim Ried of Newell attended the summit to further his inspiration to stand up for biblical principles.
"I don't think there is any hope for our country if we don't," Ried said. "We are done."
Of the speakers from the event, Ried said Pompeo is the figure he would like to see run for president in 2024.
"The Family Leader has it right; they have their priorities right, and it's principle over politics," Ried said. "My hope is not in politics. No matter what happens in this nation, my hope is in eternal things. It is not in this country."
Hannah Shady, 37, is the executive director at a pregnancy medical clinic in Preston, Iowa, and has attended the summit for multiple years now after speaking with legislators and members of Family Leader in Des Moines. She has also attended the Family Leader pro-life collation meetings.
For potential runs in 2024, Shady said Pence is a "very godly man" and she had never heard Pompeo prior and was impressed but doesn't have her heart set on anyone yet.
"I really don't know what this country needs other than a leader who will follow the word of God and who will be unashamed and bold to share the gospel and to stand for what they believe in," Shady said. "I think that's really hard for candidates to do, especially in the public eye, but I pray for all those in authority, because I just worry about what is in their hearts and the state of their health, being under such pressure all of the time."
Jeff and Sandy Rekers, 63 and 67 respectively, from Winthrop, said this was the fifth summit they have been to for Family Leaders. Jeff said he would love to see Pence, Pompeo and former President Donald Trump run for president in 2024.
"A lot of people are saying Kristi Noem and that, but she is doing such a good job in South Dakota you hate to have to lose her, the same thing with Ron DeSantis (the Republican governor of Florida)," Jeff said.
Both Sandy and Jeff Rekers agreed that whoever the candidate is, they have to be opposed to abortion.
"We are totally against anything that has to do with critical race theory or any of that," Sandy said. "What they teach in the school should be what parents want, not what the government wants."