Karen Whalen, who operates ABCD Preschool in Carroll, and Dick and Marcie Wernimont, a couple who farm a short distance northeast of Carroll, hatched a good idea 15 years ago.
That's when the Wernimonts' farmplace became a destination for Whalen's classes to bring to life their annual unit on farm living.
Whalen explains, "I began with the Wernimont family back in 2006-2007 school year when their niece came to my school. Amy Wiskus (Marcie's sister) had asked Dick to bring a fainting goat to school for her daughter Lauren to show for the farm unit.
"Dick then informed me of the animals that he had on his farm. I asked if I could bring my classes out for a farm field trip. Of course he was all for it, and from there on we have been working together to give the children a great hands-on learning experience with the animals and life on a farm."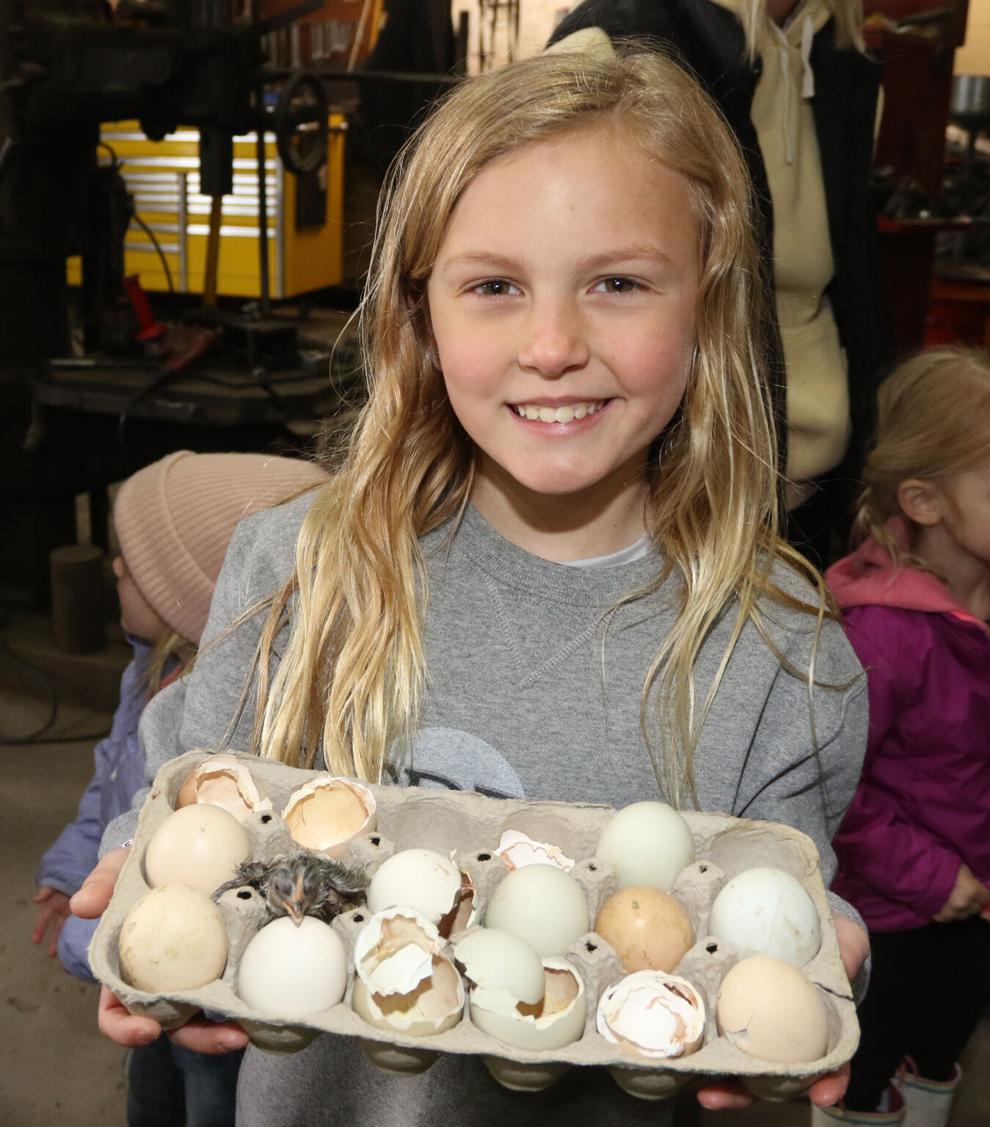 On a recent morning, a couple of transit buses filled with children from Whalen's 3-year-olds' school pulled into the Wernimonts' farmyard.
The tour gave visitors a glimpse at a variety of animals and span of farm animals' lives — from chicks hatching from eggs to grown chickens, from a bottle-fed calf to cattle readied for market.
With the Wernimonts and a couple of their grandchildren leading the tour, the students got to view baby chicks hatching from eggs; hold baby chicks; see nesting inside a chicken coop; help bottle-feed a 3-week-old calf; view grown cattle in feedyards; walk along a creek to see ducks and geese; and touch a John Deere tractor, even sit for photos in the tractor's wheels. And just before leaving, each visitor received a peacock feather as a souvenir.
"Not a lot of kids anymore are from a farm, and we thought it would be a fun experience for them to see the little ones being born," Marcie says of the Wernimonts' willingness to host the tours.
Marcie says the children get "the fun and excitement of seeing little chicks being born out of shells and some understanding of knowing where they come from, and not just from Bomgaars (store)."
"The kids' reactions are breathtaking," she continued. "A mother (of a student) texted me the next day saying her little boy hadn't stopped talking about being out at Dick and Marcie's farm."
Whalen says of making a farm unit part of her preschool, "It's unbelievable how many children have never been on a farm, compared to a zoo. It's a great learning experience for them. They learn about food that comes from the farm and farm life.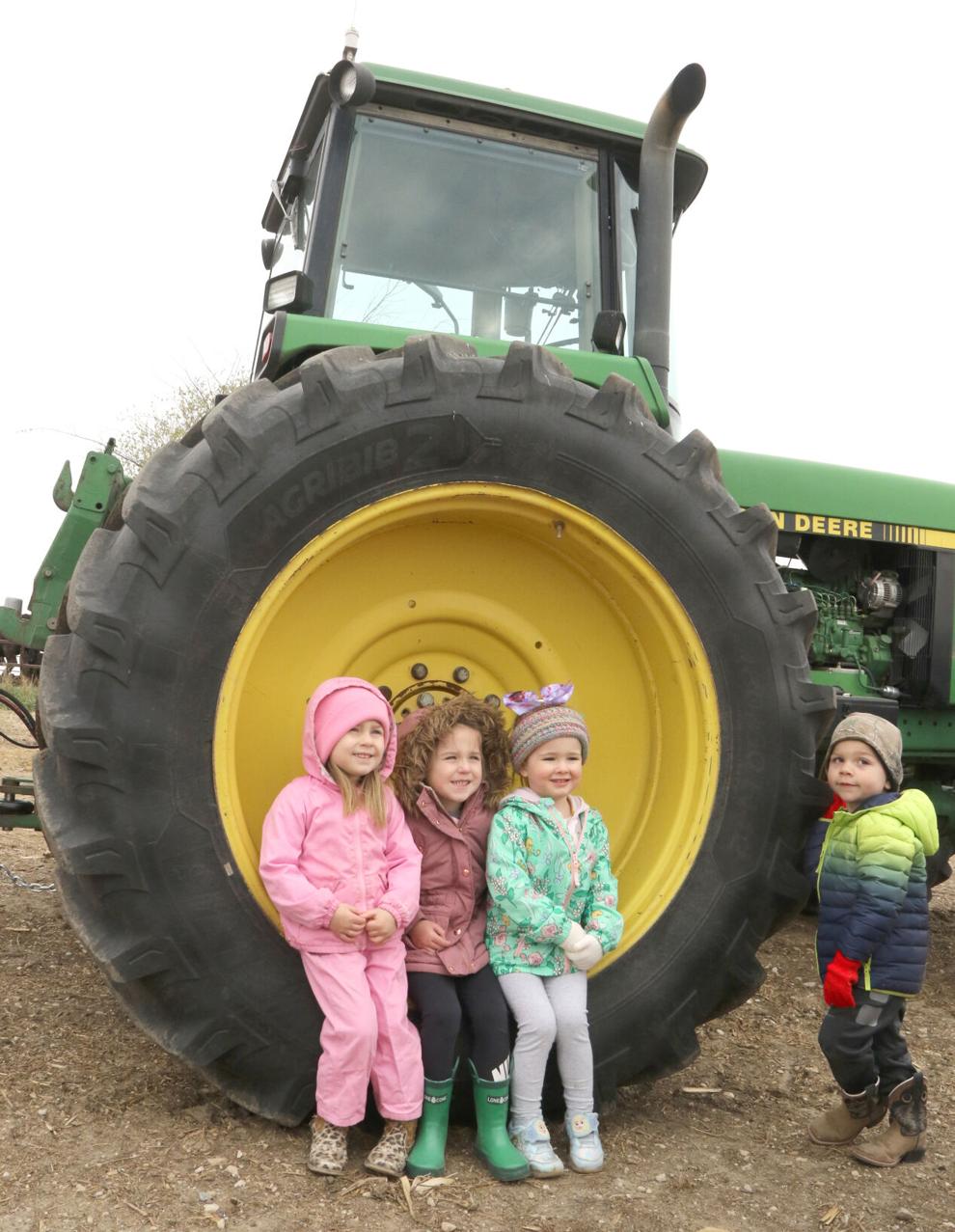 "It's funny, too, the (students') parents are so eager to chaperone because they've not really been on a farm either."
What do the children talk about most following the tour?
"The chicks, the hatching and being able to see the incubator and see chicks actually hatching out of the eggs," Whalen says. "The children are able to actually touch and hold them.
"Bottle-feeding the calf, too. They're always overwhelmed by the cows."
In the farm unit, Whalen says, she teaches students sorting (farm and zoo animals), counting, names for baby animals, and sounds different animals make.
"We're just so grateful for the opportunity Dick and Marcie have given us and that we're able to do that," Whalen says of the tours. "They've worked with us so well, and I think they've enjoyed it too."
The Wernimonts own 320 acres — bought from Dick's parents, Walt and Marie Wernimont, in 1986 — and farm 1,500 acres altogether, growing corn, soybeans, rye and alfalfa. They have an Angus cattle operation, while the chickens, geese and the peacock on the farm "are just for fun," Marcie says.
The Wernimonts have five grown children and 11 grandchildren. Two of the grandchildren — Ryker Koster, 10, and Brinley Koster, 9, children of Alex and Erin Koster — helped lead the preschoolers on the tour.
Whalen herself feels right at home visiting the farm. A daughter of Catherine and the late Clarence Wittrock, she grew up south of Willey and graduated from Kuemper Catholic High School in 1976. Her husband Mike Soyer, who passed away in 1988, farmed.
Whalen, who has operated ABCD Preschool since August 2005, plans to retire after this school.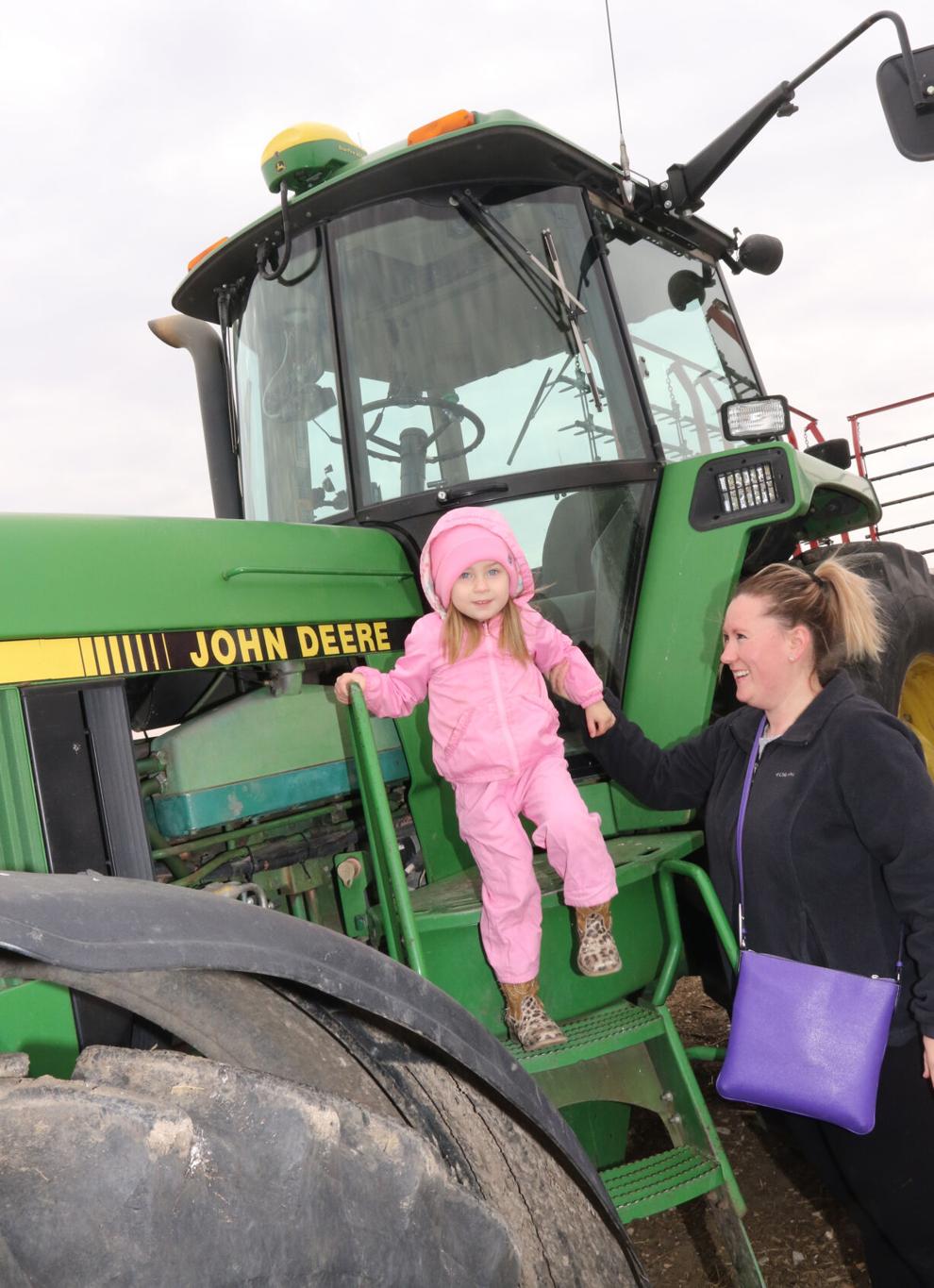 She turns 65 this month, and Whalen says retirement will give her and her husband, Charlie Whalen, who works part time as a physical therapist at St. Anthony Regional Hospital, more time to attend grandchildren's activities. She and Charlie have 12 grandchildren.
Whalen named ABCD Preschool after her children: Angie, Brian, Chad and Doug (now deceased). "My children have been my backbone, and they knew I always wanted to do this (operate a preschool)," she says.
"(ABCD) also stands for 'Active, Busy, Creative Days,' so we made a lot out of it," she adds.
While the local school systems now have 3- and 4-year-old preschools, some parents felt a home setting was better for their children, she says.