Many college students in the near future will have the convenience of carrying their before- or after-class exercise gear in a bag that buckles right onto their backpacks instead of having to carry a separate drawstring tote or duffel bag.
This attachable gym bag is the brainchild of two Iowa State University industrial design seniors — Ben Grote of Carroll and Anthony Ward of Dubuque — created through their fledgling company, Vamose LLC.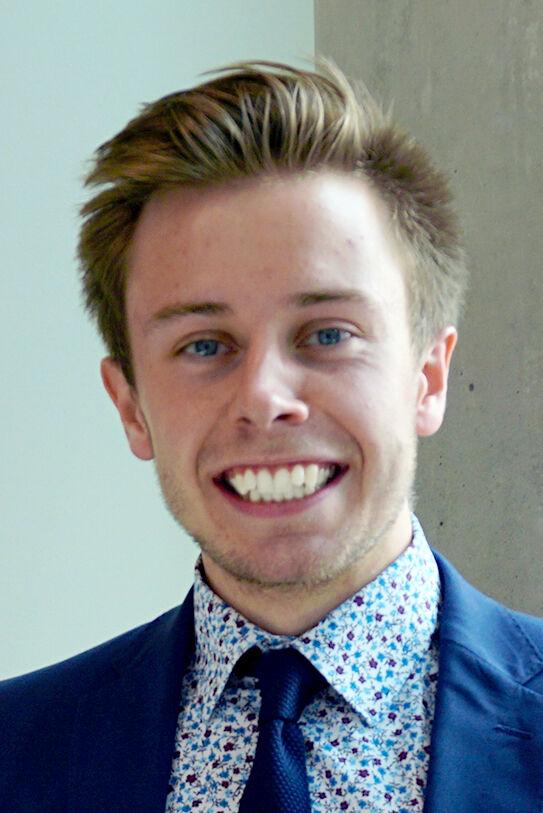 Vamose Attachable Gym Bag is production-ready and is expected to hit the market soon.
Grote, in email responses to questions from the Times Herald, said, "The Vamose Attachable Gym Bag is the first gym bag that can be attached to any students' backpack, allowing them to be hands free as they travel throughout their day. The patent-pending design makes it easy for any student to clip the gym bag around their existing backpack and carry with them as they go to class and then the gym."
Grote, a 2017 Kuemper Catholic High School graduate and son of Rick and Jill Grote, explained the idea for an attachable gym bag project, which grew out of a 2019 fall-semester industrial design studio course: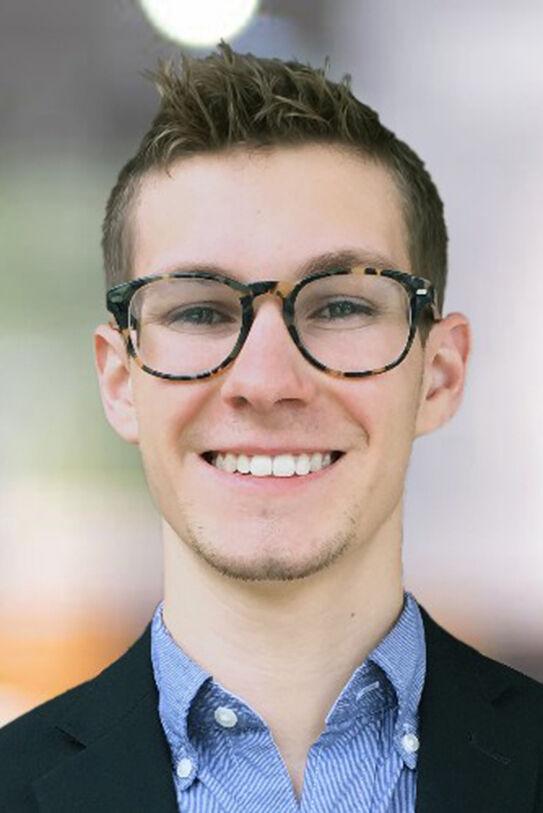 "We were assigned a small user group and tasked with discovering a problem they were having in their everyday life. Our users were busy gym-going college students who were struggling to find the best gym bag that fit their lifestyles. As busy college students, they usually were working out directly before or after class, which meant that they had to carry not only their school backpacks, but also a gym bag. For gym bags they had to choose between two poor options: a drawstring bag, which offers only one compartment and the strings get tangled up, or a duffel bag, which ultimately is too large and frustrating to carry with them all day on campus.
"That is why the majority of our user group ended up stuffing their dirty gym shoes and gear into their school backpacks along with all their school supplies. Based on this, we discovered that the thing our users valued the most was being hands free as they traveled throughout their day. This led us to the idea of creating an attachable gym bag that could connect to any user's backpack, allowing them to be hands-free and hassle-free as they travel to campus, between classes and to the gym."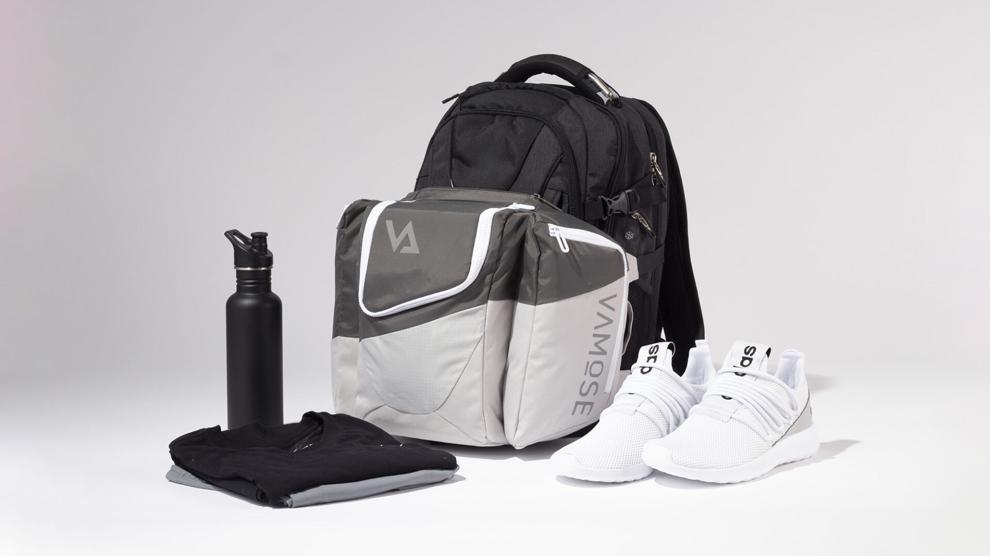 The 12-by-5-by-17-inch bag is made up of three main compartments on the front — a main center compartment, likely for shoes, and side compartments for clothing and such gear as T-shirt, shorts, water bottle and towel. The bag also has a stowaway compartment for such items as phone, wallet and keys.
The bags are made of high-denier polyester and nylon, which is very durable and long-lasting. They are also poly-urethane coated for water resistance. The bags initially will be limited to gray colorway.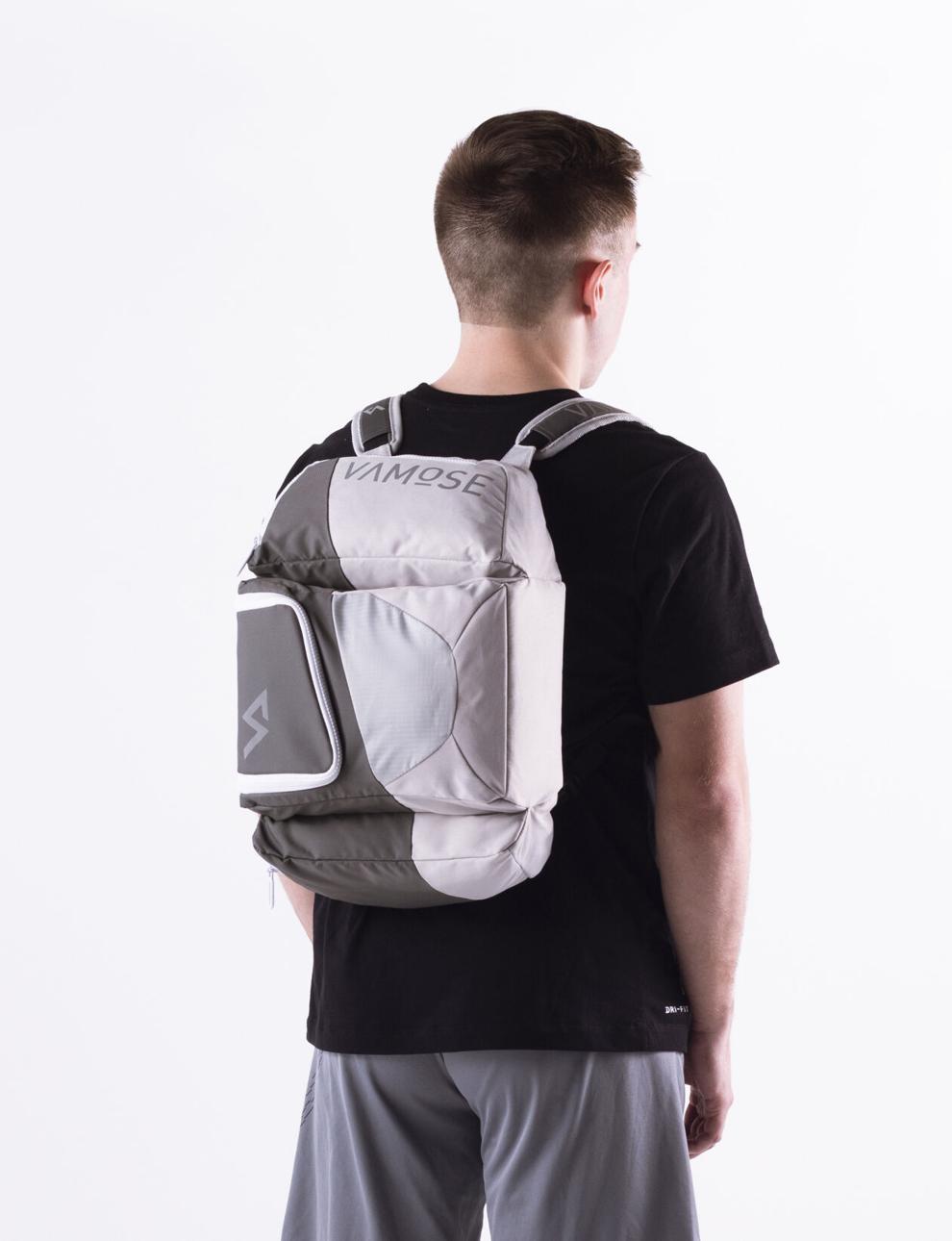 The bags wrap around backpacks using straps and buckles but also can be detached from the backpack, turned vertically and strapped over users' shoulders for stand-alone use.
Just the bag itself weighs approximately 1.2 pounds.
"From our user tests, we have found that the additional weight from the gym bag is not noticeable when wearing it attached to a backpack," Grote said.
The final design culminated from many improvement changes.
"We spent a sufficient amount of time refining the design and doing so based on feedback from potential users," Grote said.
He added, "Throughout the whole design process, we have been actively testing the different iterations with potential users and gaining their feedback. Since the very first iteration of the gym bag, we have completely overhauled the design, rebranded and added many features that our users prompted us to include."
Grote is not just one of the founders but also a Vamose Attachable Gym Bag user himself. He carries one of the prototype bags, where he stashes his gym shoes, T-shirt and shorts.
Grote said that bags are production-ready after he and Ward over the last year vetted 60 manufacturers, communicated with 40 of those and had approximately five make samples for them.
"We have now narrowed it down to our final manufacturer, who is based overseas and production-ready," Grote said.
Retail price will be $79.95, and Vamose will conduct presales through a Kickstarter campaign that will offer several different discounted pricing tiers.
Grote noted, "Kickstarter is a crowdfunding platform where people can start a campaign to fund an idea or new business that they are starting. Many of the campaigns on Kickstarter are based on new products, and they incentivize people to fund the campaign by rewarding them with the product once it is produced. Similarly, we will do the same thing with our campaign. We plan on having different tiers of awards based on how much a person chooses to fund us. Kickstarter will also be a good way for us to market our product and get it in front of the eyes of many different people."
After Kickstarter, Grote and Ward will sell through their e-commerce store. They also are working on making wholesale deals with small local retailers to sell the gym bag.
Grote said the business name — Vamose — is loosely related to the Spanish words vámos and vámonos, meaning "let's go."
"We want to make a brand that creates products that help people get going faster and ready to take on their day," he said. "Similarly, (the name) is loosely related to the word vamoose, which means to depart quickly. The Attachable Gym Bag helps our users do all these things, so we felt that naming our business Vamose fit very well. Additionally, Vamose is a six-letter word, which increases its searchability and makes it easier to find on the Internet."
Grote and Ward both are 22, and Ward graduated from Wahlert Catholic High School in Dubuque. Grote's dad, Rick, is a pharmaceutical salesman for a company called Zoetis, and his mother, Jill, is a house painter.
Grote said the Attachable Gym Bag experience is providing valuable lessons toward his career goal of making useful and lasting products "that serve a specific purpose and help the people that use them."
"Starting a business and bringing a product to market is very challenging but also very rewarding at the same time," he said. "There is so much that goes into it, so you kind of have to learn how to be a jack-of-all-trades and wear different hats depending on the day or task at hand. One of the biggest things I have learned is how to be adaptable and manage many things at once."
At Kuemper, Grote was a member of National Honor Society and participated in cross country, basketball and track. During high school, he worked part time as a food service aide at St. Anthony Regional Hospital and later worked at Farner-Bocken.