Being an avid runner, when Keeley Young was pregnant with her daughter in 2021, she needed to find another option for exercising.
After doing some digging, Young decided to go with barre, a form of physical exercise where one carries out activities with the help of a ballet barre.
Once her daughter was born, Young decided to look into teacher training. In a "24 hour whirlwind," Young acquired her own space to open her studio, Relevé Barre & Yoga, located at 203 W. 4th St.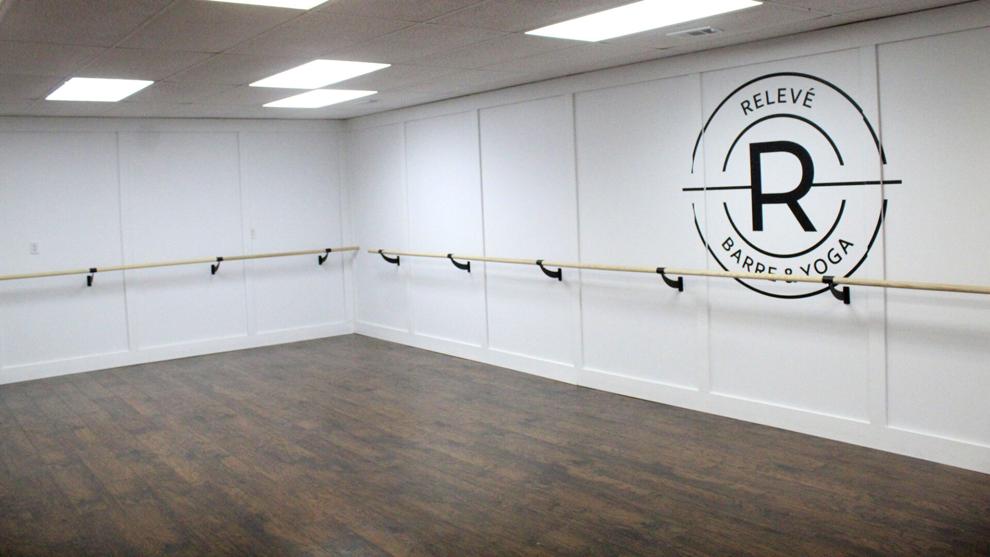 Since opening its doors in early November, Young has provided a space for women learning how to excel in both yoga and barre — all while forming friendships. 
Young said she learned of barre four years ago. When she became a teacher, Young said, she initially wanted to teach classes once a week. 
She spoke to Brian Bellinghausen, owner of CrossFit Carroll, if she could rent out a small studio at his gym, which he allowed.
At first, Young said, she was teaching from two to three classes a week, typically having around eight people. All of a sudden, Young said, her classes started filling up. 
"There was one night we were just super, super busy in the studio, signups were going crazy and I looked at my friends and I was like, 'Girls, we need a bigger space,'" Young said. 
One day, while she was out getting coffee and driving around, Young said, she noticed a "for rent" sign on the window of the building. She proceeded to pull in and call her husband, saying she found the space. 
"Truthfully, I never even thought about opening a business, it was never a thing for me," Young said. "And then all of a sudden, it happened, and it was the best thing that happened."
Despite this, Young said, she's had an entrepreneurial spirit since a young age. When she was in elementary school, Young said, she'd make bracelets with her friend and sell them on the playground.
"It was super fun, but I never thought about owning a real business, and even now, sometimes I have to remind myself 'Oh yeah, you own the business, you're not just playing with your friends,'" Young said.
When she comes in to teach classes, Young said, she loves to see the women's confidence build up as their skills increases. Although many of the women were nervous about trying barre, Young said, their attitudes have changed since visiting the studio. 
"Obviously, barre was not a huge thing in town, so they walked in and they were absolutely terrified," Young said. "And it's so cool to see them walk in on that first day and walk out feeling really good about themselves."
As the women come back, Young said, they've cultivated strong friendships with each other already. 
"Truthfully, relationships and community are the most important aspects to me. That's what's been really fun," Young said. "I've met so many people in town, I've lived here my whole life, and I never knew they existed, and now they're some of my good friends."
With yoga and barre being so modifiable, Young said, it can be geared toward anyone regardless of their fitness level. Since barre is relatively new to the area, Young said, everyone in the class also learns more the exercise together.
"It's so low-impact, it's good on the joints, it builds strength, it builds flexibility," Young said. "I always say no matter what, the first time you walk in here, unless you're actively taking barre, you're not in barre shape. You're not walking into a gym where most people are in shape for what they're doing. Every single person that walks in here is new to barre."
Young said she strongly believes in having a community of women who support each other as they learn more about barre and improve their fitness. Outside of Carroll, Young said she has women coming in from cities such as Manning and Harlan. 
"I want it to be accessible for everyone, and right now I am one person serving a community of 10,000 people and also surrounding communities," Young said. "The challenges of serving a community on your own is hard."
On top of teaching classes, Young also works as a nanny for the Haluska family, a position she's had for almost three years. 
Despite having a busy schedule, Young said, she "lives for chaos."
"They've been really awesome and just work with me," Young said. "... We're busy at the Young household."
In order to get more help with teaching, Young said, she's instructing two women so they can become teachers for the studio. Additionally, Young said, she had a woman flying from Las Vegas, where she'll "bootcamp train" them within a weekend. 
By March, Young said, they'll hopefully be certified and ready to teach classes on their own. 
Overall, Young said, she would like to see the studio become more accessible for women who are interested in yoga and barre, which she hopes to carry out by offering more classes.
"I think right now and especially after COVID, women have such a need for community and friendships," Young said. "You just don't see that in many spaces, and so I would love for it to be something that someone decides the day before that they want to take a class, we can offer it."
Young lives in Carroll with her husband, Josh, and their 19-month-old daughter, Stella. Young and her husband both graduated from Carroll High School in 2013 and 2012, respectively.