When Sue Ruch would walk the halls of Fairview Elementary School and Adams Elementary School in recent years, one little boy would see her and call out, "She taught my dad!"
These days, Ruch worked with quite a few students whose parents also were her students. She retired from her job as the Fairview and Adams elementary principal this summer after spending her entire educational career, 42 years, with the Carroll Community School District.
"You get to know families," she said of the longevity of her career here. "You knew their parents when they were in school, and now you know their children, and that's the neat part of being in Carroll."
Ruch grew up in Eagle Grove and graduated from Eagle Grove High School in 1968. She attended Iowa State for a year before getting married and having three kids. She later returned to Iowa State to double major in elementary education and early childhood education, graduating in the spring of 1978.
When she was applying to jobs with three kids in elementary school, her main focus was a family-oriented community, and although she was unfamiliar with Carroll, she thought it sounded like the right fit. She tracked down a Chamber of Commerce flyer and learned the Carroll Recreation Center had just been built, and she drove around town to see how it looked before deciding to move here.
She was hired around the Fourth of July in 1978 to work as a second-grade teacher at Fairview Elementary School. At the time, Terri Miller was just starting his first year as principal there, and Harlan Else was starting his first year as superintendent. Her second-grade teacher colleagues were Barb Mosman and Kathy Hanson.
Ruch taught second grade for 16 years. During that time, she went to Drake University to get a master's degree in strategies of effective teaching, adding an administrative endorsement. The curriculum director at the time was Lou Howell; once she moved, Ruch applied for that position and was hired as curriculum director in fall of 1994.
Later, when the new middle school was built, Ruch became the Adams Elementary School principal in 1997, in addition to continuing to serve as the curriculum director. After Miller left in 2009, Ruch continued in those two positions and also became the Fairview Elementary School principal. Between the curriculum director and principal jobs, Ruch spent 26 years as an administrator with the district.
In 1994, Ruch was recognized as first runner-up as Iowa Teacher of the Year and was a recipient of the AK-SAR-BEN, Ike Friedman Leadership Award (Omaha World Herald).
Becoming an administrator was just an extension of her teaching career and goals, Ruch said.
"A teacher — it's just helping students, and feeling the ability to make a difference in a child's life, in every child's life," she said. "That was the extension of becoming a principal: I could make a difference in more kids' lives, maybe — I'm not taking credit for that, but just ensuring teachers have the opportunity to help the kids."
Ruch hired many teachers during her years as an administrator and loved working with the teachers at her schools.
"We've come a long way together," she said.
She and her teachers have observed changes in the education process over the years, including how, and how much, students are assessed on what they learn.
She's also seen an increased emphasis on monitoring and caring for students' social and emotional needs and has noticed the positive impact on students whose mental health has been a priority of their teachers and parents.
"Different students have different needs emotionally, and finding a right match for them is something that we have to work on," Ruch said. "Whether you're talking about behavior or academics, different students — it's not like you come up with one lesson plan and it's going to work. You have to individualize based on a student's need, whether we're talking academic areas, or behaviors, or social and emotional needs. For all of those, you've got to look at each child individually."
Technology changed greatly during Ruch's time as an educator, and she recalled it being a big step when each student received a Chromebook computer to use at school. Teachers worked together to find educational websites for students to use and to learn how to incorporate computers into testing and activities, seeking a balance between using technology's assets to supplement students' education without losing the benefits of face-to-face learning.
Teachers' roles changed through the years, too. When Ruch started teaching, she described each teacher as an "independent contractor," completing many tasks alone; now, teachers work together in professional learning communities and other groups.
That collaborative spirit came in handy when, with little warning, teachers and administrators had to figure out how to teach students remotely after schools closed for the year in March because of the new coronavirus. They put lessons online, recorded videos and met with students via video conference, in addition to mailing out about 350 packets each week to families who wanted hard copies of lessons for their kids.
Finishing out her last year as an educator during a pandemic, not being able to see students or teachers in person and losing some closure, was difficult, Ruch said.
"There was no one to be angry with, but it was frustrating," she said.
Teachers had just come out of spring conferences and had plans in place for building skills and completing spring assessments, most of which was curtailed. Classes met via video, email, phone and mail, but it wasn't the same.
"I hate to leave the students and teachers hanging," Ruch said. "It's a piece of the puzzle you can't get back. It's a hole, and you're sad about it, and there's no control. There's nothing you can do about it."
Ruch has been working with teachers and the new elementary principal, Patrick Rabbitt, to figure out what the next school year might look like as the coronavirus pandemic continues.
"It's hard to social distance in a classroom; it's hard to social distance in a lunchroom," she said. "We're trying to figure out what that will look like. We'll have to adjust. All we want to do is get the kids educated."
As Rabbitt begins his work as principal, there are a few things Ruch wants him to know.
"The kids are great," she said. "The families are great. The kids are so friendly, so nice. I love working with the parents."
She also wants him to know that the teachers at Carroll's elementary schools work hard, and work together.
She has words of advice for new teachers, too.
"No. 1, you need to care. You need to care about kids," she said. "Make sure you put the kids first. Whenever you're making a decision, it's about the kids. It's not about you.
"My philosophy has always been that I don't want a parent or a child losing sleep overnight about a problem that I can take care of."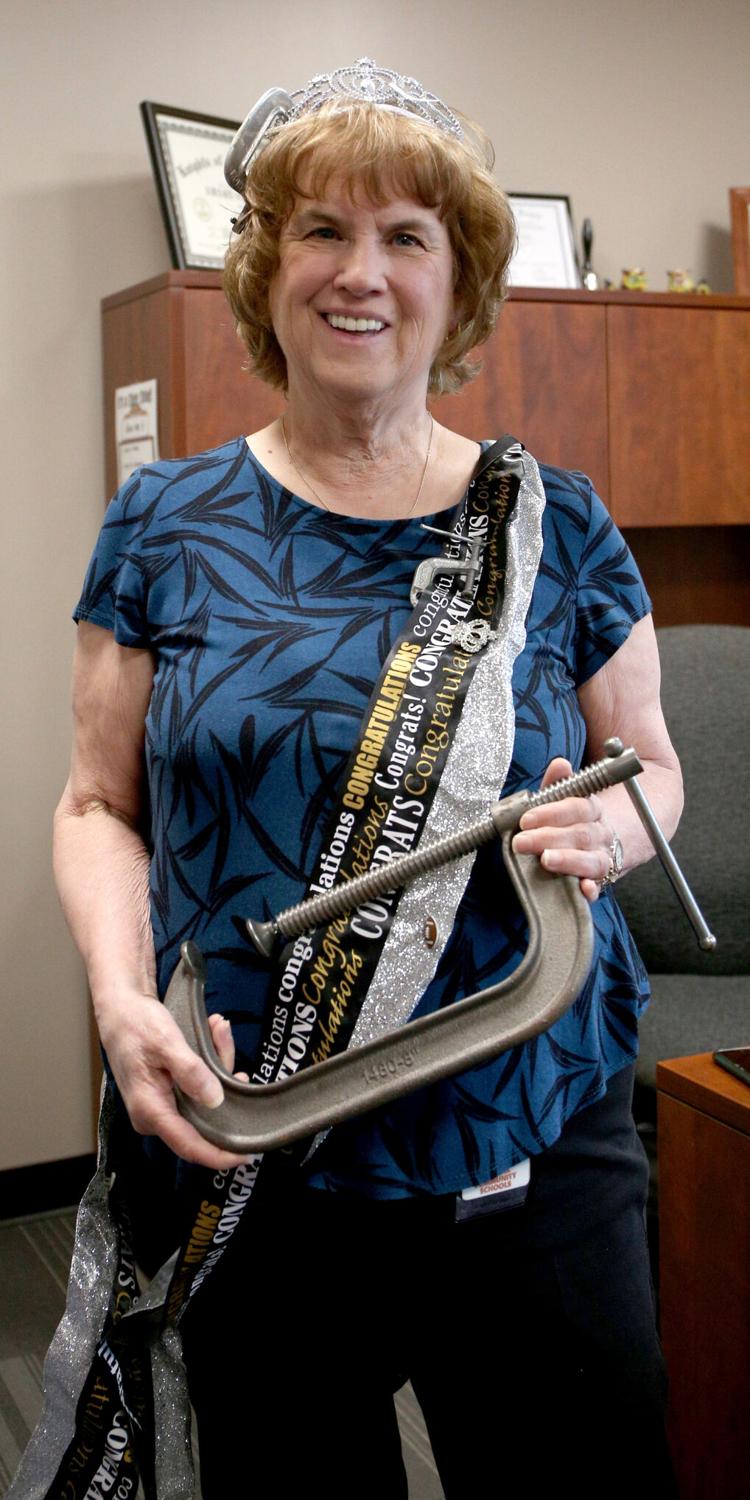 She also urges new teachers to keep learning, to be flexible and to listen.
She wants teachers to remember that the decisions they make and effect they have on students will follow kids through their years in education — a second-grade teacher's students will be middle school students in a few years, and high school students a few years after that, and the way they were taught in second grade influences those subsequent years.
"You have to look at the big picture of school," she said. "You go from preschool all the way up — what's my part in the puzzle to make that child want to stay in school? Because elementary teachers do impact students forever."
Ruch said she also has enjoyed working with Diane Christensen, Fairview Elementary administrative assistant; Kim Dvorak, Adams Elementary administrative assistant; and Crystal Boes, assistant principal at Adams Elementary.
"We've collaborated a lot," she said.
She and her coworkers worked to interview teachers, implement new math curricula, analyze student data and share between grade levels, among other tasks.
"Those are big accomplishments," Ruch said.
She thought back on other improvements Carroll Community Schools have made over the years, including improving school libraries and playgrounds and updating school buildings.
"It's a much different district than it was 42 years ago," Ruch said. "Every year, we get better and better."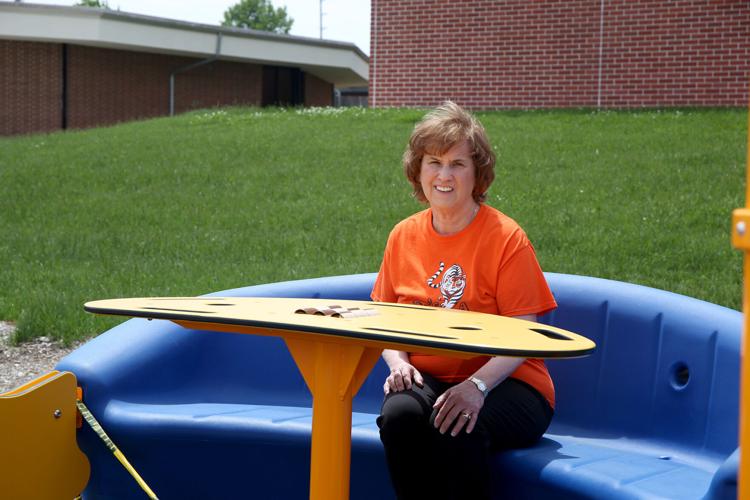 She also commended the Carroll Community School District's loyal alumni, who she said contribute to the district's strength.
A daughter of Nick and the late Rita Mersch, Ruch has five siblings: Gordy, who farms by Thor, Iowa; Kevin, who is retired and lives in Des Moines; Brian, who is retired and lives in Ames; Colleen, who works for Iowa Central North Central Career Academy in Eagle Grove; and Denise, who teaches Title 1 reading in Eagle Grove.
Ruch and her husband Phil, who retired from Core-Mark (formerly Farner-Bocken) in June, have five kids — as an educator, Ruch is proud that all five have master's degrees:
— Brett lives in Dallas with his wife, Candace. Brett negotiates contracts for AT&T, and Candace works as a stroke manager at Baylor University Medical Center. They have two children, Jesse and Josh. Jesse has a son, James, the Ruchs' first great-grandchild.
— Tara lives in Omaha with her husband, Mike. Tara works for the Omaha Public Power District as an accountant, and Mike is an electrician for Hoffman Electric in Omaha.
— Kirt lives in Papillion, Nebraska, with his wife, Julie. Kirt is a commercial insurance salesman with Lockton Insurance, and Julie is a buyer with Borsheims Jewelry Store. They have four daughters: Maggie, Kate, Libby and Jo.
— Robyn Schroeder lives in Carroll with her husband, Ryan. Robyn is a special education teacher at Carroll Middle School, and Ryan is a retired Marine who has a construction business. Their children, Claudia, Trevor and Lilly, attend Carroll Schools.
— Matt lives in Omaha and works for CITBank as a data analyst.
The Ruchs have nine grandchildren and one great-grandchild.
In her spare time, Ruch enjoys reading — she likes mysteries, and enjoys participating in the Carroll Public Library's summer reading program — as well as exercising and walking. With her newfound free time, she wants to take a course or find resources to better learn how to use her Canon camera, and she and her husband plan to do some traveling once coronavirus restrictions have lifted.
Ruch said she and her husband plan to remain in the area after their retirement.
"I really have a loyalty to Carroll," she said. "I wasn't always a Tiger, but you become a Tiger."
Through the years, Ruch has worked as a Ar-We-Va school board member when her family lived in that district, a Carroll Area Child Care Center board member and a United Way board member. She currently serves on the Family Resource Center board and hopes to remain involved in education in some way in the future.
"I'm an advocate for education — I think education is the game-changer," Ruch said. "If you don't have a good education, life is probably going to be tougher for you."
And her career in education is one she'll cherish.
"When you're the elementary principal, you get a lot of hugs, you get a lot of high fives, you get a lot of smiles, 'Hi, Mrs. Ruch,' and I could walk through the building and all I had to do was smile at them and they'd come running to me, and that was fun," she said. "It's the best job in the world. I loved it. Maybe I had some days that some people would consider bad, but I always came in happy that I was coming to work.
"I always figured my worst day was probably better than most people's best day."