Tim Tracy, director of Kuemper Catholic High School spring musicals since 1989, put extra emphasis on fun for this year's performance, celebrating the return to stage after the coronavirus pandemic forced cancellation last year shortly before the show dates.
"I was really disappointed for the students, who had put so much work into the rehearsals, then nothing," Tracy said.
Students prepared last year to present "Happy Days — the Musical."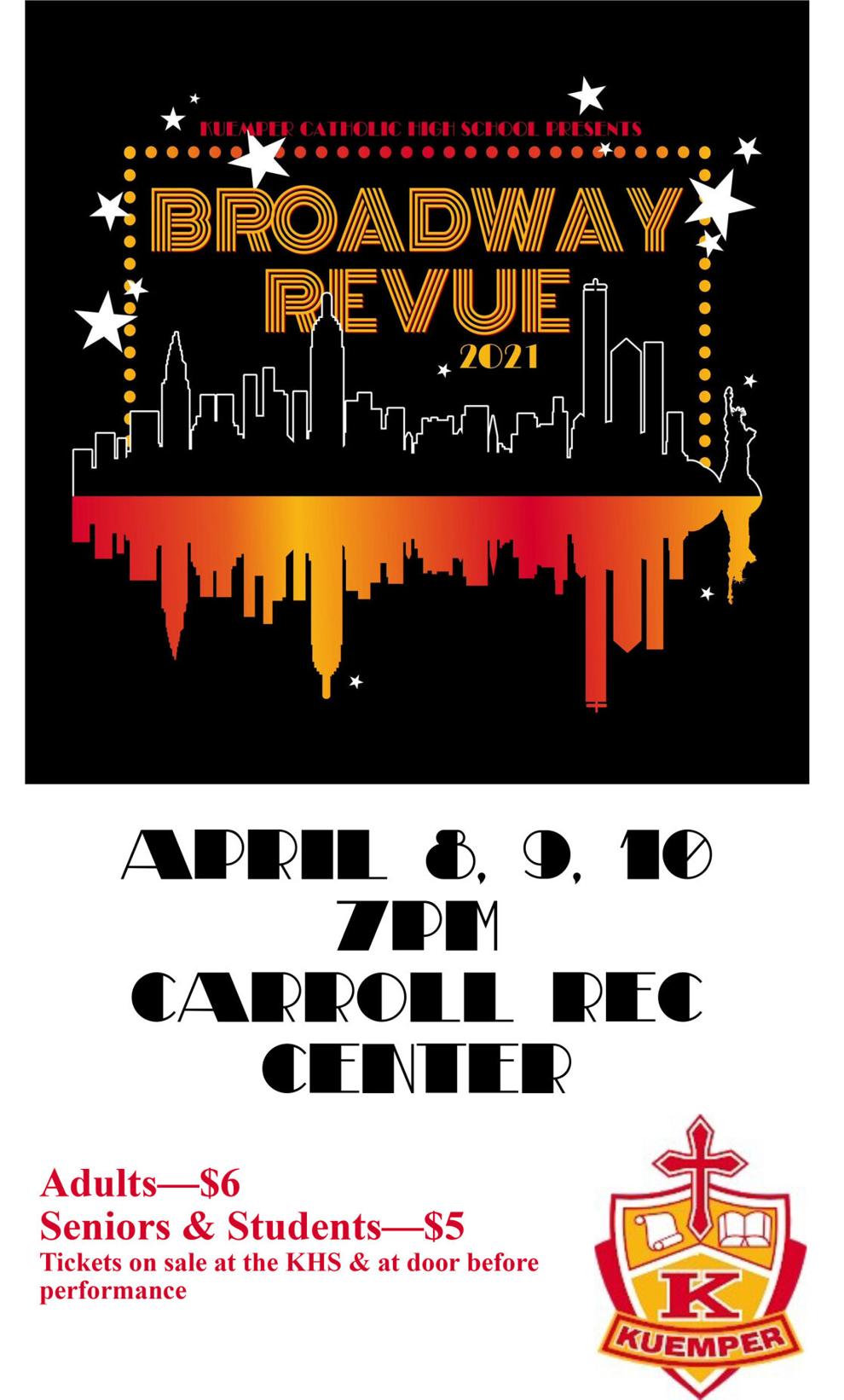 "After such a tough year, if we were going to get the opportunity to do something this year, I wanted to make sure it would be something fun," Tracy said. "The students had a variety of shows they wanted to do, so we decided to do all of them. Thus the idea of "Kuemper's Broadway Revue" was born. We have put together a show with fun or funny songs from old and new shows.
"It was also an opportunity for the students to learn about Broadway history, composers and iconic characters.
"The show will be unique since everyone will be singing with masks, but we've been innovative to make sure their voices will indeed be heard this year."
"Kuemper's Broadway Revue" will be presented at 7 p.m. Thursday through Saturday, April 8-10, at the Carroll Recreation Center theater.
Attendance is limited to half capacity of the theater's capacity due to COVID-19 guidelines. Tickets are $6 for adults and $5 for students. Tickets will be sold in advance at the Kuemper office beginning Tuesday, April 6. Depending on pre-sales, there's no guarantee that any tickets will be available at the door.
In his synopsis written for the show's program, Tracy said, "Back when Broadway really got started after WWI, songwriters would write tunes, and they were pieced together into review shows. So that's what we are doing this year. We hope you enjoy this collection of some of the most fun and memorable songs from a century of Broadway shows."
The cast will feature Kysa Auen, Sarah Batz, Morgan Bauer, Matthew Borkowski, Ella Duncan, Hannah Duncan, Rheanne Feilmeier, Emma Harrington, Laura Hensel, Keziah Janssen, Haley Lux, Akeer Mathaj, Rachel Mead, Maximilian Meyers, Brayden Riesberg, Kayla Riesenberg, Dayna Toft and Keagan Wiskus.
Backstage-crew members are Ayak Dut, Lilly Guinan, Britnee Irlbeck, Vivian Meyers and Kyla Schwanz. Lights and sound crew members are Carter Allman, Meagan Berger, Alex Brincks, Morgan Muhlbauer and Dillon Studebaker.
Students perform 26 numbers in the two-act show, leading off with "There's No Business Like Show Business" and "Anything You Can Do I Can Do Better" and concluding with "All in This Together" from "High School Musical." Last year's efforts are not forgotten, as "Happy Days Finale" will cap the first act.