Quickly catching on to artistry of flag spinning and tossing, the performers in Kuemper Catholic High School's new winter guard program have enjoyed immediate success.
The Kuemper team — seniors Kysa Auen and Max Meyers, sophomore Keziah Janssen and freshman Sarah Batz — has qualified for nationals after recently competing virtually in WGI Sport of the Arts Small Ensemble Prelims against ensembles from all over the country. Kuemper will be competing virtually again on April 17 and 18 against 10 other ensembles.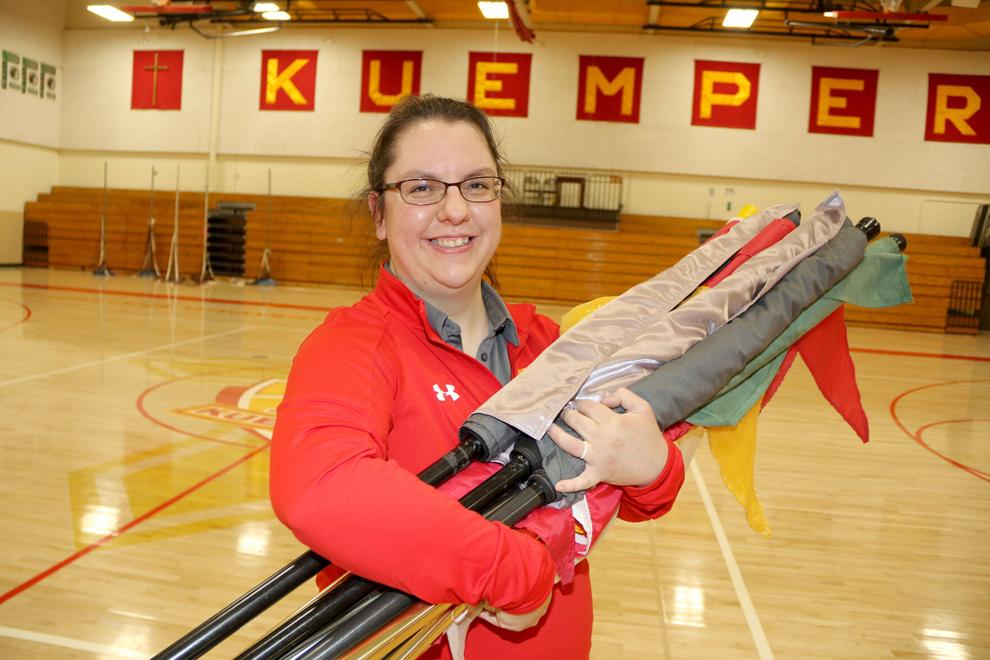 Coaching the team is Kuemper Director of Bands Marie Walsh Becker, and she's upbeat about the squad's preparation for nationals.
"I am overall very pleased with their preparation," said. "The students have worked hard all season, and it's a long season, one that overlaps with several sports, the musical, Solo and Ensemble Festival, two concerts, and more. They've been showing up and putting in the reps through it all. We're as prepared as we can be, and we've laid a great foundation to build on in the future."
Walsh Becker describes the program, "Winter guard is much like color guard during marching band, except it takes place indoors, usually in a gym, and performs to recorded music instead of with a live ensemble. WGI is the largest organization for indoor marching arts such as winter guard and winter drumline/winds. They organize international competitions every year, and this year, they are all virtual. Small-ensemble competition is broken into age and equipment categories."
She noted Kuemper is the only guard ensemble from Iowa in small-ensemble finals.
Walsh Becker said that in a normal (non-pandemic) year, WGI Sport of the Arts and its local affiliates organize multiple competitions and groups from all over the world compete at those events. This year, the Kuemper Winter Guard participated in WGI's virtual season, which has run since late February and included events for indoor color guard, percussion and winds. The competitors are divided into classes based on size, group experience, what equipment is being used, et cetera. Those groups that scored high enough moved on to finals. Kuemper will compete in the Small Group Flags Division, along with other groups that only spin flags and have two to nine members.
Walsh Becker, who herself marched four years at Creston High School and then four years at Truman State University in Kirksville, Missouri, including two years as drum major, answers some questions about Winter Guard:
Q: Any particular reason for such immediate success?
A: Quite frankly, it was unexpected. Indoor marching arts are extremely competitive, and the top organizations pour a great deal of time, energy and money into their shows every year. You can find videos of the amazing work these groups do online. We had hoped to get some good experience, build our skills and work toward being competitive in later seasons. Apparently, God had slightly different plans!
The primary reason our group was able to do anything is that Kysa, Max, Keziah and Sarah are all hard-working students and good musicians, not to mention they all have good attitudes and a willingness to try new things. That alone will take you far. We also competed against groups that are similar to ours in both size and experience. Finally, we had the goodwill and support of parents, staff, administration and the home crowd. All of this came together and paid off. Of the 113 small ensembles competing, we were one of the only 52 that moved on to Finals.
Q: What are the keys to successful performance?
A: A successful performance comes after putting in hours of work on choreography, technique and movement and is the result of staying focused and in the moment. A little jolt of adrenaline is helpful, too — the best performances are in front of an audience. Finally, we have one extra-secret ingredient: prayer. We pray as a team before we hit the floor. It helps us zero in and points us back toward the reason we have hands and breath to spin in the first place.
Q: What do judges look for? What are some of the main criteria?
A: The main criteria are vocabulary/composition, excellence and effect. In other words, what sorts of things are you doing (spinning, tossing, moving, dancing, running)? How well are you doing them? Did it have the intended artistic effect? There are also adjustments for level of competition: judges do not expect Kuemper, in our first year with four students, to have the same "range" as (for example) Pride of Cincinnati, an independent, well-established group of 40 years that fields seven to eight times as many members as we do. However, they want to see if we can do the moves we're trying to do with good technique, good timing and a sense of artistry.
Q: What are reasons for starting the program at Kuemper?
A: The main reason was that we had students who really wanted to spin and were willing to work at it, so it just made sense to offer them the opportunity. Winter guard also builds the same sorts of skills that sports do — athletic ability, teamwork, grit, resilience — as well as artistic sensibility. From my stance as the instrumental music director, starting a winter guard opens a path for higher levels of achievement during marching-band season, as well. It allows us to improve our skills throughout the year, not just during first quarter, and be that much better come fall. Finally, let's be honest, it's a ton of fun.
Q: Where has the group performed this year, at what events?
A: We've performed at two basketball games during halftime. Other in-person performances were drastically reduced due to COVID concerns this year. Next year, we hope to both return to the court for the home crowd and possibly compete in person at a local level.
Q: What are goals for the program?
A: Our No. 1 goal is to continue to grow in skill, scope and size. We are thrilled to have seen success, but that means we've set the bar higher for our second season. Next year, when we are hopefully living in a country without COVID, there will be more groups returning to the floor, and the competition will be greater. We will need to be stronger, more skilled, more precise, more artistic. And it would be awesome to have a few more people on the floor, too. Do we have what it takes to stand in the same arena? I believe we do, and now we get the chance to prove it.
Q: What are your own credentials coaching the program? Were you a performer yourself?
A: I have been on or around the marching field since 1999. Though my own experience was primarily on the horn line, I've been a collegiate drum major, a tech, kind of like an on-field assistant to the director, now a band director, and always a fan. I also marched on the baritone line with Iowa's own Colts Drum and Bugle Corps back in the day. There is nothing quite like the feel of the lights and the cheers of the crowd after a perfect show. About the only thing that beats it is hearing the crowd cheer for your students after they've put in the work and gone out there and nailed their performance.