Jeff Campbell believes so strongly that society must improve in its compassion and support for those needing mental-health help, he's willing to go the extra mile.
Or make that extra 350 miles.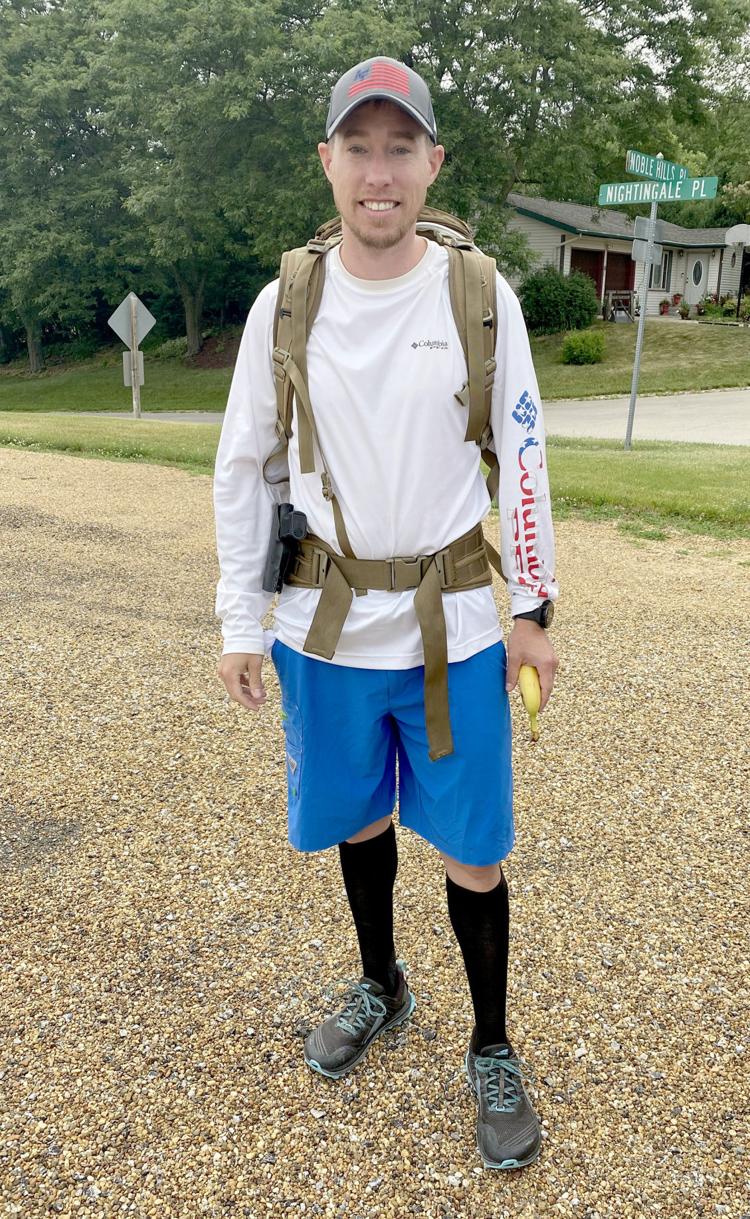 Raising awareness for that cause, Campbell walked across Iowa from June 10 through 29, starting at Clinton on the east side of the state and finishing at Sioux City, near his home in South Dakota. Campbell followed Highway 30 much of the way, so his route took him through Jefferson, Carroll and Denison.
And as if walking anywhere from 13 to 29 miles a day wasn't enough, Campbell also satisfied a personal itch. He capped each day by playing a round of golf — although he did that using a cart, not walking.
"I read a book a few years ago by a guy who walked around the whole coast of Ireland walking and golfing ("A Course Called Ireland: A Long Walk in Search of a Country" by Tom Coyne). I thought I could do that. It doesn't seem that hard," Campbell told the Times Herald in a phone interview. "Then fast-forward a few years, and I really wanted to do something for mental-health awareness. And I got the go-ahead to walk across the state, and I thought, 'I want to golf, too.' "
He added, "Walking isn't complicated, but when you're walking so many miles a day and then golf, I just really like the challenge of the whole thing."
Increasing the challenge even more, Campbell on the first days carried his golf clubs — his set included a driver, 6-iron, 8-iron, 60-degree wedge and putter — but later handed them over to his family support team accompanying in a vehicle.
"The miles started adding up. Eventually I decided I need to carry only water and food," he explained.
Campbell said he shot a 48 on the par-36 back nine at the Carroll Municipal Golf Course before resting overnight at the Carrollton Inn.
Campbell, 33, an Iowa Air National Guard technical sergeant who's a survival, evasion, resistance, escape specialist, said of the walk-golf combination, "I just enjoy being outside. I'm a survival expert for the Air Force by trade."
For Campbell, the mental-health cause hits home from his own experiences and struggles he's seen others endure.
"As a society, we don't give it enough attention, and in the military, it's tough," he said. "When I was active duty, I was gone three or four months every year away from my wife and kids. Plus there's the stress of the job."
Campbell, a Buckhannon, West Virginia, native, has served in Iowa, Arkansas, Illinois and Washington, plus he's been deployed twice to the Middle East.
The military and society as a whole must do a lot better meeting mental-health needs, he said.
"There's a reason 22 veterans lose their life every day from suicide," he said. "I've had friends who have struggled. I've struggled on my own here or there. It really frustrates me that they want us to go to the gym and work on all our muscles, but there's really not a whole lot they do when it comes to being proactive about mental health."
"I think we need to be more open to it as a society," he said. "We should be able to go to our boss and say, 'Hey, I'm having issues,' and not having them instantly thinking negatively or thinking you're weak."
The response, he said, should be, "Let's figure this out and work this out together."
"That simply doesn't happen," he added.
Campbell posted daily photos and video of his walk on Facebook and Instagram at FB@MMT4Change. MMT stands for Mental Muscle Team.
After reaching Denison, he departed Highway 30 and angled up to Sioux City through Schleswig and Mapleton.
Family members serving as his support team on the walk met him every few hours to restock his food and water supply.
He finished with a round of golf at Green Valley Golf Course in Sioux City.
Getting a step-by-step view of the state, Campbell said, "Iowa's a lot more beautiful, a lot more rolling hills than I thought. That's been kind of eye-opening. It's been quite the adventure."
He said he will remain active in the mental-health cause but doesn't have specific plans yet for the future.
"I'm sure I'll figure out something else," he said.