The Carroll Community School district today approved a renewed three-year contract for Dr. Casey Berlau, who just completed his first year as the district's superintendent this past school year.
The contract includes a $164,000 salary, an increase of $4,000.
Other benefits include 20 vacation days; 13 sick days, an increase of one day; three personal days; full family health insurance with a $500 deductible and $1,000 out-of-pocket maximum; a $50/month cellphone stipend; and a $1,640 tax-sheltered annuity plan, a new part of Berlau's contract.
"I feel like it's been a good year, and we have a great school district here, and I'm pleased to be a part of it," Berlau told the school board members at the board's last regular meeting on June 16. "So thank you for your support, and I look forward to continuing to work with you."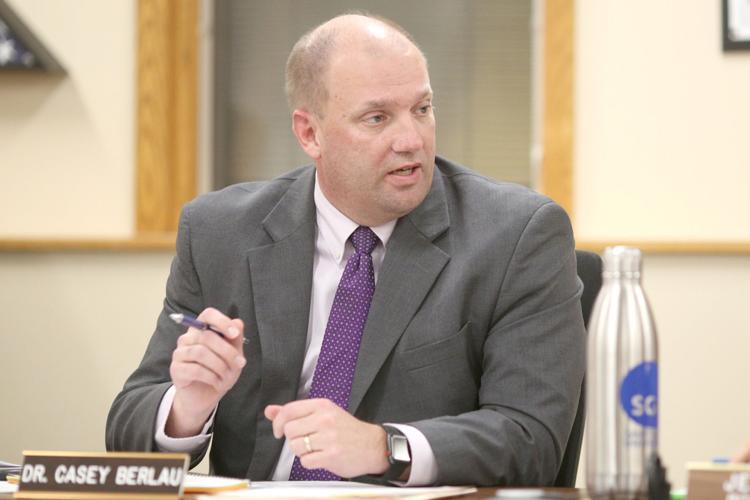 The board members thanked Berlau for his first year with the district during the June 16 meeting.
"We so appreciate all you've done and how hard you've worked," Board President Karen Friedlein said. "You've really been helping us and are a great leader, and we want to support you, and we wanted to express our thanks."
Friedlein said in an interview that during the evaluations that preceded the announcement of Berlau's contract extension and raise, board members praised his handling of a school year that unexpectedly needed to finish online and his support and guidance in the preparation for a new before- and after-school program for elementary students that will begin this upcoming year.
She noted that Berlau spent his first year as superintendent getting to know both the Carroll Community Schools staff and leaders from the Kuemper Catholic School System and Des Moines Area Community College.
"He's done a great job at bringing people together," Friedlein said. "He's a consummate professional, he's a good leader and he works at having people work together. … He's taken his time and listened and is really going to have the district move forward in a positive direction."
The board during the June 16 meeting offered Berlau a thank-you card that included a quote from the West Point Military Academy cadets' prayer, which they said exemplified the coronavirus-upended ending of the last school year, and Berlau's first year on the job:
"Make us to choose the harder right instead of the easier wrong and never to be content with a half truth when the whole can be won."
Also during today's special board meeting, Berlau discussed the latest updates he received from the Department of Education that included relaxed guidelines for the coming school year, including the stipulations that schools would not be required to keep students six feet apart or take their temperatures before school. The state also did not recommend that school districts require staff and students to wear masks, although schools still can choose to require or recommend that step. Berlau said at a previous meeting that Carroll Schools might recommend the use of masks but likely wouldn't require it.
"In my mind, this took down barriers that we were running against when we thought about coming back to school," Berlau said. "That doesn't mean that when school starts, we don't have to pay attention or worry about anything and it'd be just like last year. That's not what this is saying at all. We have to really create conditions where staff and students are safe."
The district will submit a "Return-to-Learn" plan to the state by July 1 that outlines the school's plans for holding classes and keeping students and employees healthy, either in an in-person format, a hybrid format that includes some online learning, or an all-online format, depending on the state's requirements for schools this fall. Berlau said that the document submitted to the state next week won't be set in stone but will continue to evolve as the school year approaches and takes place.
"As I project forward to school next year … we know we'll have positive cases in our school," Berlau said. "What we'll do is work with our Public Health department here in Carroll County to make decisions on what's best given the circumstances that exist at that time. We've been consistent throughout this that we'll follow the guidance and recommendations we've been given, and that'll continue."
School will start in Carroll on Aug. 25.