TEMPLETON: Carroll Area Development Corporation presented Templeton Rye with the Spirit of Excellence award on Nov. 12.
Co-founder Keith Kerkhoff and Chase Prebeck, hospitality manager, accepted the award.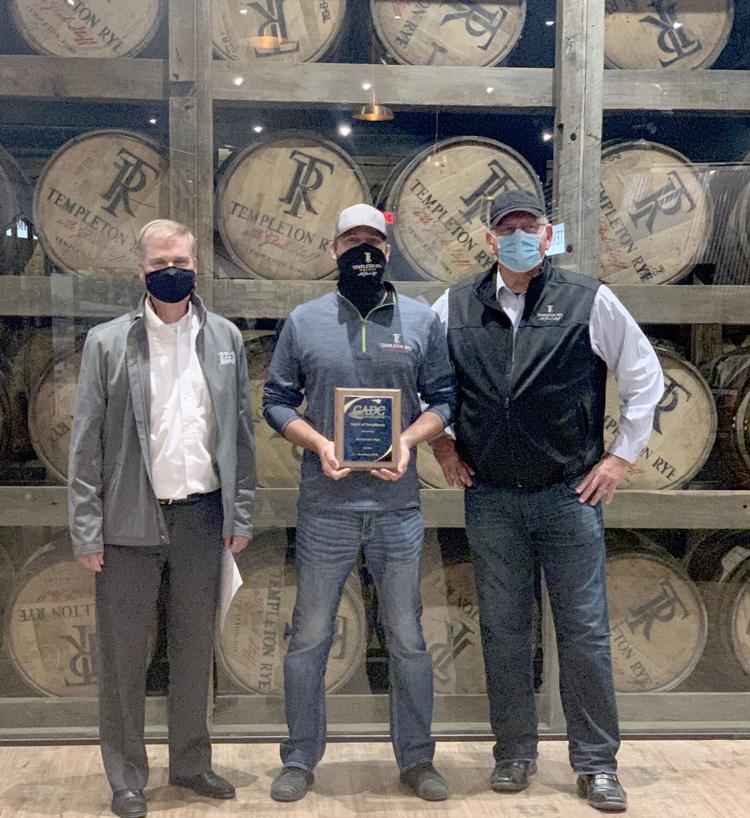 The Spirit of Excellence award recognizes Carroll County businesses that invest resources in projects that result in a larger property tax base and additional quality jobs in Carroll County.
Templeton Rye recently completed a $40 million facility including a 55,000-square-foot aging warehouse, 34,000-square-foot state-of-the-art distillery and a visitor center that offers tours, a gift shop and a tasting room.
The expansion added 15 full-time and 12 part-time jobs.
Templeton Rye not only expanded the local tax base and created high-quality employment opportunities, its growth also increased tourism revenue in Carroll County, CADC officials said.
Additionally, the company simulates the local economy by purchasing corn from local farmers for their corn and bourbon whiskey. Spent grains are recycled by partnering with area farmers for cattle feed.
During the COVID-19 pandemic, Templeton Rye donated reverse-osmosis water to the State of Iowa to be made into hand sanitizer. This past year, Templeton Rye received the Iowa Job Honor Award in recognition of its commitment to hiring disadvantaged candidates, creating new opportunities that change lives.