Despite the coronavirus pandemic, Kuemper Catholic School System refuses to give up efforts to help people living in one of the poorest countries in the Western Hemisphere.
This school year, if not for the pandemic, Kuemper fifth- and sixth-grade theology teacher and K-6 faith coordinator Mike McCarty would be preparing for a Mission Honduras trip next spring.
The last several years, Kuemper has alternated holding a Then Feed Just One packing event, which sends hundreds of thousands of meals to Honduras, and a Mission Honduras trip, where up to 25 Kuemper High School students and adult chaperones travel to the Central America country to build a couple of homes, deliver all kinds of donated necessities and tackle an array of service projects.
When the pandemic closed Iowa schools last March, Kuemper cancelled its Then Feed Just One packing day. Now, due to the continued health risks, plans for the 2021 Mission Honduras trip also are scuttled.
However, a raffle to raise funds for Mission Honduras has gone on as scheduled. The drawing next week will award $500 for first place, $300 for second and $200 for third.
But, instead of funds generated by the raffle going to Mission Honduras, McCarty said, plans now are to direct them to Then Feed Just One because of the immediate dire need in Honduras, which on top of severe poverty has been hammered not only by the pandemic but also by Hurricanes Eta and Iota.
"What I've seen going on down in Honduras just breaks my heart," McCarty said of email messages and photos he's received from Marta Sosa, who's served as coordinator in her homeland for Kuemper's Mission Honduras visits.
"With the cancellation of Mission Honduras, we're going to take that money (from the raffle) and very carefully spend it on Then Feed Just One," McCarty said.
He has hopes that Kuemper administrators can come up with a way to host safe, smaller packing events for Then Feed Just One instead of past setups that filled the high school gym and brought in students from all grades, faculty, staff and general-public volunteers.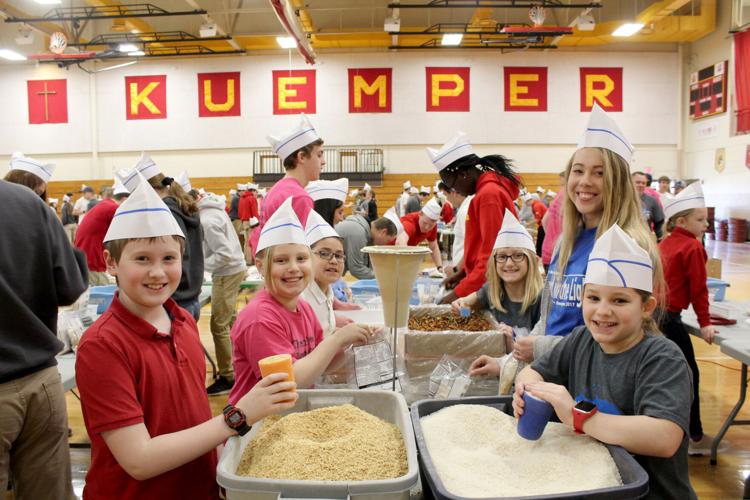 "We don't know when that event will be. Administration is looking at some ideas," McCarty said, adding, "I hope and pray we can have a packing event, because that's absolutely key."
The Then Feed Just One website says it is a not-for-profit mobile food packaging program that packages life-saving, nutritious meals for starving children and their families in Honduras.
"In cooperation with various organizations in Honduras, this food is distributed to the most needy in orphanages, children's homes and throughout the general population," the website says. "We accomplish this task each time a school, church, club or community desires to have a food-packing event."
McCarty said, "This is a meal that brings the protein they need, the carbohydrates, all the different factors, so it goes a long way. So if I just sent the money to Honduras, it would not be nearly as effective as it would be to have a packing event."
Kuemper's first-ever Then Feed Just One packing event in 2008 provided 498,354 meals. Subsequently, Kuemper packing events have totaled 325,296 in 2009, 272,634 in 2010, 209,088 in 2012, 251,640 in 2016 and 317,304 in 2018. That all adds up to 1,874,316 meals, which consist of rice, soy, freeze-dried vegetables and a powder of minerals and vitamins.
The pandemic made raffle sales challenging this year, so, McCarty said, donations to Then Feed Just One would be especially welcome.
"I want to make people aware that we're changing our focus (from Mission Honduras to Then Feed Just One) because we have to," he said.
"If people would like to support Then Feed Just One at Kuemper this school year, just for the sake of humanitarian purposes, we would greatly appreciate it," he added.
Donation checks made out to Kuemper Then Feed Just One may be sent to McCarty at his home: Mike McCarty, 1226 N. Main St., Carroll, IA 51401.
McCarty took his first Mission Honduras trip in 2016 with a group from Le Mars Gehlen Catholic School, where he graduated in 1979. Motivated by that experience, he's coordinated Kuemper trips in 2017 and 2019.
He said Marta Sosa, his contact in Honduras, related in a recent email that the homes built and donated to families by Kuemper and Le Mars Gehlen missioners had stood up to flooding from the hurricanes.
"The houses we've built are on raised platforms, and they have had no flooding inside their homes while neighbors were getting real bad flooding through their houses because of the torrential downpours," McCarty said. "So our gutter systems were working out really well.
"She said, 'Thank you so much.' That's heart-wrenching because you think, 'How bad must it be?' "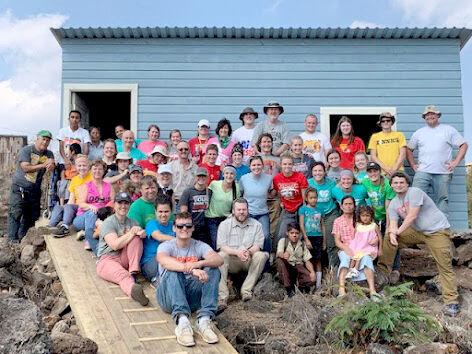 McCarty is grateful for the Kuemper crews' Mission Honduras accomplishments. His list of accomplishments from the 2019 trip includes: Built two homes with wiring, tables, benches, shelves and bunk beds; provided groceries, hygiene products, hammock chair and camping chairs for both homes; invested in a laundry soap business in a family's home; paid to have both houses wired and hooked up to electricity; paid for both homes' electric bill for one year; built a ramp and bought a new wheelchair for a son in one of the families that received a home; built 25 sets of bunk beds (two for the homes, 18 for other homes in the area, and five for the host school where missioners lodged); built five picnic tables for the school; provided supplies and taught a sewing class on how to make T-shirt bags; distributed T-shirts and pillowcase dresses to a school; donated baby clothes and diapers to the Sisters of Charity and a pediatric hospital; donated hats and gloves to the sanitation department; donated supplies to the military; donated vitamins, prenatal vitamins, and aspirin to the school clinic, military and the hospital; left clothes, shoes and food for the school to distribute; donated Spanish books for the school library; employed a woman to do the Kuemper missioners' laundry and paid her what she usually makes in three months; left $2,000 for a family's living expenses; paid $400 to assist a woman and her children with groceries; and assisted in miscellaneous repairs to homes in the area.
In addition, McCarty said, missioners build relationships with each other and with the people of Honduras plus grow closer to Christ though their service to others.