Stunned by the coronavirus pandemic forcing the shutdown of school and businesses in the middle of the 36th annual Friends of Kuemper Ball fundraising, the campaign forged forward and still achieving roaring success.
Out of concern that everybody stay healthy, the Ball on Saturday night, May 2, was celebrated livestream on the Kuemper Facebook page. No traditional crowd of hundreds in the Kuemper Field House with dining, music, dancing, live auction and more. This year there were only a few on-camera speakers and a small technical crew to bring viewers a virtual Ball.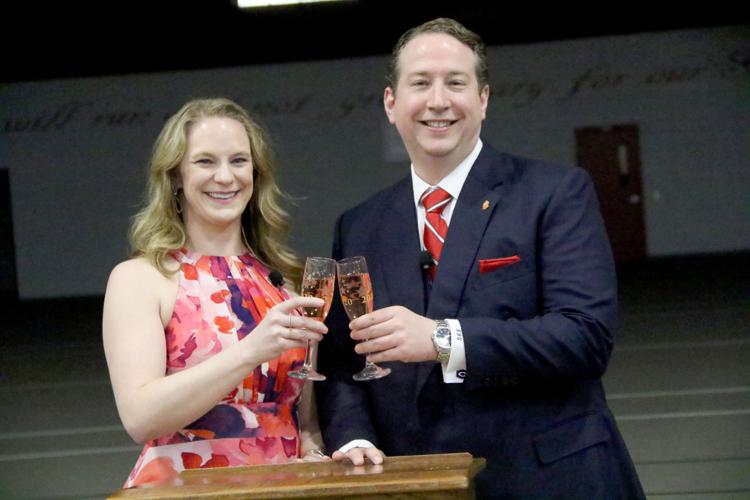 Nonetheless, at the conclusion of the program, Dr. Kyle and Onica Ulveling, one of the campaign's four chaircouples, announced a grand total of $535,219. Following an online auction and a Ball Blitz that earned a matching donation, that total grew to $541,511 at the end of the night.
Kyle said afterward, "We're so thankful for the community support because this isn't a cherry on top for Kuemper. This is part of the necessary budget, so it's nice to see that although not having the gala and festivities, that the community really came out in spades and really supported the school system."
Onica added, "Especially right now with the COVID-19 and everything going on, people aren't in the best of moods. They might be on hard times, so we really appreciate everybody supporting us not just financially but through congratulations and well-wishes and watching this evening."
The Ulvelings noted that the pandemic fallout hit hard just as the fundraising was ramping up; however, the campaign continued to receive strong support. One big boost came from the Heider Family Foundation, which matched up to $10,000 raised in an online Ball Blitz Saturday.
So this year's amount was achieved "without nearly the normal processes the Kuemper Ball has done for 35 years," Kyle said.
He added, "We weren't able to hold one of the lead-up events we had planned — Trivia Night. We had to cancel that because of the necessary social distancing, but even so, we're happy for the school system."
Over the years, funds from the campaign have gone primarily to maintaining teacher pay, general operating fund, tuition assistance, technology, critical capital needs and more.
The 36 Friends of Kuemper Ball campaigns have generated a total of more than $11.3 million.
Along with the Ulvelings, this year's chaircouples were Tom and Paula Kasperbauer, Jeremy and Dr. Tina Schechinger, and Bill and Laurie Schenkelberg. Their theme for this year's campaign was "The Roaring Twenties." The Ulvelings were the only couple participating in the live portion of the broadcast in order to limit the number of people in the field house. The other chaircouples presented video-clip messages.
The technical crew of Steven Berger, Ben Tillinghast, Susie Hulst and Gina Brincks provided a 1 hour, 7 minute program with the live segments from the field house mixed with a variety of recorded features, including "We miss you" messages from teachers, thank-yous from students and dance numbers by members of the award-winning Kuemper Kix and their families. The broadcast had received more than 5,100 views as of Sunday evening.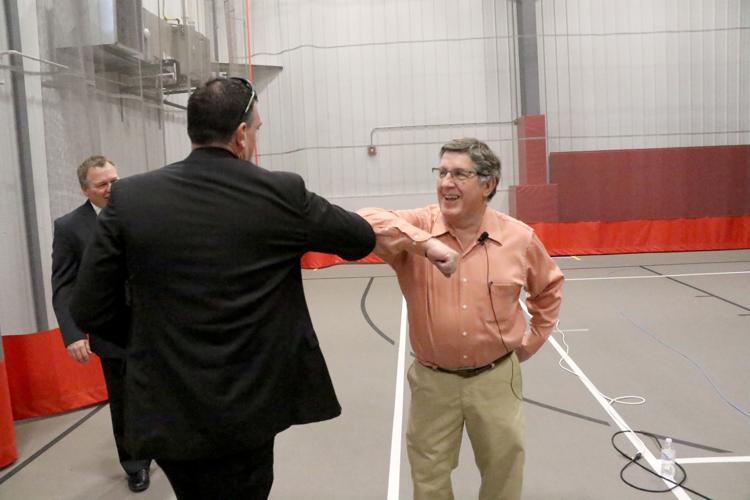 Special messages were provided by Nick Nurse, 1985 grad, who was a starting guard on the Knights' 1985 Class 3A state championship basketball team and now is head coach of the reigning National Basketball Association champion Toronto Raptors, and Matt McDermott, 1996 grad, recently named to the Iowa Supreme Court by Gov. Kim Reynolds.
Nurse said, "The chance to be a part of the Kuemper family has always meant a lot to me. It's really a source of pride for me. I want to thank everybody for being a part of this special evening. There are a lot of things at Kuemper, not only the sports, but the arts, music and theater and all the things that really made it special. And believe it or not, I was even a cowboy in the musical 'Oklahoma!' my senior year. So a lot of great things.
"I really think the faith-based education really sets Kuemper apart. My mother, Marcella, and father, Maury, were very proud to send all their nine kids through Holy Spirit School and then on to Kuemper High School.
"Prayers for world health at this interesting time in our lives. Let's just all stick together, pray together, and things will be OK."
McDermott, a son of Barbara and the late Del McDermott, was one of seven children in his family who graduated from Kuemper between 1980 and 2005.
He said, "Exactly one month ago I was appointed by Governor Reynolds to be the next justice on the Iowa Supreme Court. I'm incredibly honored by this appointment and grateful for the opportunity to serve. This appointment never would have been possible without the extraordinary foundation and springboard that Kuemper provided me. Thank you sincerely for continuing to support Kuemper, especially for supporting our extraordinary teachers who prepared me and prepared all of us both academically and spiritually for all that has come in our lives since and who view their roles not just as jobs but as vocations.
"I am enormously proud to call myself a Kuemper Knight and am grateful for the opportunity to celebrate with you all tonight."
The program also included testimonials from 2019 Kuemper graduates Courtney Schenkelberg and Ben Brincks, as well as 2020 seniors Josh Tigges, Payton Schenkelberg, Cole Collison and Maddie Simons.
Tigges said, "Kuemper is the place I've called school for the last 13 years. But it is much more than that. It's family. We have a saying here, 'Welcome to the Kuemper family.' And it's more than a saying; it's a meaning. People live by that, and I can attest to that. Kuemper has had a huge impact on my life … throughout the good times celebrating with the teachers and the bad times having to get support from others. They've always been there right by my side, and without them I truly don't know where my life would be today. So I thank you from the bottom of my heart to all the teachers, staff members, employees, janitors, everyone for giving me a smile throughout my years walking the halls of Kuemper."
Tigges thanked Kuemper supporters for the "donations you have made to a wonderful school that continues to put students above and beyond and makes wonderful leaders of this world, as I aspire to be."
Collison said, "One of my favorite things about Kuemper is how much the staff cares, from teachers putting in extra time with students when they need it to coaches putting in extra time at the weight room or at practice. You can really tell the staff really wants their students to be the best they can be at whatever they're doing.
"Another thing I think is really cool about Kuemper is the tradition that many families have there. Personally I'll be a third-generation Kuemper graduate coming up in May, and I want my nieces and nephews to have the same countless opportunities with countless activities that I did — from sports to fine arts to spiritual activities to many more, Kuemper can give you the opportunity to succeed in whatever you're doing."
Cindy Lawler, Ball coordinator and annual giving and alumni director, said in an email to the Times Herald, "When it became apparent that we would not be able to have the traditional Kuemper Ball, everyone was very disappointed. We were really looking forward to celebrating the 1920s with everyone. But, as I'm finding with all things Kuemper, everyone pulled together to make the best of a difficult situation. By the grace of God and the technical knowledge and skills of Steven Berger, Kuemper's technology director, and Susie Hulst, marketing director, the virtual Ball went off without a hitch. I am so grateful for their hard work, for Kyle and Onica's patience with our Kuemper team, for the great video clips from the Kasperbauers, Schechingers and Schenkelbergs, the videos from Matt McDermott and Nick Nurse, a great response to the auction and for everyone's support financially and in prayer.
"I also want to extend a special thank you to all who donated to the Ball Blitz and to the Heider Family Foundation for their matching gift of $10,000. We were all overwhelmed by everyone's generosity to hit that matching gift, with times being so unpredictable. We all hope and pray that we can fill the field house to capacity with all of our Kuemper friends and family next year."
Kuemper Catholic School President John Steffes said in an email, "We're extremely proud of our Kuemper Family for coming through again for the annual Kuemper Ball. We've had challenges before in our school's history, and we'll have more in the future. But the 2020 pandemic is on another level, and so (fundraising) expectations for this Ball were quite low. So it's a tribute to our chaircouples and the entire Kuemper Family for coming through in flying colors.
"With a fundraising total similar to last year's along with an improved net total (after expenses) due to basically an empty Field House for the virtual Ball, we are calling this year's Ball an overwhelming success. Kuemper supporters have proven to be loyal and steady to the school's mission through good years and bad. We are forever grateful to everyone in the Kuemper Family. Go Knights!"