Before Carroll school teams got their kicks every season for the last 36 years, Mike McCaffrey already had been long at work, employing his own game plan to provide them top-quality playing surfaces.
Under McCaffrey's tender loving care of aeration, fertilization, drainage, mowing and just the right mixes of grass seeds, the football, softball and soccer turfs have thrived.
It's been a labor of love, but now he's retiring and turning over duties as Carroll Community School District grounds supervisor and Carroll High School head custodian.
"I enjoyed my years," McCaffrey said. "I'll never forget the good times we had. There were some hiccups and stuff, too, but we always came out on the better end in the long run. It was a good career. I enjoyed it a lot."
Vern Henkenius was assistant to then-Superintendent Dale Proctor when McCaffrey was hired.
"He's one of the most valuable employees Carroll Community Schools has had since 1984 to the present," Henkenius recently commented to the Times Herald.
He added, "Mike is just a super guy, honest and trustworthy. You just won't find a better employee for the school district."
Rob Cordes, superintendent from 2004 to '18 and Carroll Middle School principal from 2000 to '04, said, "One of the things I always appreciated was he knew every square inch of that high school and could troubleshoot just about anything. The reason for that was Mike grew up with that building, meaning Mike was there and on site when that building was built. He knew where every wire was, he knew where every pipe was, which is very beneficial.
"In addition, he also oversaw the grounds of the district, and he spent a lot of time and took a lot of pride in how our campuses looked outside and our overall facilities. He's certainly earned his stripes to be able to retire and spend more time with his grandkids and kids."
McCaffrey came to Carroll Community Schools in 1984, looking for a more-stable position following a strike at the former Farmland Foods meatpacking plant in Carroll, where he'd worked on the processing lines.
"I was looking for something more secure and with good benefits," McCaffrey said.
Henkenius and Proctor told McCaffrey they were looking for someone who would up the groundskeeping game at Carroll Athletic Field football stadium.
McCaffrey immediately took that mission to heart.
"After we hired him, the first thing he did was go to Iowa State University and receive training at their turf management school," Henkenius said. "He wanted to learn. He wanted to get better."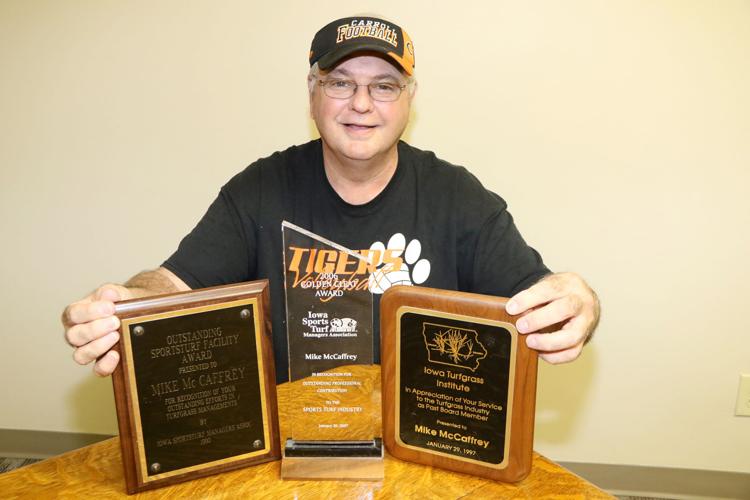 McCaffrey recalls he took that ISU-credit course with golf course superintendents, sod growers and lawn care specialists.
"The stadium needed a lot of work when I came," he said of the challenge he faced.
So he right away began employing lessons he learned about aeration, top dressing, seeding, fertilization and turf height, and the field responded, thickening up quickly.
Throughout the rest of his career, McCaffrey was eager to learn, look at different strategies.
He often called upon the expertise of Dan Smith and Jim Von Ahn, longtime golf course superintendents at the Carroll Muni and Carroll Country Club, respectively, and Scott Parcher, City of Carroll's renowned parks superintendent. McCaffrey's also been active in the Iowa Turfgrass Institute and received two major honors from the Iowa Sports Turf Managers Association: Outstanding Sportsturf Facility Award in 1990 and the Golden Cleat Award in 2007, which is "given to an individual who has made a significant contribution, by virtue of their outstanding commitment and years of service, to the sports turf industry in the state of Iowa."
One of the biggest lessons McCaffrey learned at Iowa State in order to make Carroll's football turf a cutabove was to really keep it a little higher — 3 inches, compared with 2 to 2½ inches elsewhere.
McCaffrey laughed as he recalled the incredulous, sputtering reaction of legendary Harlan football coach Curt Bladt when he got a look at the Carroll turf, and McCaffrey tried to explain to him why he kept it at that height.
"It just wears better, and it's more cushioned for the kids," McCaffrey told the Times Herald. "We're one of the few schools that ever did that. And you couldn't tell the difference (of the turf) from day one until the end of the season. It just wears so much better."
At one time, McCaffrey recalled, up to many as 70 games a season were played in the stadium by Carroll and Kuemper high school varsity, junior varsity, sophomore and freshman teams, as well as Carroll, St. Lawrence and Holy Spirit middle school teams.
In addition to turf height, good drainage systems on the fields also proved to be vital.
"The biggest thing on any sports field is drainage," McCaffrey explained. "If you have a good drainage system, you're not going to have compaction, the fields aren't going to be hard, the risk of injury is going to be a lot less, and it's a lot easier to take care of them."
As grounds supervisor, McCaffrey took care of a total of about 100 acres of turf grass — some high-maintenance (the sports fields) and some lower maintenance. His responsibilities included:
— Care of Carroll Athletic Field stadium for football games and track meets. Conditions changed there when an all-season track replaced the cinder track in 1994, and the football synthetic turf was installed in 2018.
— Care of the softball field used by both Carroll and Kuemper high schools.
— Maintenance of the 6 acres of football and soccer practice fields at Carroll High, which also are used by PE classes.
— Maintenance of 16 acres of soccer fields of Carroll Middle School in work shared with the City of Carroll.
— Maintenance of the turf grass at Agriculture Education Building on Clark Street; Adams Elementary School; Fairview Elementary School, including outdoor class area, totaling about 25 acres; Carroll High School, with 40 to 45 acres to mow; and Carroll Middle School, with about 10 acres.
Dennis McCartan, who's been Carroll High head football coach 16 years, commented, "Mike did a great job with the fields at CHS and at the stadium. When we had the grass field, it was one of the best any team played on, and it was usually getting a minimum of three games on it per week, which very few schools can say. I think that is the reason he kept it higher than most, due to the traffic on it. He was always accommodating to work with and was willing to do whatever you asked him to do. You could tell that he and his staff took pride in their work. Other programs envy us, as we have beautiful, well-maintained practice fields right off of the locker rooms and weight room. Mike will be sorely missed."
McCaffrey's football-stadium duties dramatically changed when the synthetic field was installed two years ago by Midwest FieldTurf of Denison. He said the new field and bleachers are state-of-the-art.
The turf was installed on 10 to 12 inches of white limestone, and four 16-inch-diameter tubes were placed for drainage, allowing the field to take 4 to 6 inches of rain per hour and still drain well.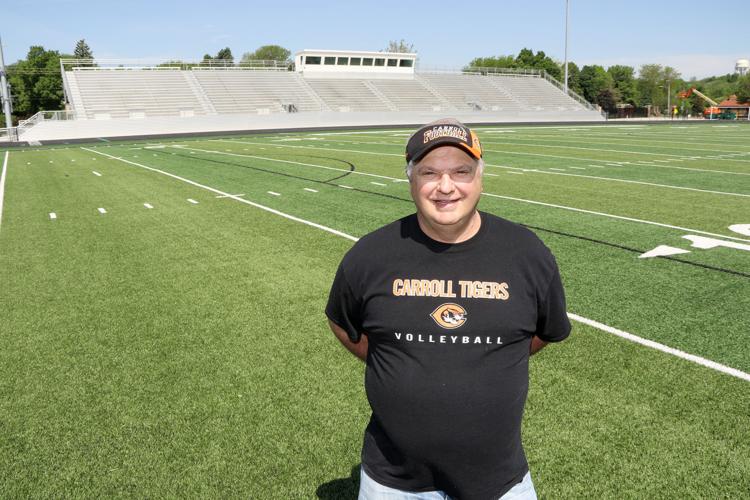 While there's no more mowing, the field must be groomed every two months during football and soccer seasons in order to fill in low spots and smooth the surface. After both football and soccer seasons, rubber infill is added to the most-heavily-used areas.
The field has to be walked after every game to remove sunflower seeds, mud, metal chin straps, bobby pins, gum, popcorn, bandages, tape, and seeds from nearby maple and ash trees.
"All must be cleaned up to keep the infill clean and safe," McCaffrey said.
The new field also heats up quickly. On an 80-to-90-degree day, the field temperature climbs to 145 to 160 degrees, according to McCaffrey.
McCaffrey said he and his crew have strived to keep the stadium and field a showcase for the public and teams.
His duties expanded in 1987 after voters approved a bond issue to build the current Carroll High School. The current Adams Elementary building previously housed high school and junior high, while the elementary grades attended Fairview.
Proctor and Henkenius called upon McCaffrey's four to five years experience of working for Rotert Construction before he went to Farmland. With Rotert he helped build the first phase of the Carrollton Inn in Carroll, KFC restaurant in Denison, the Iowa State Patrol Station in Denison, a lot of farm pole buildings and hog confinements, and more.
"We did everything from pounding nails to pouring concrete," he said.
Proctor and Henkenius assigned McCaffrey to closely watch the high school's construction.
"I was there from the day we stuck the first spade in the ground until the day we had the grand opening," he said.
"With that I became the head custodian at Carroll High School," he continued. "I knew the school like the back of my hand. I had knowledge of all the electrical, plumbing, and heating and air conditioning and how it all worked."
Additions to the school were built in 1996 and '97.
At Carroll High, McCaffrey oversaw the work of four custodians — one daytime and three nighttime — who took care of the building while he primarily worked on the sports fields and schools' grounds. He also ordered cleaning supplies and air filters for the school and set up summer cleaning, waxing, painting and other projects.
In the wintertime, McCaffrey and his crew handled most of the snow removal at all the district's buildings plus the bus yard. A contractor was called in for bigger storms.
Sometimes the job started at midnight, and they'd finish just in time for school start.
He said of one of the rewards of retirement: "I won't miss getting up at midnight, 1, 2 o'clock in the morning to get the trucks going and start pushing snow. That will be nice to watch the guys over at Adams and me sitting in my house (across the street)."
"You almost had to be a meteorologist in this job to know what the snow was going to do," he added. "The greatest thing they made for a person in the job was a smartphone so you had radar and you'd know when the rain was coming, when the snow was coming and when the lightning was coming — so you knew what in the world what was going on."
McCaffrey said he was helped in his work by outstanding school administrators and other personnel.
"I had a lot of good influential people who helped me and guided me, and I can't forget them," he said.
He added, "There also were all the relationships built with contractors, heating and cooling people, snow-removal people. You just get to know everybody. They're always willing to give you a little information and save you a dime or two here or there. I always appreciated the time and help they gave me."
The only child of the late Donald and Leona (Thelen) McCaffrey, Mike was a Guthrie Center native, and the family moved to Carroll when he was a kindergartner. Don was a partner in Kloser Seed Store in Carroll and later retired from the U.S. Post Office and Farm Bureau Adjusting. Leona, a Breda native, worked at Kasperbauer Cleaners and then St. Anthony Regional Hospital.
Mike graduated in 1970 from St. Lawrence Grade School and 1974 from Kuemper High School, where Henkenius was his economics teacher and one of his basketball and football coaches. He received an associate's degree in marketing from Iowa Central Community College in Fort Dodge before he started with Rotert Construction.
Retirement will give McCaffrey more time for fishing, traveling to Green Bay Packers games and attending his grandchildren's activities. Mike's daughter Kim Davis, a 1997 Carroll High graduate, is in her 17th season on the volleyball coaching staff at the University of Northern Iowa, where she was also had a stellar playing career. Kim and husband Shane, who works for MidAmerican Energy, have three children, Camden, a freshman at Hudson High School, Taylor, a sixth-grader, and Paige, a third-grader. Daughter Stacy McCaffrey, a 2002 Carroll High graduate, is an account resolution specialist for Wells Fargo in West Des Moines and has a son, Jordan, a sixth-grader.