Twelve-year-old Addy Beiter already is filling a corner of her bedroom with trophies for top finishes in junior golf tournaments.
However, she recently made one of the best shots of her life when she decided to swing into action to help meet a critical need in the community.
Addy, daughter of Jon and Sara Beiter of Carroll, teed up her love for golf with a desire to help raise funds for New Opportunities Family Development Center's food pantry in Carroll.
So Addy has used Dad and Mom's Facebook pages to offer to clean sets of golf clubs for $15 a bag. She's setting aside a portion of that cost for New Opportunities.
Addy's business has been cleaning up so far. In fact, it's been so brisk that she donated $200 this month to the Cruise for a Cause drive for the pantry. Cruise for a Cause, which also featured a car parade past New Hope, Carroll's nursing homes and St. Anthony Regional Hospital, generated more than 1,200 pounds of food and household items plus more than $6,100 in cash.
New Opportunities Family Development Center Coordinator RoAnn Kofron said Cruise for a Cause came at just the right time as the number of households applying for food assistance has surged due to economic fallout from the coronavirus pandemic. The pantry serves households throughout Carroll County.
"I realized food pantries need as much as they can get, so I wanted to help them out," said Addy, who was a Kuemper Catholic School sixth grader this year. "Then I wanted to do something with golf because it's my favorite sport. I decided to clean people's golf clubs because golf season's right around the corner. I just wanted to help out people and raise money."
As of Sunday, Addy had cleaned 32 sets of clubs. Figuring an average of 15 clubs per set, that totals 480 clubs cleaned. The service even includes pick-up and return. Some golfers already have been repeat customers.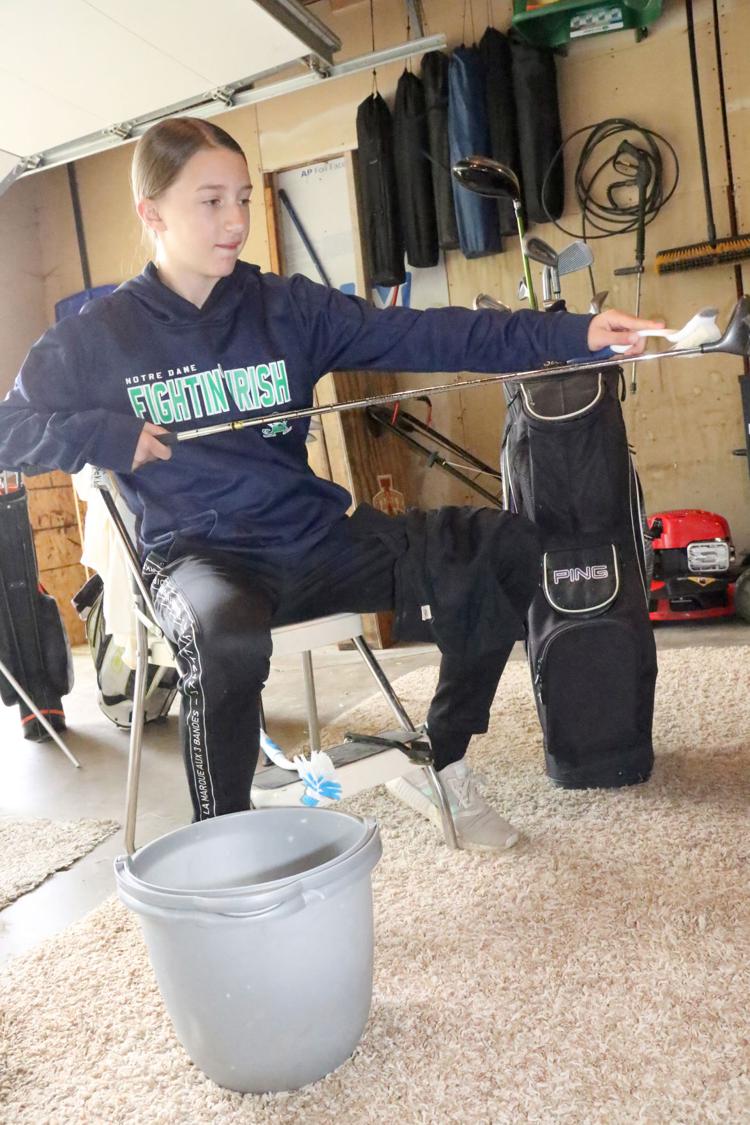 Addy goes to work in the garage of Beiters' home with a bucket of soapy water and different style brushes. She cleans each club from the grips to the grooves in the faces.
She's seen clubs in all kinds of conditions.
Dad Jon said, "You'd be amazed, the people who never clean their clubs. You couldn't even see the face of the clubs. We've had some doozies. Those are the ones you have to soak for about an hour."
He said of the importance of keeping clubs clean, "When the grooves are plastered, you don't get the (ball) spin; you don't get the accuracy. But a lot of people, they just play. Once in awhile they'll probably wipe off their club, but few deep-clean them or anything like that. It's important, though. It's like brushing your teeth. It's important to keep your clubs clean, too."
Addy said most sets take about 20 minutes each to clean. Jon recalled she stayed at it till midnight one night recently to catch up on business.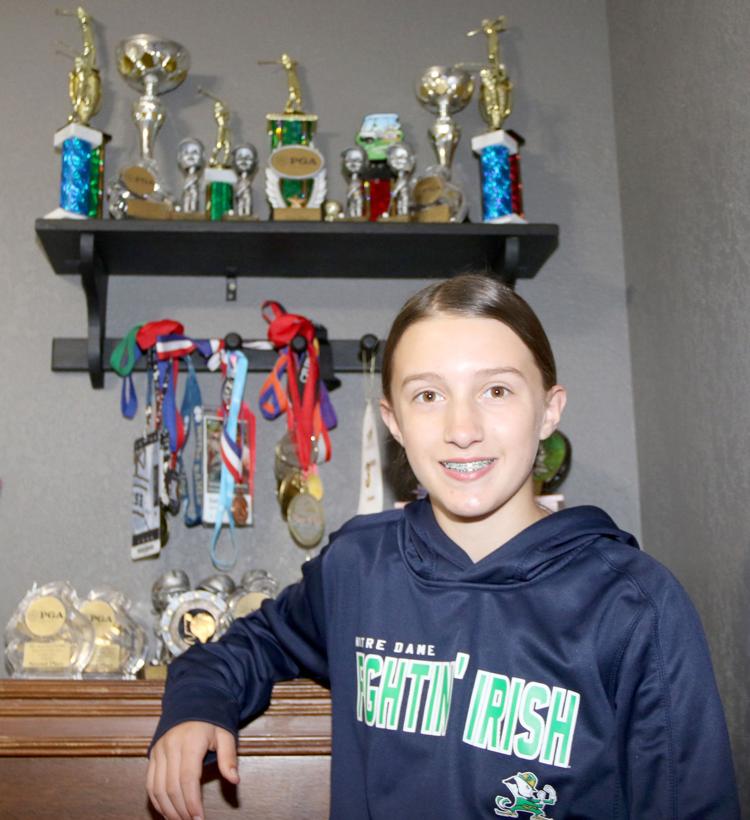 As for her own game, Addy golfs about five days a week at the Carroll Municipal course near the Beiters' home and shoots in the low- to mid-40s on a nine-hole round. She's racked up top finishes in many Junior PGA tournaments in Iowa.
Addy's love for golf began very early. Mom Sara recalled that Addy received a set of plastic golf clubs for her first birthday.
"By the age of 3, she had a 'real' set and is now on her fourth set of golf clubs," Sara said.
Jon said he coaches Addy as much as he can, but added, "She's left-handed. I can help her a tad bit, but I can't figure out a left-handed swing, so she's basically on her own."
For Addy, who also plays basketball and takes her classroom studies seriously, too, golf's a year-round sport. She not only plays frequently at the Muni and in tournaments, but during winter she practices at Full Swing in the Westgate Mall.
Addy said she averages up to 200 yards off the tee with a new Ping driver she received for her birthday in February, and her dad said she has a strong chipping and putting game.
Her steady determination is another strength.
"She gets down on herself once in awhile, but then she comes right back," Jon said. "She just loves to play. She'd keep playing all day long if I wasn't so old and couldn't keep up with her."
He said he's looking forward to Addy moving up in a couple of years to the Kuemper High School golf team, which has had consistent success under coaches Deb Gute and Terry Pudenz.
Addy's love for golf is supported by her parents and two older brothers — Tallon and Tregan. Tallon is a 2018 Kuemper graduate who's nearing a diesel mechanics degree from Des Moines Area Community College and will be working for Housby in Carroll. Tregan was a Kuemper seventh-grader this year who plays basketball and football and has started playing more golf.