Theresa Greenfield earned the endorsement of another progressive political action committee Thursday.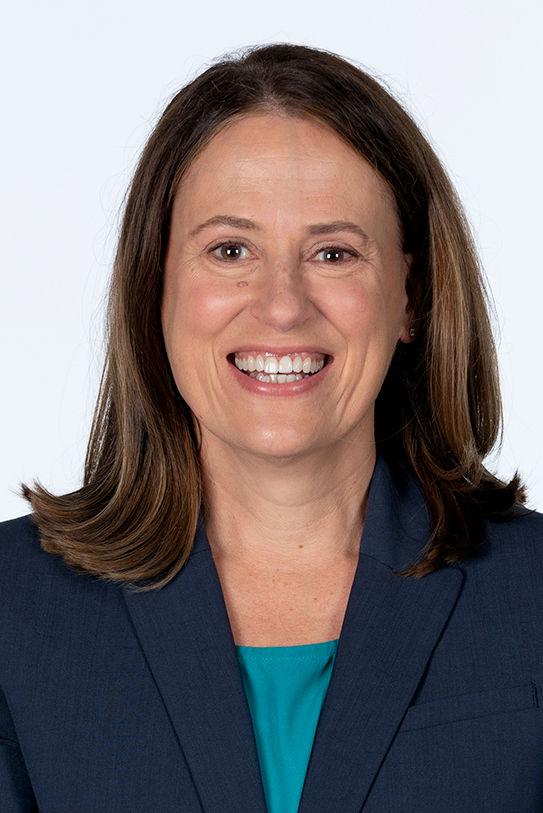 The Democratic nominee to take on incumbent Republican Sen. Joni Ernst was endorsed by NextGen Iowa, a group that works to turn out young voters to the polls. The organization pledged to leverage its $3.5 million investment in Iowa to turn out young voters for Greenfield and other Democrats "up and down the ballot."
Murphy Burke, Iowa press secretary for NextGen America, said there were a number of reasons why the group chose to endorse Greenfield.
"The first is that Theresa Greenfield supports a lot of the same policies that young people want to see in a Senate candidate," Burke said. "So we can trust that she will make Supreme Court confirmation votes that recognize that Roe v. Wade is the law of the land, and she will make votes for confirmations to the president's cabinet that are people who will actually do their jobs rather than supporting an EPA head that will support only oil companies."
Brit Bender, the state director for NextGen Iowa, said in a news release that Greenfield is the "farm kid Iowa needs in the Senate" to bring about the changes young people are calling for.
"Young Iowans want a fair economy that works for them, an end to racial and LGBTQ+ discrimination, and leaders who will respond to — rather than exacerbate — the climate crisis," Bender said in the news release. "Theresa hears us, and has the grit to turn commitments into action once elected."
Burke echoed those sentiments, adding that Greenfield understands people in the state.
"(Greenfield) understands Iowans and the challenges we face, whether that's young or old," she said. "She grew up on a farm, she saw how the farm crisis impacted that and she has lived a life where the social safety net has impacted her life and understands that that's worth investing in and that's something that can uplift families and our communities."
Burke also said among the reasons the group wanted to make its endorsement "clear" is because Greenfield is a candidate who can win in Iowa.
"In lists of roundups of where seats are winnable, Iowa sometimes makes it, but we're listed as a riskier state for Democrats, and we don't think that's true," Burke said. "The numbers show that Democrats can win in Iowa as long as we invest time and money and volunteers get involved in the race to make sure we turn out as many people as possible, and a lot of opportunities to turn out people are with young folks, and so that's why NextGen got involved."
The endorsement arrived the same day Ernst saw her seat move further into competitive territory, according to the Cook Political Report. The seat was moved from "Lean Republican," meaning Ernst had a slight advantage, into the "toss-up" category.
"We last moved this race into a more competitive category back in March, when freshman Republican Sen. Joni Ernst's re-election numbers were showing signs of softening," wrote Jessica Taylor, Senate and governors editor for the Cook Political Report. "Now they're in a very perilous position, and this race could become the tipping point of control in the Senate."
The group cited the Democratic nominee's support of fully funded Pell Grants, a federally guaranteed living wage, expanded health care and her commitment to racial justice reforms at a time when many young activists are calling for that justice in the news release announcing the endorsement. Its members also highlighted the potential for Iowa's U.S. Senate seat to flip control of the U.S. Senate — where Republicans currently enjoy a 53-47 majority — and subsequently for the Senate to pass more progressive legislation.
"Electing Theresa Greenfield to the Senate seat that represents Iowa will likely mean taking the gavel from the Senate Majority Leader Mitch McConnell's hands," Burke said. "So this not only has importance for Iowans but for people across the United States who will be impacted by a Senate who actually cares for Americans and won't block legislation that could help them."
NextGen persuasion and mobilization efforts are entirely virtual for now as the pandemic continues to upend political organizing across the state and the nation. Burke said young people have enjoyed the more than a dozen digital events NextGen has hosted so far, which have included poetry slams and makeup tutorials, among other events, in part because the viewers are "digital natives."
"It's part of how they engage so it makes sense that political organizations would have success reaching them online," she said. "For us, with hosting events that engage them, we've had to get creative and we've had to continue with similar events like that, that are unique and would draw people in, because we want to keep everyone safe right now and not send people out into the field."
Burke added that among NextGen's next events are a vote-by-mail "rally" and day of action Tuesday.
"So we're going to bring in speakers like State Auditor Rob Sand and others to talk about the importance of vote-by-mail and then turn people into smaller groups to phone bank and make sure young Iowans across the state are requesting their absentee ballots," Burke said.
Paul Pate, Iowa's secretary of state, is sending out absentee ballot request forms to all active registered voters in the state ahead of the November general election, similar to the action he took ahead of the June primaries.
A lot of what the group is working on right now is making sure people have received those forms or letting them know they are on the way, Burke said. She said NextGen also will mail forms to people who need them in case people recently re-registered and the secretary of state's form doesn't arrive at their correct address.
"We want to make sure all young Iowans can vote safely, and so for many, that means voting absentee," she said. "As the election gets closer, it may become necessary for us to walk people through the steps of voting safely in person, but because we have the time to prepare now, we're putting our efforts into the safest method of voting, which is absentee."