While shop-local campaigns have always been an important part of local messaging for the holiday season, in 2020 several indicators point to that being not only words, but actions. One of the icons the Carroll Chamber of Commerce shares says to "Put your money where your heart is," and it seems many did just that in 2020.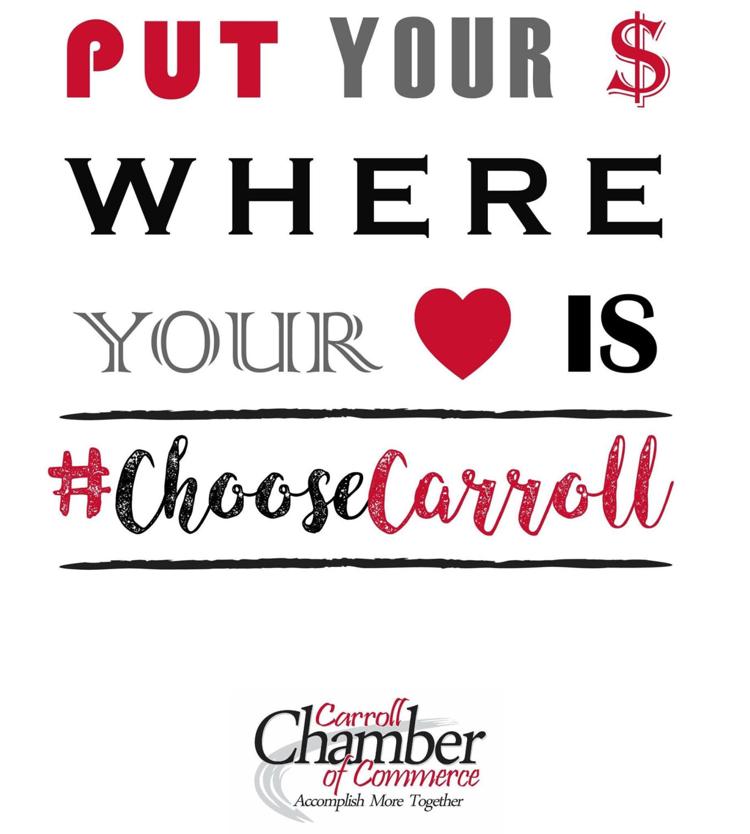 From local efforts with marketing, to national shipping challenges causing delivery uncertainty, there are many reasons that locals in the region chose to invest their holiday dollars in local businesses.
Throughout the year, the Chamber has strongly encouraged purchasing gift cards and Chamber Bucks as the year has progressed with COVID-19. In total since March 1, 2020, more than $123,000 has been issued in Chamber Bucks. The purchase and use of Chamber Bucks ensures that dollars are being spent locally. With the generosity of many local businesses, a handful of promotions were put in place to provide motivations for purchasing Chamber Bucks and shopping local.
In April, the Chamber helped the community purchase gift cards to local businesses. Cards were sponsored by local businesses to create an incentive per card purchased to local businesses. There were 675 cards sold, resulting in $20,250 being infused into the local economy to provide support to businesses through the period of closures and limited operations caused by the pandemic.
The Chamber proclaimed May as Chamber Bucks Month and encouraged the purchase of Chamber Bucks, resulting in $16,140 in Chamber Bucks purchased. More than $10,000 in Chamber Bucks were purchased in June during a Buy $25 and get $5 free promotion for those purchasing Chamber Bucks. The free Chamber Bucks were made possible through T-shirt sales that were donated by a local resident.
A July promotion again encouraged residents to shop local and receive a Chamber Bucks Bonus with their purchase. Receipts from local businesses were brought to the Chamber office July 5-18 to receive the Bonus Bucks. One week saw $11,215 in local sales recorded.
The Chamber also encouraged shopping local through Fall Fun Money and Moonlight Madness promotions in the fall. One local business stepped up and sponsored Chamber Bucks in the participant goodie bags during the Chamber's Monster Dash 5K fun run in October, helping entice participants to shop and eat local after the event.
In December, with the generosity of five local businesses, a Holiday Chamber Bucks promotion saw more than $28,000 in Chamber Bucks purchased for a monthly total of $55,250. As of December 22, $144,600 Chamber Bucks were purchased since January 1, 2020, more than doubling the 2019 totals.
All of this comes at a time when incoming Chamber President Tim Gute, The Market on 30, has themed 2021 as "Hometown". The goal of this is to encourage everyone to take care of the place they call home. Businesses, organizations and residents are the foundation of the community, and everyone has hurt in 2020. As we look ahead to better times, we want to make sure that everyone continues to prioritize the health of our local community going forward.
Shannon Landauer is executive director of the Carroll Chamber of Commerce and Carroll Area Development Corporation.