When leaders do not know what to do, they hide behind numbers and statistics. It's all in the metrics, you know. One thing we have learned from this year of the coronavirus is that numbers seem the safe haven of frightened people, who do not know what to do but hope that we will think that their statistics equal leadership.
We should learn something from Casey's (see below).
In 2015 Bishop R. Walker Nickless asked: "How do we minister to our people with a declining number of priests?" This is a reasonable question. And so Plan 2025 began.
Bishop Nickless hired a human resources consulting firm to help him. Their statistics showed that there are too many parishes in the 24 counties of the Diocese of Sioux City. Numbers. Who can argue about numbers? Notice that Bishop Nickless and his spokesperson, Deacon Mark Prosser, talk about numbers all the time.
Then a sudden lurch. Bishop Nickless implemented a new rule: his priests may preside at only three Masses on a weekend. (Several priests, including myself, had been presiding at four Masses per weekend for several years. I know of no priest who ever complained about this.)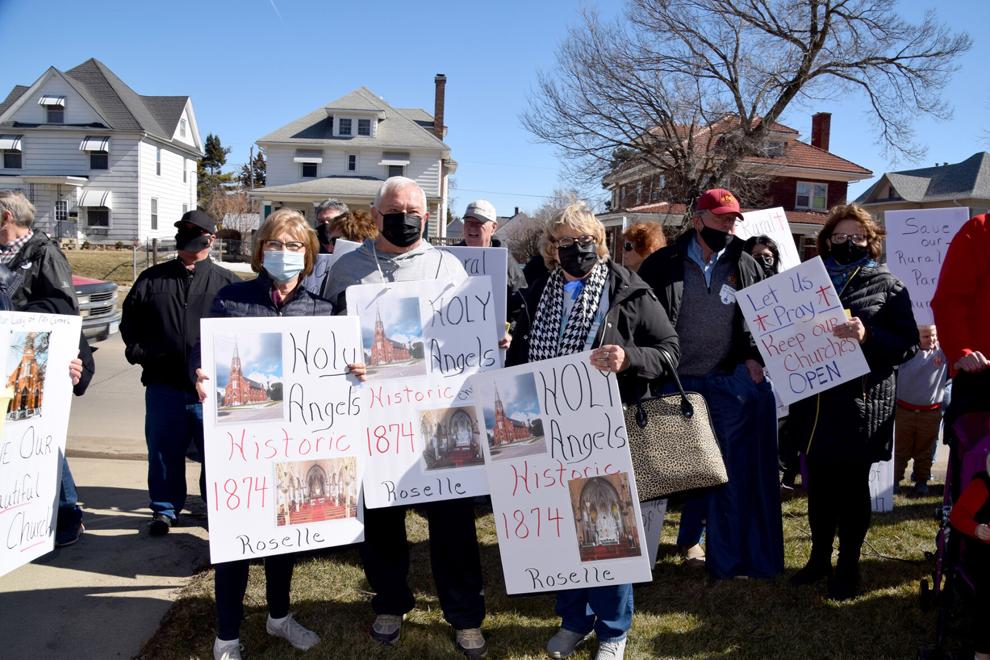 This "Nickless rule" contradicts Catholic Code of Canon Law. Canon #905 states: It is not licit for a priest to celebrate the Eucharist more than once a day except for certain instances when the law permits such celebration or concelebration more than once. If priests are lacking, the local ordinary may permit priests, for a just cause, to celebrate Mass twice a day and even, if pastoral need requires it, three times on Sundays and holy days of obligation.
Clearly, "priests are lacking," thus Plan 2025. And clearly, "pastoral need requires it;" people in our parishes want, need and expect Sunday Mass. Canon Law permits a priest to preside at FIVE weekend Masses (two Saturday, three Sunday), not three, "if priests are lacking" and "if pastoral needs requires it," as it most certainly does.
Bishop Nickless may respond that often there is a wedding or a funeral on Saturday, so in that instance the "pastoral need" permits only one Saturday/Vigil Mass. But a Catholic wedding or funeral does not demand celebration of Mass. A permanent deacon (of which there are 54 in our diocese) may preside at a Catholic wedding or funeral, freeing the priest to preside at two Saturday/Vigil Masses.
Instead of expecting his priests to do more, Bishop Nickless restricted them to do less.
So how can we minister to Catholics in our parishes with a decreasing number of priests who, according to the Nickless rule, may preside at only three Vigil/Sunday Masses?
Surprise! We cannot. The human resources consultants are correct. There are too many parishes. Bishop, according to your rule, you have to close some, consolidate the rest.
Bishop Nickless (and his chosen advisors) say the numbers do not lie. He has no choice. But his rule stacked the deck and created the illusion that we do not have enough priests (that is, enough priests to offer a Sunday Mass in every parish).
AND his Plan 2025 of closing and consolidating parishes will produce more vibrant, vital parishes.
How? Does he believe that bigger is better? Many small rural parishes are more vibrant than the larger urban ones. Fact: parish vibrancy correlates with parish "ownership." Small rural parishes are often more vibrant because parishioners tend to embrace responsibility for their parish. They volunteer. They are their parish. They are the custodians, musicians, catechists, pastoral ministers, bookkeepers of their parish. In contrast, in larger parishes, the majority of parishioners tend to be anonymous, letting the paid staff of the parish do what needs doing. Things get done, but there is less personal ownership, less vitality for the majority, a much smaller percentage of parishioners are involved. Small parishes have a much higher percentage of their parish actively involved.
Bishop Nickless says that fewer, larger, consolidated parishes are more efficient. Efficient for whom? Certainly not for the small rural parishioners whose parish churches are locked up. Now they must drive a greater distance for Sunday Mass, must navigate their way through the large parish phone-answering system to discover that often there is no priest there to answer their call. Efficient. For whom? For priests, who do not have to drive to small rural parishes for Sunday Mass, who have paid staff to answer the phone and deal with problems. Maybe that's efficient. Better for hundreds of households to drive to a larger, consolidated parish than for one priest to drive to their parish church for Sunday Mass. Efficient?
Ah yes, but Bishop Nickless says that these larger, consolidated parishes will be better able to evangelize, spread the Gospel, reach out of others. 120 years ago when Father Joseph Kuemper was pastor of Saint Peter & Paul Parish in Carroll, he understood that the most powerful evangelizing tool is a parish. So he walked a couple miles to start St. Lawrence Parish on the north side of Carroll. He walked (or rode his horse) five miles to Maple River to start St. Francis Parish there. He walked or rode seven miles to Lidderdale to start Holy Family Parish there. There is no evidence that he ever thought: "Those people should come to Carroll for Sunday Mass." No evidence that he ever thought: "I already have too many Masses."
In Carroll County, these small rural parishes evangelize by financially supporting the Kuemper Catholic Schools, by hosting many parish dinners, fundraisers, activities, inviting their neighbors to enjoy their hospitality, by serving on countless community organizations and boards, offering their leadership and influence to everyone. Find me a "program" or plan that is more effective and efficient than a small rural Catholic parish.
So, back to the question. How do we minister to our Catholics with fewer priests?
Ask those most involved and who are most affected by the answer. These parishioners have several answers.
#1: Bishop Nickless, expect your priests to do more, more Sunday Masses, more presence with people, less time at the computer, more time serving. Expect more zeal, more enthusiasm, more sacrifice for their parishioners and for their Christ. Instead of restricting priests to some artificial, made-up rule of three weekend Masses, ask/challenge your priests to be more and do more. In every missionary diocese in the world, priests offer four, five or more weekend Masses. Priests undergo many years of formation before ordination. They look forward to presiding at Mass for people. Let them do it. It is the most satisfying, rewarding part of their lives. One hour with people in their church is more powerful than five hours sitting at the computer. I know.
#2: Bishop Nickless, let your parishioners decide how they want to be served. If they are willing to alternate hosting Sunday Mass with a neighboring parish, let them. It's their parish. Their ancestors, grandparents and parents built their church buildings, schools and rectories. Their Catholic faith is intimately connected to their churches, where they were baptized, first-Communioned, married, where their parents were buried. Respect that. Invest in that. Build on that. Strengthen, rather than undermine, their Catholic faith. A larger, consolidated parish cannot replicate that faith.
#3: Bishop Nickless, ask your retired priests to help, instead of disallowing them to offer Sunday Mass in the small rural parishes you want to close. Retired priests could team up, if they prefer to not be scheduled every Sunday. We retired priests are a large resource for our diocese, if you will use us for more than emergencies. Explain why you encourage pastors to hire organists and musicians for Sunday Mass every week but will not permit pastors to hire retired priests to offer Mass every Sunday.
#4: Learn from Casey's convenience stores. Schools are consolidating. Small businesses in towns are closing. But Casey's is building gas stations/convenience stores everywhere. What do they know? They know that if you offer people a service where they are, they will come and support you. Casey's does not demand that rural Iowans drive to some city to buy their gas and groceries. They SERVE. They go where the people are. Bishop Nickless, learn a lesson from Casey's. Serve your people, not your Plan. Serve them.
Fr. Timothy Schott of Carroll is former pastor of Saint Lawrence Parish in Carroll and current part-time chaplain at St. Anthony Regional Hospital.