For Illinois State University senior golfer Andrew O'Brien, the physical therapy is working, and he's getting his swing back.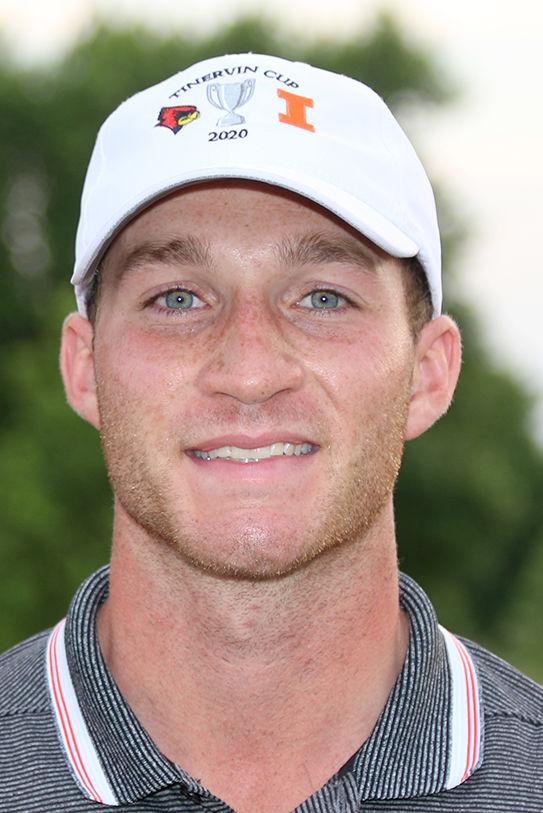 Evidence of that was his monster drive on the 368-yard, par-4 final hole in the annual Carroll Amateur Tournament Sunday evening at the Carroll Country Club. That shot set him up for a chip then short putt for birdie, lifting him to victory over defending champion Nate McCoy of Ankeny.
O'Brien and McCoy were deadlocked at 7 under par as they teed off on the final hole.
Then O'Brien smashed a 350-yard drive — boosted by a strong south wind — to the front left fringe of the green. He nearly chipped in from there, but finished a couple of feet above the cup. He tapped in his birdie putt.
McCoy, meanwhile, had to hit over a tree after driving into the left rough about 80 yards from the pin and then three-putted from about 30 feet uphill with a big right-to-left break.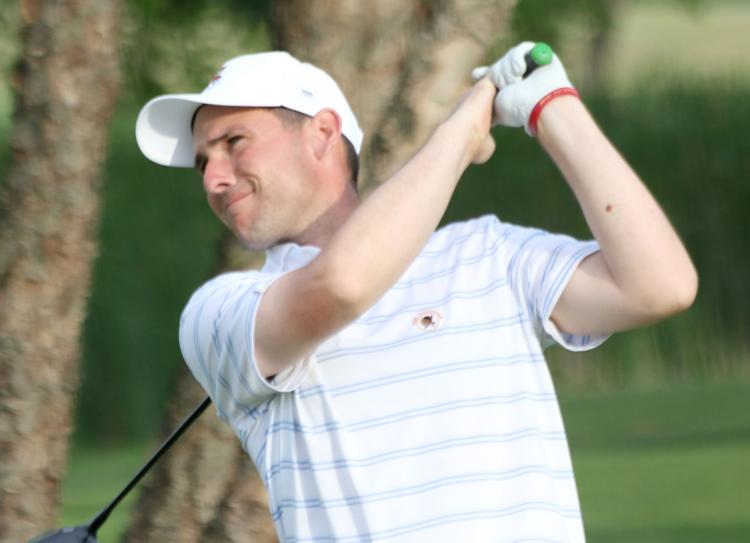 O'Brien, from Clive, won his first-ever Iowa Golf Association points tournament with a 54-hole total of 8-under-par 205, carding four-under-par 67 Saturday and a pair of 69s Sunday — Championship Flight played an extra 18 holes. McCoy took runnerup with six-under-par 207 (69-67-71). Iowa Golf Hall of Famer Jon Brown of Adel, who won this tournament in 2005, 2008 and 2017, finished third at 5-under-par 208 with a tournament-best round of seven-under-par 64 on Saturday followed by 75 and 69 on Sunday. Drake University golfer Nick Pittman of Urbandale, who finished fourth, was the only other golfer to shoot under par (-2) with rounds of 72, 67 and 72.
O'Brien's decisive shots were nearly a replay of the way he played the 18th hole in his first round Sunday.
He described the final hole: "I told myself to just go and win the tournament. I decided to just rare back and hit a driver like I did in the second round when I hit a beautiful draw right up there on the fringe, and I actually hit almost the same chip and putt in from almost the exact same spot."
Considering the pressure of the moment, facing possible sudden-death playoff, O'Brien said, "It was nice to have it go that way."
At one time on the final nine holes Sunday, a tense finish appeared to be highly unlikely. O'Brien held a four-shot lead after McCoy double-bogeyed the par-4 11th hole. However, McCoy rallied with birdies on the next two holes, and O'Brien lost two more shots when he bogeyed the 15th and 16th holes.
For O'Brien, his Carroll Amateur success is particularly rewarding considering the ups and downs he's battled the last few years from the pain of herniated discs in his back.
O'Brien, a 2017 Waukee High School graduate who finished second in the Class 4A State Tournament his junior season and received an Illinois State golf scholarship, said, "I played really well the summer after I graduated from high school. I went to Illinois State on a really high note and then struggled with back injury my freshman and sophomore years. It was a frustrating couple of years. Then I took last summer off from golf."
O'Brien said the rest and physical therapy appear to have him on the road to recovery.
"This makes me super grateful now," he said. "My back's been doing well. To be able to practice and win a tournament feels incredible because it's been a long time."
The ailment has limited his practice.
"I just haven't been able to spend as much time at the range," he said. "I can't hit 500 balls a day like some guys can, so I spend a lot of time chipping and putting."
And his putting, as well as just being able to keep the ball in play, was one of his strengths last weekend, he said.
O'Brien said he's encouraged knowing that a number of successful PGA players have overcome back problems.
Ironically, O'Brien is majoring in exercise science and plans to pursue a career in physical therapy.
"I've spent a lot of time in there (physical therapy), and I've seen the benefits of it, so I've developed a passion for it," he said.
But he has other hopes first.
"If the back keeps going well and keeps improving, my dream has always been to play professional golf, so hopefully I'll get that opportunity to pursue that first," he said.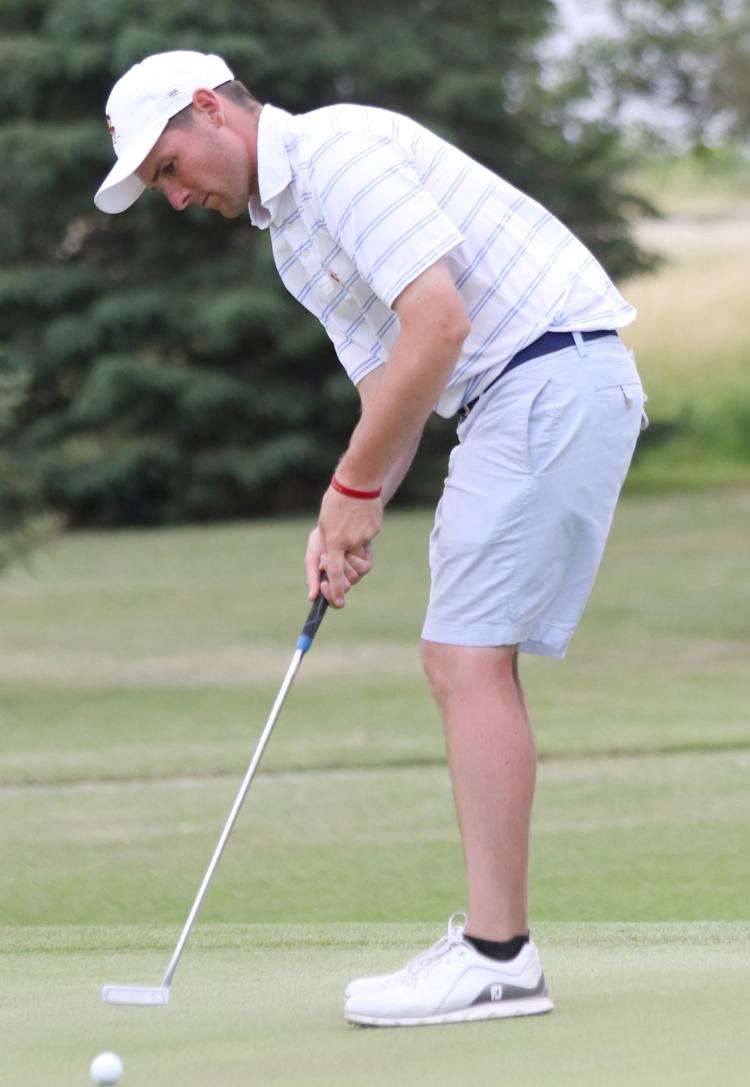 McCoy, who breezed to a nine-shot victory in the 2019 Carroll Amateur, said he had some costly lapses in his chipping and putting games.
"I drove it well for the most part but just wasn't able to make a lot of putts," he said. "It was just a grind trying to fight the weather, the wind, the firm greens. It was a tough challenge."
McCoy went on to capture the Iowa Masters after last year's victory in Carroll and later played in the U.S. Amateur at Pinehurst, North Carolina, with his dad, Iowa Golf Hall of Famer Mike McCoy. Nate came to town last weekend on the heels of shooting a seven-under-par 63 to win the Ankeny Invitational at Ankeny Golf and Country Club. McCoy, 29, who's manager of championships and course ratings for the Iowa Golf Association, was seeking to become the first golfer to win back-to-back Carroll Amateur titles.
Rounding out the Championship Flight over the weekend were:
5, Dennis Bull, Norwalk, 69-75-71 — 215, +2. 6, Jon Olson, Ames, 72-72-74 — 218, +5. 7, Cole Jaeschke, Jefferson, 76-71-73 — 220, +7. 8, Patrick Hall, West Des Moines, 78-70-73 — 221, +8. 9, Tie among JD Anderson, Johnston, 79-68-75, Scott Cook, Van Meter, 71-75-76, and Zach Christianson, Atlantic, 72-74-76, all 222, +9. 12, Tie between Kyler Ludwig, Carroll, 71-77-75, and Hunter Johnson, Ankeny, 71-76-76, both 223, +10. 14, James Preston, Spencer, 79-70-75 — 224, +11. 15, Tie between Ross Martens, Portsmouth, 79-71-75, and John Spellerberg, Bennington, 74-73-78, both 225, +12. 17, Ben Hicks, Victoria, 76-74-76 — 226, +13. 18, Tie between Gene Elliott, West Des Moines, 76-73-79, and Will Babcock, Panora, 71-77-80, both 228, +15.
Jeff Panek of Johnston, who won the Open Division Championship Flight in 2004, captured the Senior Division in a playoff with Gary Ellis of Norwalk after both finished 36 holes at par 142, as Panek shot 72-70, and Ellis 68-74. Joe Palmer finished in third place at 70-74—144.
In the Super Senior Division (65 and older), Richard Gorbell of Cedar Falls totaled 155 (+13) to edge out James Blackburn of Des Moines at 156.
Top finishers in other flights were:
First — Robert Brooks, Carroll, 75-76, and Willis Gaer, Des Moines, 76-75, both 151, +9.
Second — Danny McCoy, Sioux City, 75-83, Travis Cooke, Spencer, 75-83, Aaron Ahrendsen, Carroll, 78-80, Evan Schuler, Atlantic, 77-81, and Tom Briegel, Des Moines, all 158, +16.
Third — Will Schenkelberg, Carroll, 80-84, Drew Munson, Carroll, 85-79, Fred Studer, Norwalk, 81-83, Matt Pitts, Cherokee, 83-81, and Nate Juffer, West Des Moines, 86-78, all 164, +22.