Winning isn't the only part of the State wrestling tournament.
There are very real educational and life lessons that come from competing on the grandest stage of Iowa high school wrestling. For the three Carroll wrestlers who didn't place, they were able to glean some of that information during their trip to the State tournament last weekend.
Senior Jaxson Kuhlmann had been under the big lights and on the Wells Fargo Arena floor before. Last season, Kuhlmann qualified to the State wrestling tournament as a junior but was bounced after just two rounds.
This year, he went to the State tournament and proved how tough he was.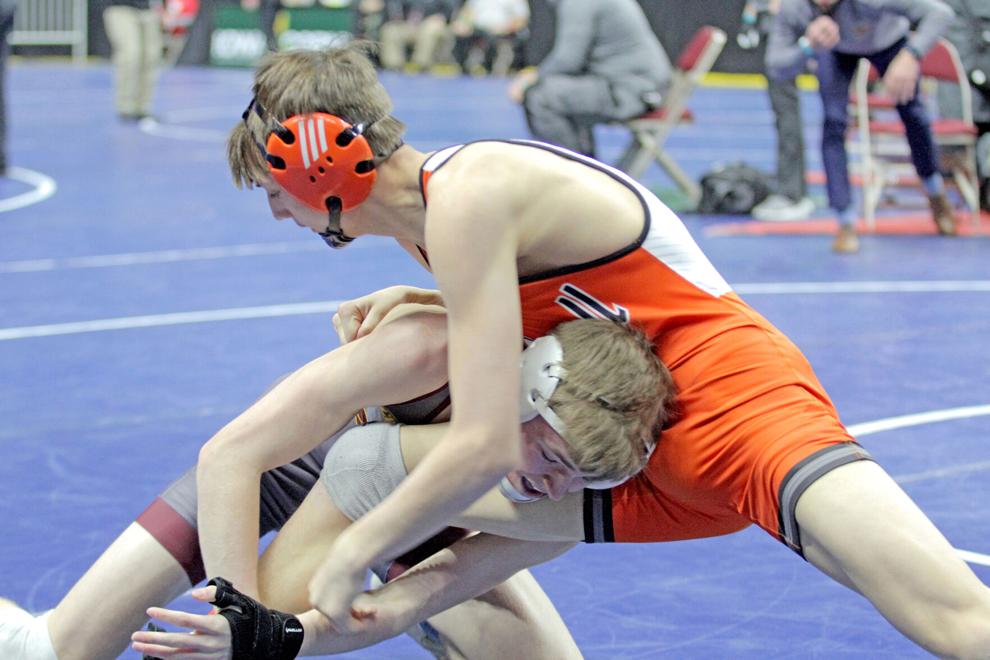 In his first match, Kuhlmann was matched up with Ankeny senior Cael Cox. Cox was able to get Kuhlmann out of his comfort zone, and that allowed Cox to gain the win in a 7-4 decision.
"Jaxson is a planner, and I think he had maybe two shots the whole entire match in his first match," Carroll High head coach Eric Nagl said. "That's not Jaxson's style. He likes to push the pace and control the match. He's not a defensive wrestler. When he defensive wrestles, he's not the best. He's better in control as an offensive wrestler. He got caught in the reactive game in his first match."
For the second-straight year, Kuhlmann was in the consolation bracket, but he was determined to change his result from a year ago.
"You don't want the second time you come down here to end 0-2 again," Nagl said.
In the second match, Kuhlmann controlled the offense and the pace of the match, allowing the senior to pin his opponent late in the first period.
For the first time in his career, Kuhlmann survived to Friday.
However, his tournament was cut short of placing when Waverly-Shell Rock's Carter Fecht earned an 8-4 decision over Kuhlmann.
"Anytime you run into a Waverly-Shell Rock kid on the backside of the bracket, it is never good," Nagl said. "Jaxson grew as an individual throughout his career. When he started as a freshman, he was a 160-pound wrestler. He slimmed down to 113-120 pounds by the end of his freshman year. He showed the dedication that it took for him to find himself a place in the lineup, and he took control of that and owned it."
Although his final tournament was cut short, the dedication and ability of Kuhlmann to slim down his freshman year and work hard to make it to two-straight State tournaments is something that Nagl is proud to see. It also shows the kind of individual that Kuhlmann is.
"Jaxson is very driven, and he wants to be successful in what he does, and he's willing to work for what he is going to obtain," Nagl said. "He put the time and the effort in and really honed himself as a wrestler that can compete with anyone in the State by the end of this season."
Overall this year, Kuhlmann finished with a 28-7 record.
Carter Drake's season really started to attract attention in the second half when the 138-pound wrestler was able to place at several prominent meets. His season took a turn for the better when he was named the Raccoon River Conference champion and then qualified to the State tournament.
At the State tournament, Drake continued to wow fans and foes alike when he started off the tournament with a come-from-behind first-round victory.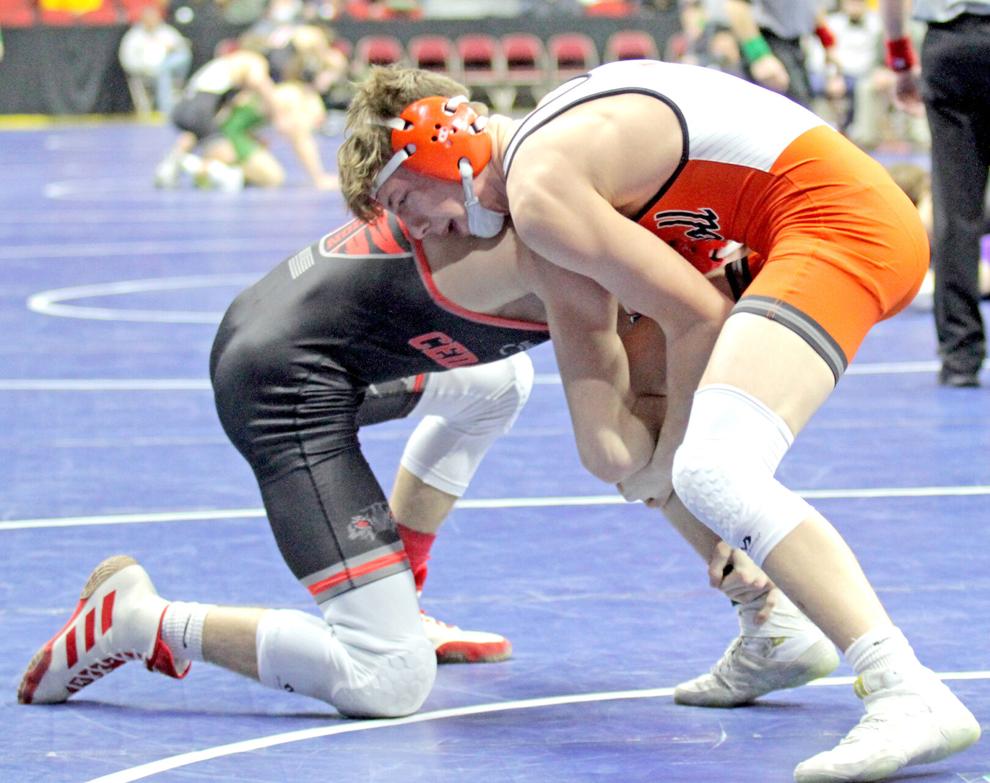 Drake trailed 5-1 early in the third period, but a takedown and a penalty point in the last few seconds of the third period allowed Drake to tie up the match at 6-6 and force overtime.
Drake then earned another takedown to win his first round match 8-6 and advance to Friday.
"(Drake's) biggest deal was he didn't give up the back points in the second period," Nagl said about the opening-round match. "There were a few times where Drake could have been tilted, but he didn't give up any back points, and that kept him in it. We just kept the pressure on him and did what we do best and take them into deep waters and wear them out."
Drake's Friday didn't go as well as his Thursday. Drake was defeated in an 8-4 quarterfinal contest and then was pinned in the second consolation round.
"Drake wrestled really well in his two matches on Friday," Nagl said. "He just gave up a few too many back points to (Dylan Whitt of Cedar Falls, who would finish second). Then in the next round, it was a tough match against a Waverly-Shell Rock kid. It was one of things where you have to be ready, but things kind of slipped out of his control."
The experience of the end of the season has shown that Drake can wrestle as well as anyone in the state.
"He has that confidence that he can wrestle with anyone in the state now," Nagl said. "He believes in himself a lot more. We believe in him, and now he just has to come back next year and show that he can compete with anyone."
Freshman Cael Nelson faced two tough opening round matches.
His 106-pound bracket started with him wrestling the younger brother of a state wrestling legend. Dru Ayala earned a major decision 13-4 over Nelson.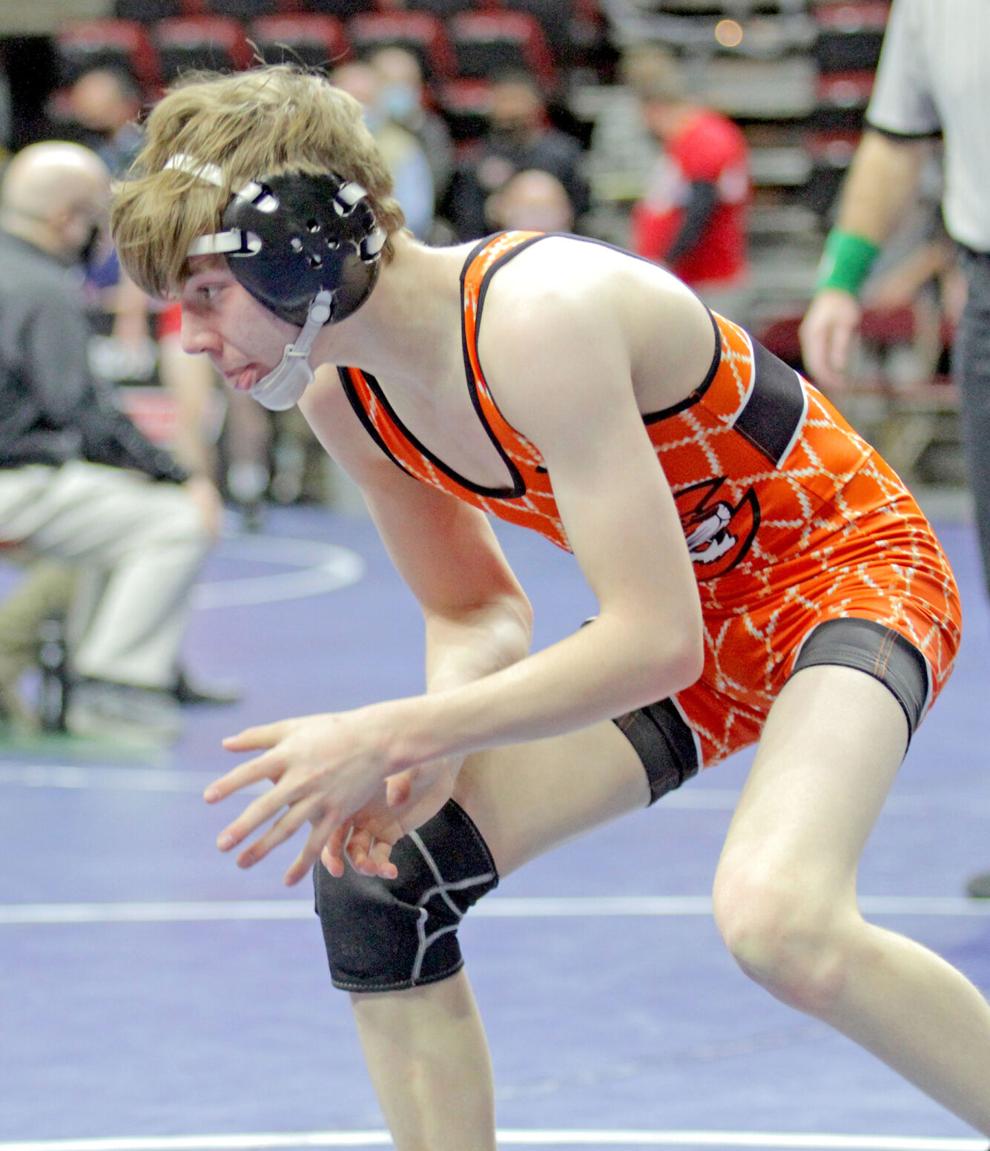 In the consolation round, Nelson wrestled Ella Schmitt, a Bettedorf wrestler who was named the State champion of the Girls State tournament just three weeks prior.
Nelson fought well but was pinned at the end of the second period.
Being only a freshman, the experience of State may pay off for him in the future.
"Cael knows that he needs to get stronger and faster," Nagl said. "Cael is the kind of kid that likes that kind of pressure. He will respond to the pressure and get better and work harder."