Not too many sophomores change the game like she does.
Many times, she does it before the game even starts.
Every time sophomore center Akuet Malek is introduced, opposing coaches are already planning how to play around her. Experience has taught them that there isn't a good way to play against her.
The season isn't half over yet, and already Malek has recorded a new school record. She also currently leads the state in most blocked shots this season.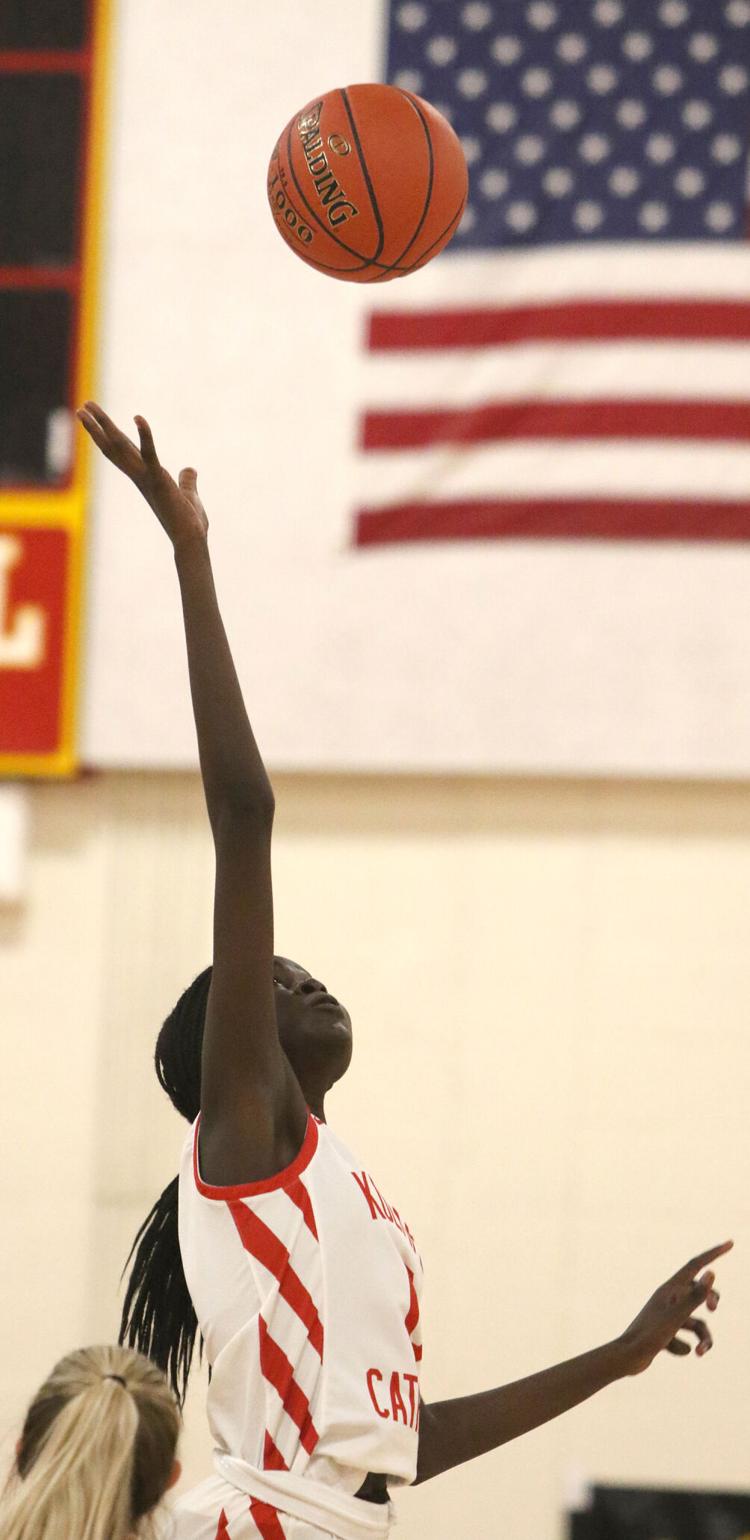 Malek first made headlines in December when she recorded 17 blocks in a single game — believed to be a Kuemper school record. Ever since then, she has continued to dominate the paint with her play.
Standing at 6-feet-3-inches, Malek easily sets up in the paint on defense and dares opposing players to challenge her for the high percentage shots. More often than not, the opposing team comes up short as Malek easily swats away the shots that come near her.
Each time Malek swats away the ball, sometimes even her coach, Tyler Tryon, can't help but smile. With the inside of the key locked down, it forces teams to change their offensive strategy.
This season, Malek has already blocked 97 shots. That is already more than 10 better than the next-closest player. The blocked shots that Malek has is more than 342 schools have as a team (there are 343 girls basketball teams playing this winter).
How Malek is able to change the game was evident this weekend in a pair of games.
On Friday night Kuemper hosted Hawkeye 10 foes, Atlantic. Earlier this season, Atlantic had been able to see, first hand, the tallness of Malek. In the first game, that had a direct impact on the game, with 11 blocked shots and 12 rebounds.
Atlantic knew it wouldn't be able to go inside the paint very much and had to rely on the outside shots to be able to make progress.
The Trojans were able to adjust their game as the Trojans won 63-33. Atlantic only made four three-point shots, but a majority of the Atlantic shots came from long twos and plays that were designed to go around Malek.
The Trojans were able to gain the advantage through a large number of steals (24) and defensive rebounds (24).
Still, Malek recorded nine blocks in the game. She also added six points and 12 rebounds.
On Saturday afternoon, the Knights were back in action, and once again Malek was able to provide a big boost.
This time, Malek was able record 11 blocks, as the Knights were able to power themselves to a 55-45 victory over East Sac County.
Malek also recorded 12 rebounds in the game, despite not scoring any points.
That's what works about Malek and the Knights this season. Kuemper can force other teams to play away from the paint, and the Knights aren't afraid if a team gets hot from the three-point line. Mostly because Kuemper has the shooters that can keep them in the game.
In the win over East Sac, the Knights were able to have four players that were in double digits. Leading the way was Catherine Mayhall, who finished with 16 points. Brooklyn Gifford added another 11 points. Kora Thomsen and Frannie Glynn finished with 10 points each.
Kyndal Hilgenberg finished with six points. Karly Baumhover added another two points.
Saturday, the Knights hit 10 three-pointers, helping them fight off the attacks of East Sac.
Each game, it isn't a question on if Malek will get a block, it is a question on how many will she get.