DES MOINES: For two of them, they left last year with a feeling they vowed to never experience again.
South Central Calhoun's Blake McAlister advanced all the way to the State semi-finals in his bracket last season before tasting defeat.
He had never felt something so disappointing in his life before, and never wanted to experience that again.
"It's something I never want to experience again, so when I need a little something to get me going, I think about how bad that felt," McAlister said about being defeated in the semifinals in 2020.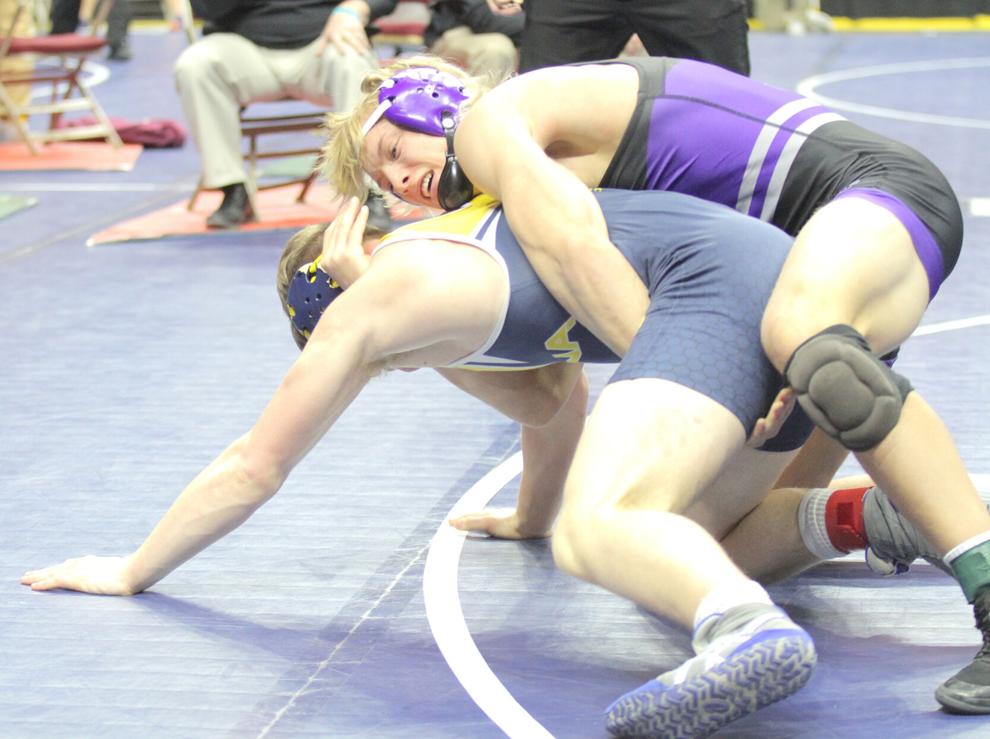 There came a time late Friday night when McAlister had to remember the bitter taste of being so close, but seeing it all slip away.
Down by one midway through the third period of his 170-pound semi-final match this year, McAlister was trapped in a hold by Lisbon's Max Kohl. That's when McAlister remembered what it was like to leave the mat the year before. McAlister then rose up and was able to reverse the hold Kohl had on him, gaining two points that eventually propelled him the State championship match on Saturday night.
"He had his leg in; I was trying to clear it and get one. I was able to clear it, and I hipped over him and got the reversal," McAlister explained about the move that gained him the two points and ultimately the trip to the State championship match. "It feels awesome, not only for me but for (my coaches)."
In the State championship match, McAlister was paired up against one of the many wrestlers from wrestling juggernaut Don Bosco. Cade Tenold had won all of his prior 27 matches in his junior season and had advanced to the finals on back-to-back technical falls.
McAlister fought off two takedowns and a three-point nearfall at the end of the first period but trailed 7-1. Tenold controlled the second period, getting an early escape point and a takedown before the midway point.
In the final period, Tenold recorded five takedowns, with McAlister gaining an escape point on four of the takedowns (the final takedown came with one second left). Tenold was able to gain a 20-5 technical fall victory and finish the season undefeated.
McAlister was able to get over the hurdle that eluded him last year. However, the technical fall in the championship match has McAlister charged up for another run in his senior year.
After the championship match concluded, McAlister left a cryptic message to any wrestler who might pair up against him next winter.
"Appreciate the support! I'll be back," McAlister's tweet read.
Abraham Dirkx from Carroll High had been to the State tournament as a sophomore and a junior. Neither of those years was he able to make it to the medal rounds. This year, he was determined to set his State wrestling record back on track.
About the only thing that could stop Dirkx at this year's State tournament was himself.
"Abraham Dirkx is a kid that is going to go 100 miles per hour and use his body as a weapon," Carroll head coach Eric Nagl said. "He's a machine out on the mat, and I've always said that the only way to beat him is hitting him in the head with a 2x4. He gave everything he had to get into the placement matches."
After being pinned in the second period by Carson Martinson of Southeast Polk (the eventual class 3A 152-pound third-place finisher), Dirkx had one of his best matches of the weekend in the final elimination round.
Facing Spencer's Cole Rutter, Dirkx controlled the match and easily won 8-2.
That set Dirkx up with a match against Waukee sophomore Colin Driscoll. The winner would have a shot at the third-place match; the loser went into the seventh-place match.
Dirkx took an early lead with a takedown in the closing seconds of the first period. In the third period, Dirkx added an escape and a takedown to push his advantage 5-1. Driscoll would gain an escape point and took down Dirkx at the end of the third period, but Dirkx held onto the victory 5-4 and was secured a placing of no lower than sixth place.
In the match with Driscoll, Dirkx took a beating.
"He was determined in that match to get the job done, no matter what," Nagl said. "You could see it too with a bloodied forehead, and a cut above his eye. He also had a shoulder injury that he had been battling for a few years spring back up."
On Saturday, in the consolation semi-finals, Dirkx's winning streak came to an end as he was defeated by a major decision 15-7. In the fifth-place match, Dirkx's four years of wrestling experience caught up to him.
"You could see how beat up he was on Saturday," Nagl said. "His knees are just beat up. Losing those two rounds, it was because he was spent. He gave everything he got to get into that match, and his opponents on Saturday were just better than him at that point in the tournament.
"He can wrestle with those guys, and on a healthy day, those would have been two good matches. He beat himself up not only this tournament, but all year, and it showed on Saturday."
Despite the back-to-back defeats on Saturday, Dirkx placed sixth in the tournament, accomplishing one of his major goals since qualifying for the State wrestling meet.
"He is OK with finishing sixth," Nagl said. "He knows he lost to some really good competition. His goal was always to place higher than his older brother, who placed seventh. Abraham didn't want to be in that seventh- and eighth-place match, and he didn't, so he was able to reach his goal."
Dirkx was able to bring a little bit of history home with him along with his sixth-place medal.
"The thing about Abraham is that he is a 151-time winner on the wrestling mat," Nagl said. "That is more than any wrestler, ever, who has wrestled at Carroll High. So throughout his high school career, Dirkx was able to win at least 30 matches per year. That is quite an accomplishment and a testament for all the hard work that he has done throughout his high school career."
Dirkx finished his final season with a 40-8 overall record.
South Central Calhoun junior Jayden Soard took the long road to get to his eighth-place finish, and in many ways, he was able to build momentum for the next season.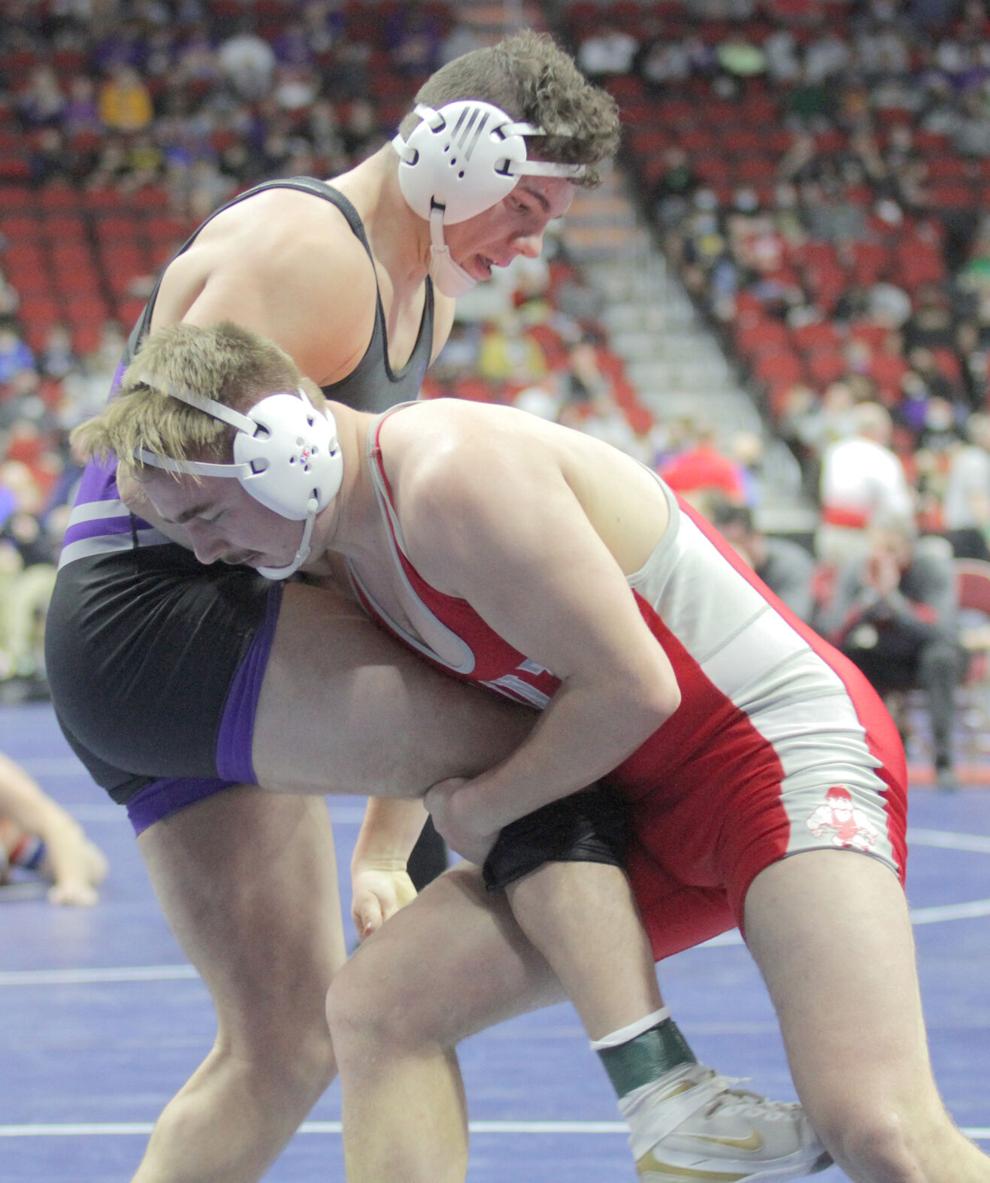 Soard's very first match at the State wrestling tournament didn't turn out the way he wanted. The junior was defeated in a 15-4 major decision by Cole Kelly (who eventually would finish third). On the consolation bracket, Soard eared the right to wrestle again on Friday with a first-period pin over his next opponent. In the second consolation round, the one that would determine if Soard would place or not, Soard was able to come out on top with an 8-1 decision.
In the third consolation round, Soard went up against South Winneshiek's Damon Meyer. Soard took an early lead 4-1 in the first period.
Meyer would answer in the third period with an escape and a takedown. Meyer also gained a penalty point that allowed him to take the narrow win, 5-4, over Soard.
In the seventh-place match, Soard battled Luke Recker of East Buchanan.
Both wrestlers had an escape and a takedown in the first period. The second period featured both wrestlers gaining a reversal to tie the match at five.
Recker gained an early escape and a late takedown to take the lead in the third period. On the takedown, Recker was able to earn a pin, ending Soard's season.
Overall, the junior went 52-10 this season.