As the State baseball tournament began in Carroll Monday, Tom Roder, 64, hobbled up to the fence near second base, arms resting atop the warm metal, sunglasses over his eyes and a knee brace on his right leg.
He silently watched Remsen St. Mary's play against Grundy Center. The score was 14 to 0, with St. Mary's leading the game.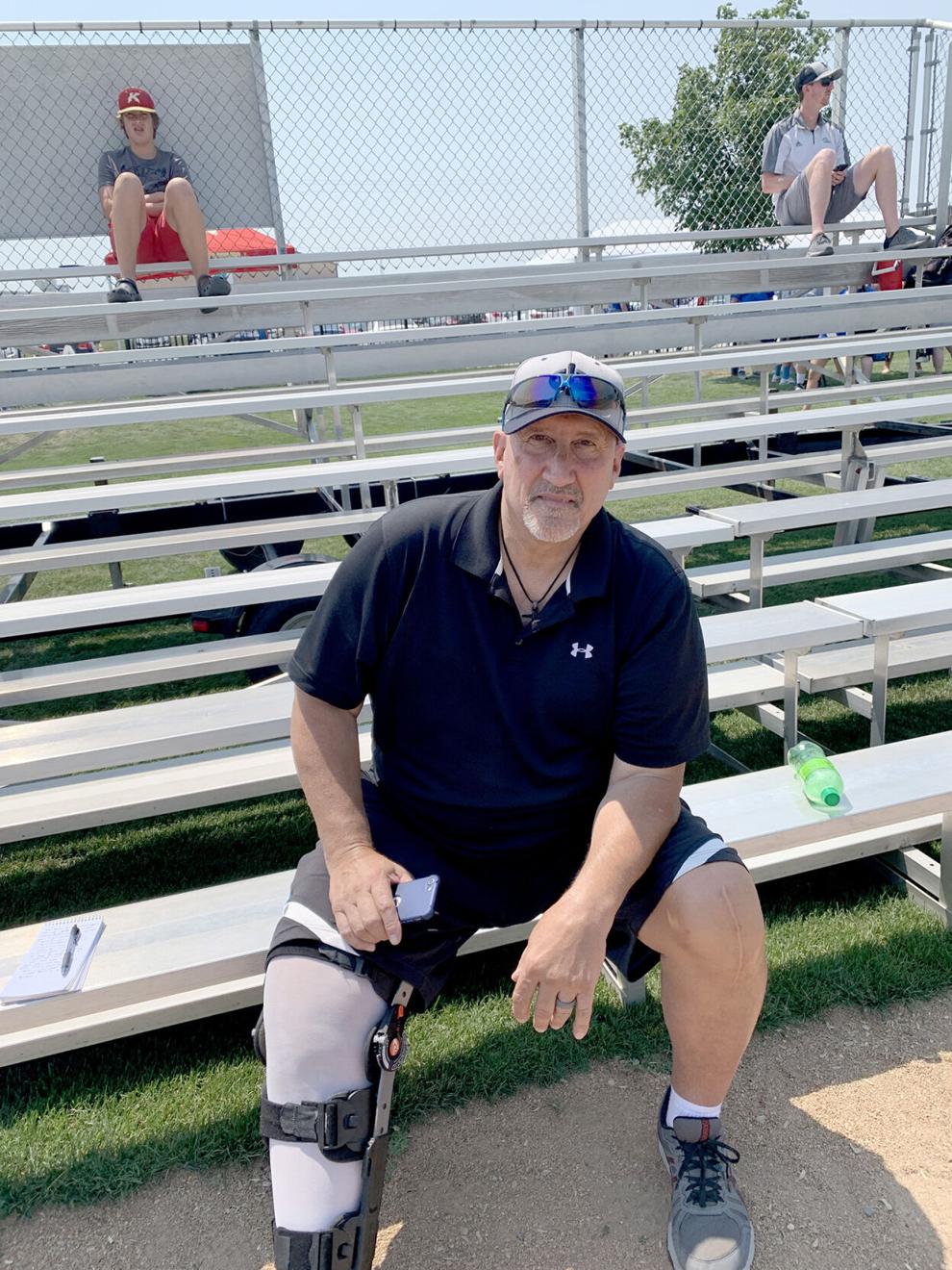 "When I was a little kid, I had the option of joining the Boy Scouts or playing baseball, so I decided I was gonna be a Boy Scout," Roder, of Granville, told the Times Herald. "Until baseball practice started, the Little League, and then I quit the Boy Scouts and started playing baseball."
The passion for the sport passed down through generations of Roder's family, as his father, Roder himself and his son all played baseball and went on to the State tournaments. For the past 40 years, Roder has managed to go to almost every State baseball tournament in Iowa. He said it's something he wouldn't miss for the world.
"I just have always wanted to go to a ballgame somewhere," Roder told the Times Herald. "Whether I was playing way back in the day, whether I was umpiring for them for 31 years or just coming up to see some old friends at a ballpark and wanting to go to a baseball game. It's just part of what it is."
He missed last year's State tournament to have surgery, a result of knee-replacement complications. Despite his medical struggles, Roder was determined to make this year's State tournament.
"I just had one of my six surgeries last July, so I couldn't come last year, and I really wanted to come this year," he said. "I've been laid up for 20 months. It was gonna be pretty hard for people telling me to stay home today — especially since (Carroll) was so close."
Even when his doctor was talking about the possibility of amputating his leg, Roder said he wouldn't have considered skipping another tournament.
"By now I probably would have had a prosthesis, and I'd have been down here anyway," he said.
Each game brings a wave of nostalgia for Roder — especially the Carroll stadium.
"The old grandstand and just looking at the old light poles, it's all stuff from back in the day; it just makes the park neat," Roder said. "And then, of course, you go on the outside here, all the friendly people were in the vending stands, selling the sandwiches and the cold pops and stuff. I like it because it's not so commercialized as it has been down in Des Moines at Principal Park."
State tournaments also are a time of traditions — a time to catch up with friends after the game with a cold beer at Bloomers Bar and Grill or, for others, a time to start new traditions for the younger generation of baseball players.
Ross Kolsrud, 35, of Lansing, the football coach at Kee High School, drove four hours to support his son, Andrew, from the stands as Andrew competed in the state baseball tournament for the first time.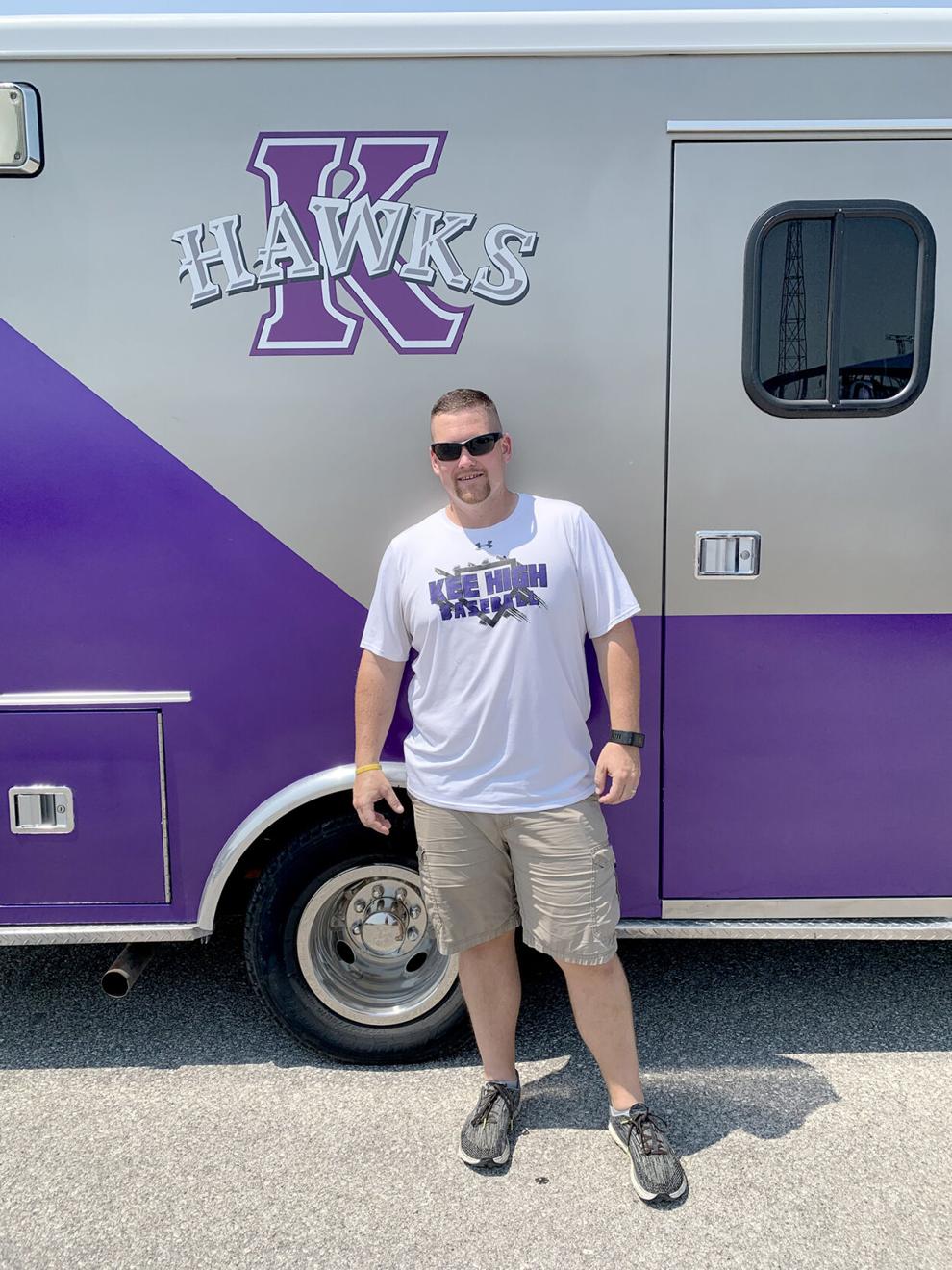 "We have guys that have been coming down here since the '70s, and (for) Kee High, this is our 20th trip to State," Kolsrud said. "It's kind of nice to see some of the younger ones are starting new traditions while keeping the old ones too."
Both Kolsrud and his wife wore a white Kee High shirt paired with khaki shorts on Monday; they've worn a variation of the same outfit at each game this season.
"We've been winning, so we're not changing our outfit," Kolsrud said.
As a way to boost morale — and to tease their kids — Kolsrud transformed an old ambulance into a "fanbulance." The fanbulance is painted purple and silver, with the school logo on the side and school flags waving on top.
"That's the kind of parents we are; we hoot and holler at him, and we try to make situations light," Kolsrud said. "It kind of turned into a lot more than I anticipated. It's becoming another flagship of the team in a way — I don't know if I'd go that far — but everyone enjoys it."
They use the fanbulance to travel to away games; the back can fit seven kids, Kolsrud said. At home games, for baseball and softball, the fanbulance is parked in the outfield, and if it gets hit with a home run ball, the batter gets to sign their name on the ambulance.
Along with the traditions, Kolsrud said it's important to be a part of everything their kids are interested in, sports and otherwise.
"You've got to be there for the good times and the bad. When they're happy and they hit a triple and they look up in the stands and they see Mom and Dad there — that's something special," Kolsrud said. "And the same thing when they've gone through three strikeouts. They look up in the stands (and think), 'It's gonna be okay; Mom and Dad are here.' So it's just a huge thing for support in the mental game, to know that they have the support behind them."