Again with a flair for the dramatic, Tyler Tassell captured the Carroll Municipal Men's Golf Tournament championship for the second year in a row.
Tassell won his first Muni title last year when he birdied the third extra hole of a sudden-death playoff with 2008 and 2015 champion Lonny Lehrkamp.
Tassell appeared to be cruising to much-more comfortable victory last weekend when after the first hole of the Championship Flight final nine he enjoyed a six-shot lead over second-place Kyle Christensen. But Christensen chipped away at the deficit, birdied the seventh and eighth holes, and Tassell's lead had melted to a single stroke. Christensen then came so close to forcing Tassell into a playoff. But Christensen left about a 25-foot birdie putt short by just a few inches on the par-4 ninth hole.
Tassell then could breathe a sigh of relief when he sank a 2- to 3-foot putt for par on the hole and took home the title with a solid 10-under-par 167, with a sizzling seven-under 64 on Saturday, followed on Sunday by four-under 67, then one-over 36 on the front nine in the Championship Flight. Christensen, who won this tournament in 2018, was runner-up also in 2012 and missed last year's playoff by only one stroke, fired 66-69-33 — 168.
"Cuda" Quandt, 1994 Muni champ, took third place at 70-73-32 — 175, and Ryan Feauto, this year's Carroll City Tournament champion, finished fourth at 72-74-33 — 179.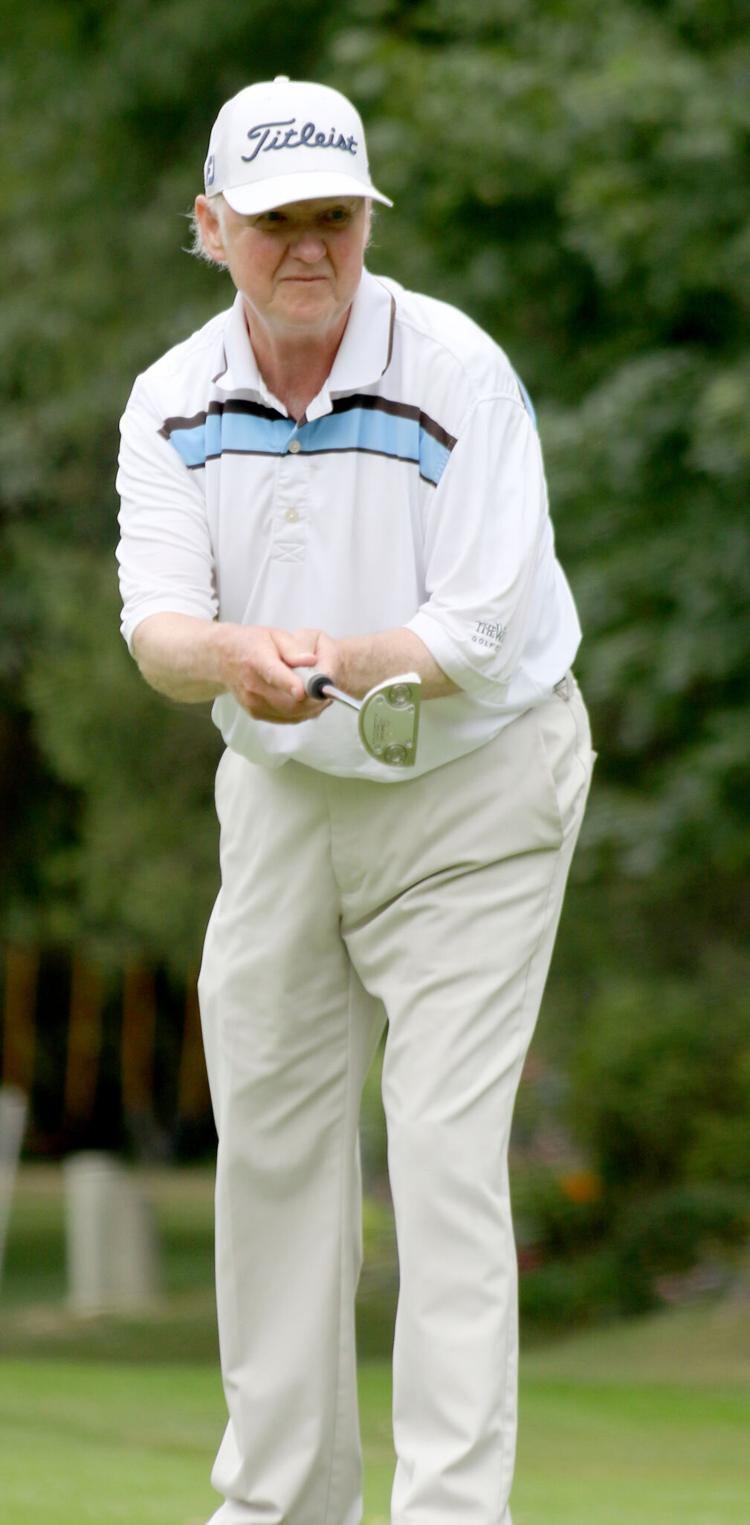 Tassell sealed his victory Sunday when he rolled a long putt from above the cup to within 2 to 3 feet and then finished with his par.
"Those final two putts, I tried to just put the first one close," Tassell said. "It was uphill, then downhill. I pushed it a little farther right than I should have, but I was more worried about the speed than anything."
Holding a four-shot lead beginning the final nine and then widening the gap to six shots when he birdied the par-5 first hole while Christensen took a bogey there, Tassell said, "I played conservative on the last nine. ... My goal today was to not three-putt and not have a penalty stroke. I did one three-putt. I didn't want to make a mistake. I didn't want to pull one into the weeds, pull one into the trees or into the water, blast one over the green."
He added, "I didn't make a mistake really is what it came down to."
Tassell hardly played conservative the first two rounds in the tournament, and in fact unleashing one of the best scores of his life.
On Saturday, he scorched the course for seven birdies and came back on the first 18 Sunday with four more birdies. He said his 64 was his best-ever score at the Muni and one of his all-time best rounds.
"I played consistent with my driver," he said. "I had one three-putt all weekend, so I putted pretty well. I score well if I putt well. I made a lot of 8-, 10-, 12-footers."
Tassell said of reigning as Muni champ two consecutive years, "First of all, I never thought I'd win it at all. My goal has just been the top five because there are a lot of good golfers in Carroll County. I'm happy with just a chance to compete. That's what I want to do. I like to go out there and have fun with my buddies, but I also like to go out there and compete a little bit."
He acknowledged feeling the heat of Christensen's charge on the final holes.
"Kyle's really good," he said. "You know he's going to hit the ball long. I almost don't watch him tee off sometimes because I know I don't want to overswing after he hits the ball so long."
Tassell, 41, lives in Carroll and is a special-education teacher at Audubon High School. He previously taught at Twin Cedars and Ar-We-Va and was a business and PE/health teacher and girls basketball coach at Carroll High. He graduated in 1999 from Sentral (Fenton) High School (now North Union in Armstrong), where he was a standout basketball player and just missed qualifying individually for the State Golf Tournament. He went on to play basketball at Southwestern Community College in Creston and Grand View University in Des Moines, where he received degrees in 2002 in business administration and business education.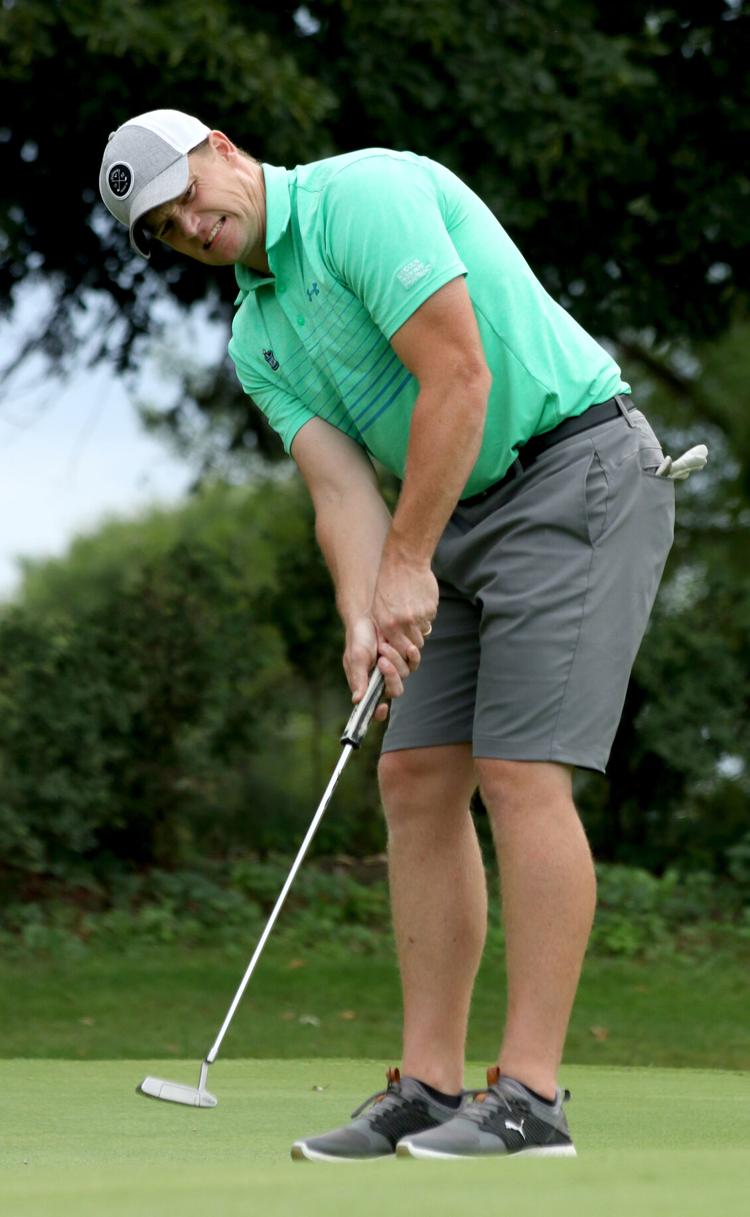 For his part, Christensen said his birdie on the par-4 second hole in the Championship Flight, which immediately returnined his deficit to four shots, revived his hopes of catching Tassell.
"I thought, 'OK, I'm starting four back again. Let's see what I can do.' And I just maintained my focus," he said. "I thought if I could get to (holes) 7, 8 and 9 and get a couple of birdies, I could scare him a little bit. But he played tough. At one point he had that six-shot lead on the final nine, so that's the beauty of golf. You always have a chance. ... Golf is such a weird game where we played 45 holes and it comes down to the last hole. I gave myself a chance, and that's all I could ask for."
Christensen continued, "Give Tyler credit. He made a great putt on 9 to put it within 2 feet. I figured he wasn't going to miss that, so I knew I had to make mine. I putted from about 25 feet and just missed it, just short. I should have got it to the hole."
Christensen, 32, a sales representative for Graphic Edge, said of his own game, "I didn't make many mistakes, and I hit the driver well. For the most part I putted really well, made a lot of great par saves. ... The strong part of my game all weekend was making the 5- to 6-footers. I was knocking them in."
In the first 18 on Sunday, Christensen was on pace to possibly match his first-round five-under-par 66; however, he then played two over par the last five holes, bogeying Nos. 14 and 17, dropping him to four shots down starting the final nine.
Forty-seven golfers competed in the tournament. Following are complete Championship Flight results and top scores in other flights.
Championship Flight — 1, Tyler Tassell, 64-67-36 — 167. 2, Kyle Christensen, 66-69-33 — 168. 3, "Cuda" Quandt, 70-73-32 — 175. 4, Ryan Feauto, 72-74-33 — 179. 5, Troy Lohmann, 75-75-34 — 184. 6, Lonny Lehrkamp, 75-71-38 — 184. 7, Kirk Christensen, 73-74-37 — 184. 8, Brian "Bubba" Heisterkamp, 70-74-41 — 185. 9, Jay Weisenborn, 72-79-36 — 187. 10, John Weber, 79-72-37 — 188. 11, Jeff Heuton, 71-73-47 — 191. 12, Kevin Forke, 78-77-37 — 192. 13, Mike Badding, 80-75-40 — 195.
First Flight — 1, Todd Roberts, 79-77 — 156. 2, Derrick Thygesen, 78-78 — 156. 3, Eric Winker, 81-75 — 156. 4, Steve Sinnard, 79-78 — 157. 5, Matt Fleshner, 78-79 — 157.
Second Flight — 1, John Beiter, 78-82 — 160. 2, Keith Peterson, 80-81 — 161. 3, Jim Feauto, 81-81 — 162. 4, John Lohmann, 86-77 — 163.
Third Flight — 1, Jake Kimmes, 78-89 — 167. 2, Jim White, 80-88 — 168. 3, Matt Brown, 86-86 — 172. 4, Tyler Hunter, 81-95 — 176.